A scenery video can have a completely different look in horizontal and vertical. Thus, many professional video producers would suggest people rotate videos and see which angle is the best.
Luckily, no matter you are on Mac, PC, or mobile devices, there are always some easy and simple ways to rotate videos online for free. Here in this article, we will introduce you the top free video rotators online. Check them out and see which one is the best for you.
Can't Miss: Top 7 Best Free Slideshow Maker >
Top Free Online Video Rotators List
FlexClip's video editors can do a great job in rotating your videos. This tool excels over others because, firstly, it is easy to operate. You just have to upload your video, and then click on the rotate button. Secondly, you are allowed to do previews any time you want. If the rotating doesn't fit your video, you can always change it on time. Moreover, other video editing features are also available, like video resizing, changing video aspect ratio so that your video will look perfect. The export is rather efficient.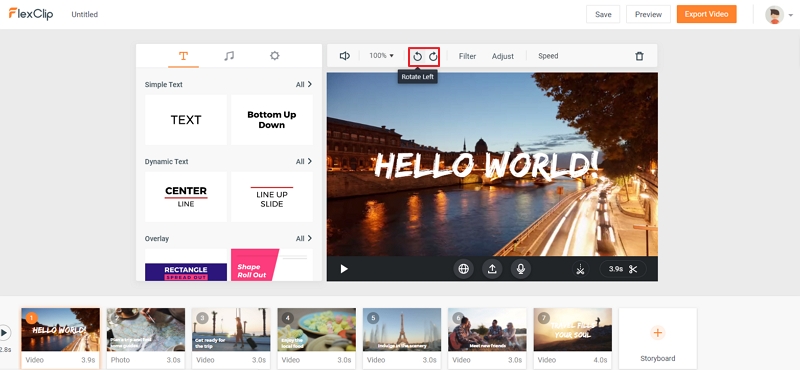 Image board: Top Video Rotator - FlexClip
EZGIF is a comprehensive website with all sorts of video editing tools, and video rotator is one of them. With this tool, you can flip MP4, WebM, MOV videos vertically and horizontally, rotate 90 degrees, rotate 180 degrees or rotate 270 degrees. Upload your video, and then select an angle, click on the Rotate button, you will get the rotated video. Preview is also allowed. However, if you are not satisfied with the rotated video, you might need to upload the video and rotate again. Besides, this tool only supports videos up to 100MB. Moreover, to make other advanced editing, you have to go to another page. Last but not least, Ads are also pretty annoying.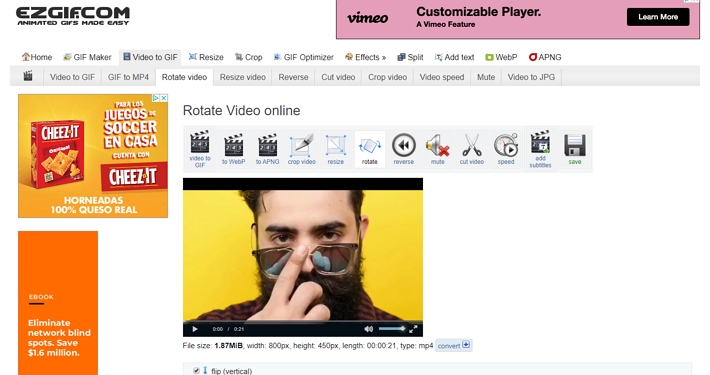 Image board: Top Video Rotator - EZGIF
Similar with EZGIF, Clideo also provides numerous video editing tools and video rotator is also one of them. Except for normal MP4, MOV, WMV, VOB, AVI videos, it also supports videos from Google Drive. While exporting, you can also choose to save the rotated video to Google Drive or the computer. When it comes to rotate videos, you can use its tool to rotate 90 degrees, 180 degrees, or 270 degrees easily and effectively. However, the rotated video contains a watermark. To remove it, you might need to upgrade your account.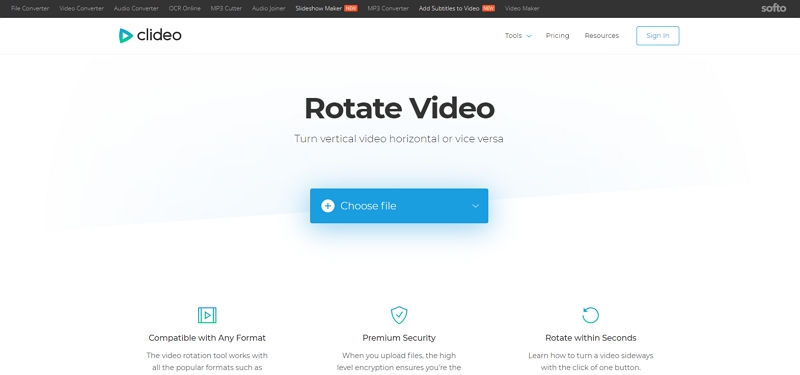 Image board: Top Video Rotator - Clideo
Kapwing is an integrated video editor. When you go to the rotate video page and upload your video, it takes you directly to their video editing page. Even though it has numerous video editing tools, a kind reminder will lead you to the rotate button. Kapwing's biggest shortcoming is the downloading button is hard to be found. To download the video, you have to click on the Publish button, and then you can download. That's to say, everyone can see your video, which might raise people's concern over privacy. Sign-in is also required.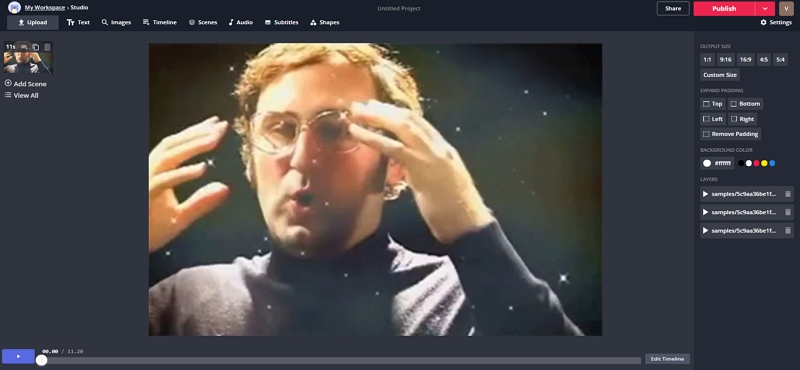 Image board: Top Video Rotator - Kapwing
Rocketium is also a website providing all kinds of video editing features. When it comes to video rotating, it provides you a quick uploading access and a rotate button which turns the video 90 degrees for each click. The downloading process is also efficient. However, there are also limitations on video size, time length and so on.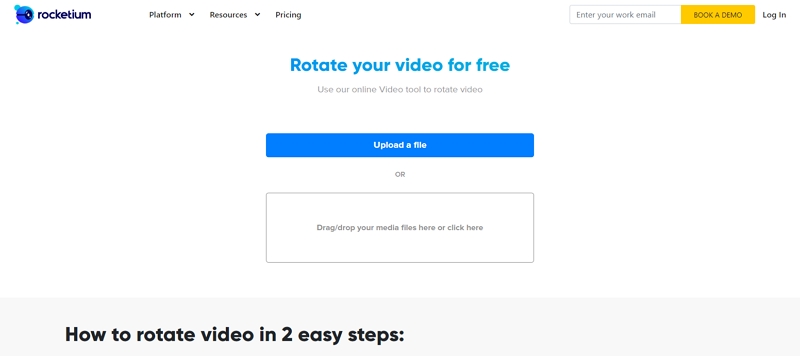 Image board: Top Video Rotator - Rocketium
The Bottom Line
That's all for the top 5 free video rotators online. Which one is the best? Share your ideas with us via Facebook.