Speech bubbles are one of these additions you may be needed to design an image on PhotoShop, because they help organize messages in a funny way. They are widely used for creating cartoons and interesting videos.
Adobe Photoshop is an amazing software for creating and editing graphics, paintings, 3D arts, and images. It has grown to become a household name in the design industry. It has also become a perfect tool for digital image manipulation used by millions of designers worldwide, including artists for making speech bubbles. And another thing is, it is easy to make a speech bubble using a PhotoShop tool; all you need is to stick to the rules, which we will be explaining subsequently in this article. Read on.
Can't Miss: The Best Adobe Premiere Alternatives to Try >
Here Are Some Video Templates with Speech Bubbles. Edit Them!
How to Make Speech Bubbles in PhotoShop
Like we earlier mentioned, it is easy to make a speech bubble using Adobe Photoshop. Here comes the detailed steps.
Step 1
Open the image you wish to add the speed bubbles. Right-click the Shape Tool and select Custom Shape Tool.
Step 2
Select your preferred Shape at the drop-down menu and click the speech bubble. Click and select the "Foreground Color box," pick a color, and click OK.
Step 3
Now, draw the speech bubble on the selected canvas. Select the 'Move' tool, then position the selected speech bubble.
Step 4
Proceed to the Type tool section. Select your Font, and click right inside the bubble and proceed to add your text.
Image Board: Create Speech Bubbles with PhotoShop
Where to Get Free Speech Bubble Templates
If you are still thinking about how to make a speech bubble using Photoshop, but with a bit of advanced bubble speech, here are some platforms you should try out:
1. Teachers Pay Teachers
These blank speech bubbles allow users to make a selection of the most delicate speech bubbles that suit their speech characters. And they are very downloadable.
2. Clipart-library
This online platform houses over 40 different bubble speech templates, and they are entirely free. Clipart-library's bubble speech templates contain both colored and shadow templates that suit all sorts of purposes.
3. Freepik
This platform is more complex than we thought. It has free speech bubble images in stock and comes with some free vectors, PSDs, and stock photos.
4. FlexClip
We have decided to save the best for the last; although bubble platforms mentioned above are great, innovation has completely distinguished FlexClip from the rest.
FlexClip has many free-fitting still and dynamic speech bubble templates to be applied to photos or videos. Considering the type of design embedded in the speech bubble, you can level up your photos and videos with assorted emojis and other decorative video elements that come with the text fonts. Additional video editing tools are also available.
Now, why not click on the Create a Video button and give FlexClip a try!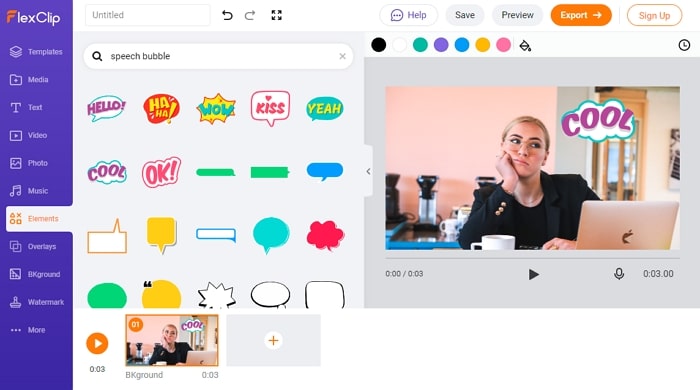 Speech Bubble Maker - FlexClip Overview
The Bottom Line
With the type of tools at your disposal, while looking for the best speech bubble maker, you need not keep asking "how to make a speech bubble." Although it is advisable to go for speech bubble platforms, you can download or print; it is better off if you can use a platform that doesn't only give you numerous options for bubble speech templates but with a bit of innovation embedded in it. That's what you get when you use FlexClip: a powerful, innovation-filled video and image editing tool. That will be all for now, but remember to like and share this content should you find it interesting; you never can tell who you will be helping out.