The vital videos are all alike, and every unpopular video has its own reasons. With only a little observation and conclusion, you can also make a viral video like any other online celebrities.
After Watching thousands of viral videos, we have concluded what makes a viral video. Besides tips for creating viral videos, we will also show you some viral video editing skills to achieve success. Stay tuned.
Can't Miss: Video Content Marketing Strategies You Have to Try >
What Makes a Viral Video?
NoteThe following content is based on personal understanding, please only take it as a reference while mapping the video content.
1 > Proper Time Length
Besides TV series or movies, most people barely watch videos longer than 10 minutes. While watching long videos, people are more likely to be disrupted or have trouble staying focused. Moreover, longer videos mean more content, more footage to organize, which might cause confusion and chaos. Majorities of viral videos are no longer than seven minutes.
I am not saying short videos are better. In a limited time, it might be difficult to get your ideas across. As long as you meet the video time limitation for each platform.
2 > Music & Dance
Doubtlessly, people like this music and dance video. On TikTok, YouTube, Facebook, you can always see this kind of video on the top trends. Till now, the most viral video is Gangnan style from Korea and This is America of Childish Gambino, which are all music and dance video.
3 > The Trend
Are you really connected to the world outside? If not, you must be the one who cares what other bloggers opinions about the latest news, right?
Some videos about the latest news, whether it is political or international, go viral very quickly. This is what professional SEOers called Trends. Trends are like a wave, which lead you to the peak and popularity.
4 > Be Practical
Sometimes viral videos are practical. It can be a secret recipe, how to do chores easily and efficiently. This kind of video benefits viewers.
5 > Arise Deep Emotions
Viral videos provoke emotions. They might be so funny that can cause you to laugh, they can be shocking, they can be sad or even gross. They encourage you to share emotionally.
6 > Children & Pets
People like cute things like children and pets. Many viral video creators take advantage of this. Cute cartoon figures are also helpful to make a video go viral. The following video is dancing Pikatu. This video's traffic is amazing.
7 > Best Posting Time
Yes, it might sound hilarious, but posting time matters. According to research, videos that posted on Friday evening, Saturday and Sunday morning are more likely to go viral. Check this post on the Best Time to Post Videos on Social Media >
How to Make a Viral Video
Thanks to FlexClip, the best Adobe Premiere Pro alternative service, making a viral video only takes a few steps. Reasons for recommendation are as follows.
1.It turns clips to an interesting video in only 3 steps. Even laymen can easily operate it.
2.You can use millions of free photos, video clip and music resources in FlexClip media library.
3.Free video templates are also available.
4.You can export the video in aspect ratios that all social media requires.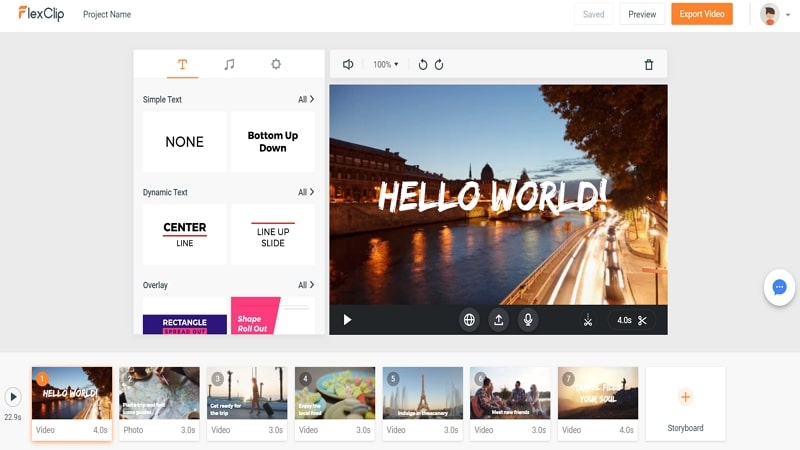 Image board: Make Viral Videos - FlexClip Overview
Please Refer to: How to Make a YouTube Video with FlexClip in 3 Steps >