The laser eyes meme was inspired by a movie in which a subject's eyes sparkle when their abilities operate or when the filmmaker intends to convey that something otherworldly is about to occur. They would usually imply the power to make them look stronger as if they can see beyond stuff incomprehensible by the human eye. This meme was created to be amusing and to brighten up people's social media feeds around the world.
Irrespective of whether they're in a meme or not, these laser eyes can penetrate through everything. This meme depicts anything with lasers in replacement of eyes, creating the illusion as if they're glowing and looking past anything that's not supposed to be seen. This aesthetic has been used in several profound memes. It comes from the game and seeks to imitate the glowing eyes effect found in TV broadcasts and movies which we can use in our daily lives. The users can add laser eyes to make their picture look appealing and cool in contrast with recent ongoing trends.
How to Create a Laser Eye Meme
FlexClip is the most generally practiced and extensively adopted free online laser eye meme maker, with a myriad of different customization options. The biggest benefit of using FlexClip to make laser eye memes is that you won't have to install any software, which increases the capacity. It's also incredibly user-friendly, enables consumers to mix videos and create memes of any type.
It also comes with professional video, image, and audio templates, as well as clever GIF editors to help you achieve your visions. Apart from that, it offers a quick export speed without sacrificing meme quality, making it easy to obtain and use the extensive GIF resources it offers.
Now, let's further move on and learn how to make laser eye memes which are extremely easy if you follow the steps stated below, to make your cool memes and stand out in your friend circle. The steps are as followed:
Step 1
Look for and download laser eye videos which you want to use laser eye meme maker on. You can also check the video library of FlexClip.
Step 2
Upload your clip or image to the storyboard.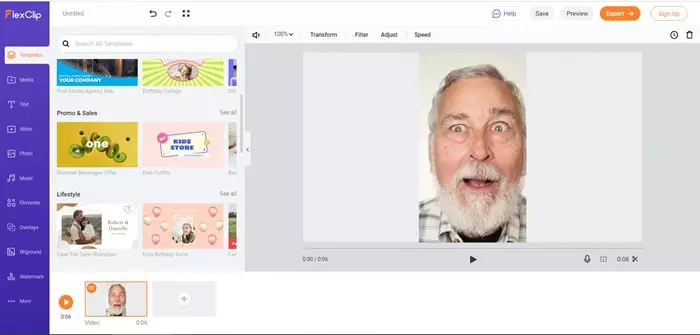 Upload Media Resources to FlexClip
FlexClip is a laser eye meme generator as well as a graphic illustration of the sample evolution of your video. It's made up of a series of panels with visuals or images portraying each scene, and also remarks on what's going on in the situation and what is said in the script.
Step 3
To add the laser video to your video or photo, use the PIP tool.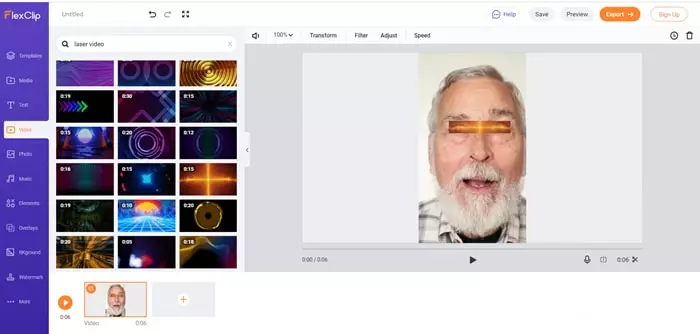 Add Laser Video with PIP Function
When two scenes occupy the identical display settings, one of them being much narrower than the other. This is known as video overlaying or picture in picture (PIP). Adding the PIP video processing particular effect to your video might be an easy method to improve its brilliance.
Step 4
Make more adjustments to the meme to take it to the next level and make it look even more intriguing and engaging for the audience. You can
add different text fonts
, even add colors to make it look bright and not dull, and apply certain effects to make it look appealing such as stickers.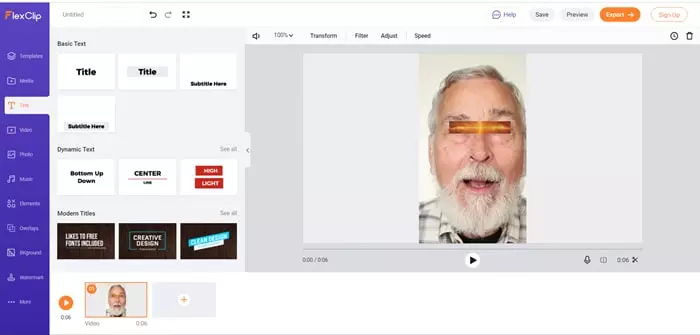 Make Further Adjustments to Video
Step 5
Save the meme, post it on social media applications, or save it as a GIF to share with your friends and family.
The Bottom Line
Now you must be sure how easy it is to create your laser eye meme, which you can fashionably show off in a group of people or flex on your social accounts. We comprehend flex clip is the best software for creating a variety of films, memes, and GIFs.
Now, go to FlexClip and add countless convenient and simple editing features, contemporary filters, amusing stickers, and dazzling themes to your images and videos. You can also create and modify TikTok videos, as well as make more fascinating videos like greyscale videos, meditating videos, infographic videos, business-related videos, etc. Get started now!