As Instagram shifts its focus to Reels in competing with TikTok's short videos, nowadays the key to Instagram success lies in videos.
Based on the latest research done by HypeAuditor after analyzing 77.6 million Instagram posts in July 2022, Reels are getting more likes, comments, and shares than traditional image posts on Instagram Feed and Story.
In other words, for both individual content creators and big and small businesses, having the ability to create compelling Instagram videos can be a game-changer to expand brand awareness, get more followers and even monetize reels on Instagram.
So, in this post, we will walk you through the top 8 Instagram video editors both online and on mobile apps to create scroll-stopping videos for Instagram Reels, Story, and Feed.
Here's What You Will Learn:
Best Instagram Video Editor Online
Best Instagram Video Editor Apps on iPhone and Android
Best Instagram Video Editors Online
Well, you might ask why do I need to go the extra mile to use an Instagram video editor online to edit my Instagram videos instead of using the native Instagram app? Great question!
Firstly, it's an open secret that tons of the viral Instagram videos you've seen on Instagram were actually edited using a full-featured third-party editor before being posted on Instagram given how limited the built-in Instagram editing features are.
Secondly, nowadays, there are many free and versatile online Instagram video editors that offer you chic and fully-customizable
Instagram video templates
and vast valuable assets like
Instagram Reels sound effects
,
Reels transitions
, etc. So, you can easily create a compelling video like no other for Instagram Reels, Story, and Feed without starting from scratch.
Thirdly, editing your Instagram videos on your laptop or a desktop pc online offers a better editing experience than editing on a small phone. So, you don't need to pinch photos or videos on a small screen to check the details. Besides, no software download is needed.
So, it's advisable to film the video with your camera on iPhone or Android and save it to Camera Roll or photo gallery. Then edit it with the following 4 online Instagram video editors and later share it on Instagram.
1. FlexClip
For content creators and small businesses who need to create trending Instagram Reels that wow viewers and get more likes, comments, and shares, FlexClip can be your trusty and versatile Instagram video editor you can turn to.
Use FlexClip Instagram video editor to create great Instagram Reels, Story, and Feed.
With FlexClip, you can: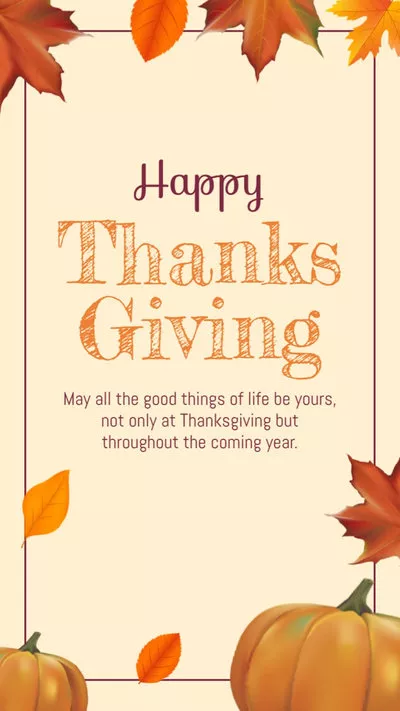 Thanksgiving Invitation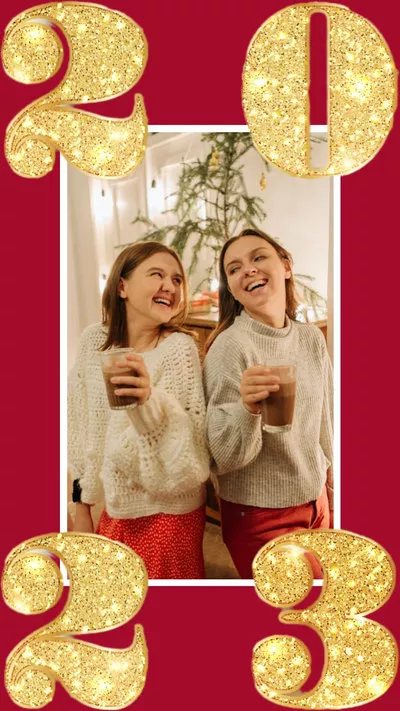 New Arrival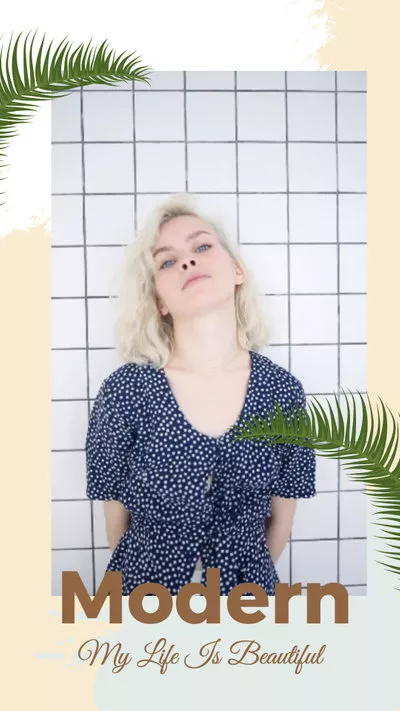 Fashion Intro
Select from extensive designer-made and fully-customizable
Instagram video templates
and drag and drop your clips, and photos to make creative Reels and Story slideshow in clicks away.
Directly add the hottest GIPHY stickers as you do on Instagram, but with much more aesthetic illustrations, call-to-action social icons, emojis, animated props, etc.
Create picture-in-picture videos, photo collages, and special overlay video effects like snow, fire,
film grains
, smoke,
lens flare
, fire, etc, and remove image background and crop mask photos and videos, and add more text animations than on Instagram.
So, now walk with us to create an Instagram Reel with FlexClip's Instagram video template. Of course, you can start from scratch as well.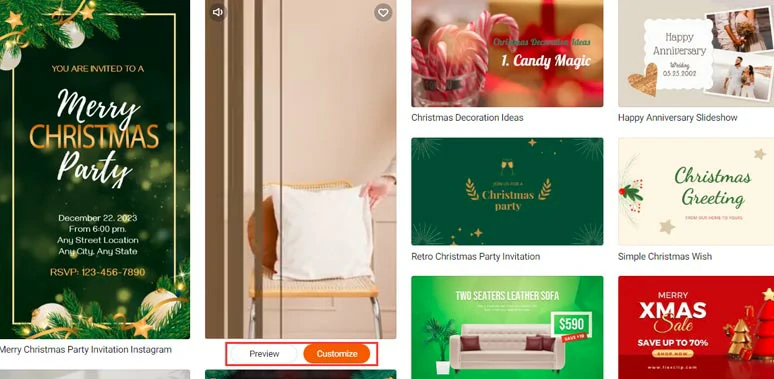 Select an Instagram template.
Step 2
Upload your video assets to FlexClip from your PC or phone.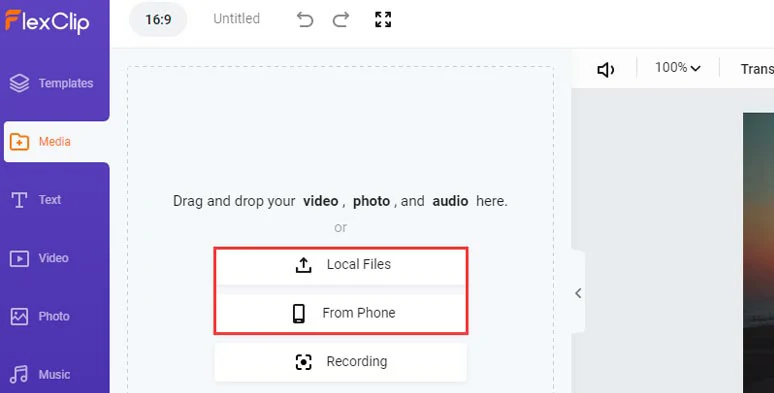 Upload your clips, photos, and audio files to FleClip.
Step 3
Drag and drop your clips and photos to replace premade elements. You can trim and split clips or reorder the duration of clips on the intuitive timeline.
Drag and drop to replace pre-made video or photo and trim or split clips.
Alternatively, you can click Add As Overlay to add a video/photo over the photo/video background and use the crop tool to crop the video or photo into a circle, square, heart, leaves, or any other shape and animate it with the Motion tool.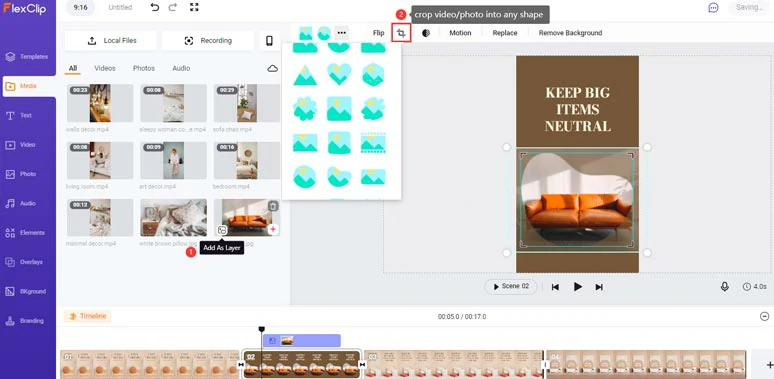 Using the crop mask to crop a photo or video into any shape to your liking.
Step 4
Customize the text, fonts, styles, text animations, motions, and duration. Go to the Text tab, you can find more call-to-action text animations like Like and Subscribe, stylish lower thirds, callout titles,
search bars
, quotes, etc.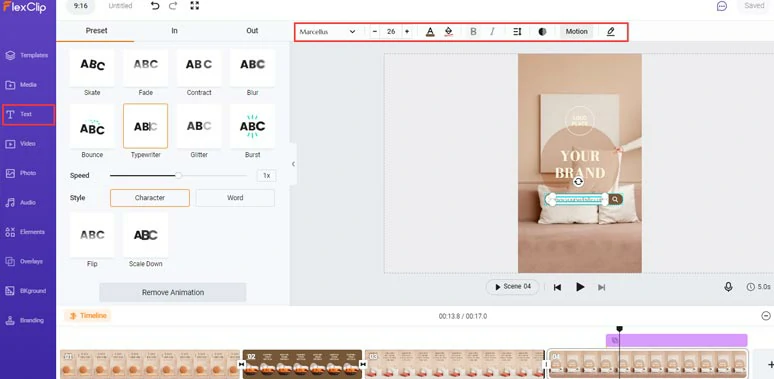 Customize the text animations.
Step 5
Add a decorative touch to your Instagram video.
Click the Elements tab where you can add fun GIPHY stickers and aesthetic illustrations to spice up your Reels and Story or add liquid transitions to connect two shots with styles. Besides, you can use your music or select from 74,000+ music tracks and sound effects in the Audio tab to add emotions and rhythm to your Instagram videos, etc. Just get your creative juice flowing.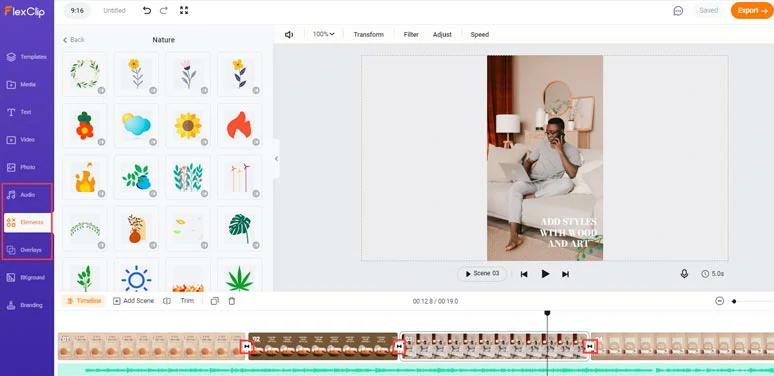 Add transitions, royalty-free music, and animated illustrations to your Instagram video.
Step 6
Done with the editing. You can directly download the Instagram video to your PC or share it to Google Drive, or Dropbox. A clickable link and an embed code are also available for repurposing.
2. InVideo
Boasting 5,000+ video templates, InVideo is another powerful online Instagram video editor for Instagrammers. You can select a readymade 1:1 or 9:16 Instagram Story video template and quickly start editing. The timeline mode allows you to easily drag and drop to add music, video transitions, and elements.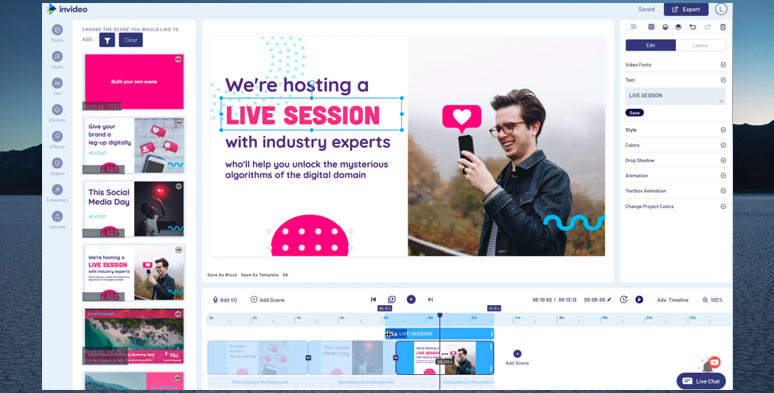 Use premade templates to make Instagram videos with InVideo
A cool feature of InVideo is its Text to Video option. You can paste a long paragraph from your blog into the text-to-video tool and then InVideo will automatically break long texts into small paragraphs and generate multiple pages of slideshow videos with proper music for you. You can replace them with stock videos as well.
Prominent Features:
More than 5,0000 Customizable video templates
8M+ stock images, videos, and music
24/7 support window, easy for online problem shooting
Customize brand setting and easy share for various social media
Who Is InVideo Best Suited For?
With 5k+ video templates across all fields, InVideo is another ideal online Instagram video editor for you to quickly produce high-quality Instagram Reels or Instagram Feed, etc, without facing a blank canvas. For its special Text-to-video tool, InVideo can be more versatile for making instructional and promo videos for bloggers on Instagram.
3. Animaker
To make your Instagram video stand out from the crowds, very often you need to think out of the box. Combining your images and videos with customizable animated characters and props could be a great choice.
In this respect, Animaker, a user-friendly and feature-rich online animation video editor will help you create engaging animated Instagram Story and Instagram video ads with no experience needed.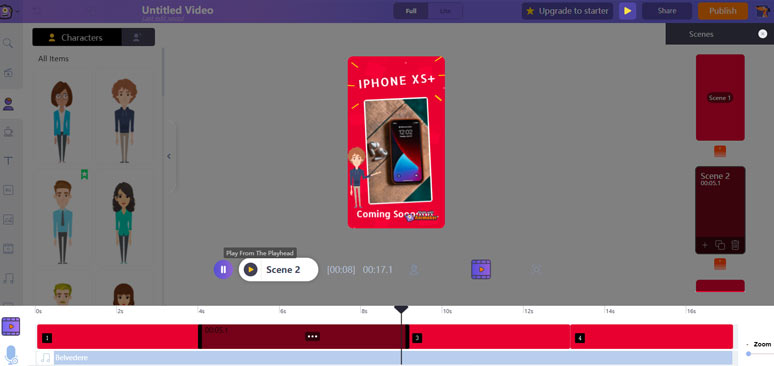 Create customized animated characters for your Instagram videos by Animaker
You can select a premade Instagram video template and personalize animated figures with vivid facial expressions, body moments, audio, etc. to bring your Instagram video ads to life.
Prominent Features:
Tons of full-customize animated characters and props, etc. for Instagram videos
100+ professionally-made Instagram video templates
100M stock images, videos, and music
With fine integration with GIPHY's GIF assets
Brand kit and real-time team collaboration for video editing
Who Is Animaker Best Suited For?
If you are an avid fan of animation or your Instagram account is related to design, education, gaming, cartoons, or mostly for video tutorials, etc, then using Animaker's free Instagram video templates, together with its awesome animation tools will help you create fascinating Instagram Story, Instagram Feed, etc. for target audiences. Learn how to make a stop motion video.
4. Renderforest
While most Instagrammers still compete with stereotyped Instagram slideshow videos and 2D promo videos, then you post a mind-blowing 3D video on Instagram Feed for your product release. Wouldn't it be overkill?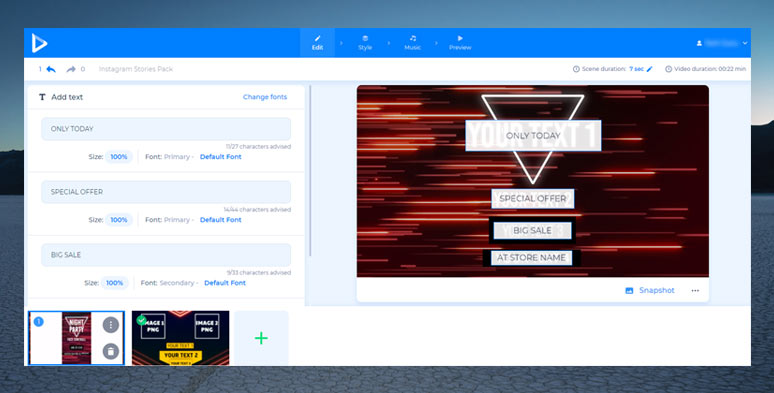 Powerful Renderforest Instagram video editor
To make it happen, you need the help of Renderforest. Renderforest is the only Instagram video editor online that offers 3D video templates for you to kickstart a studio-like Instagram Reels, or Instagram News Feed, etc.
Besides, for your brand, you may use Renderforest's AI to customize a 3D logo for your Instagram video. It's quite handy.
Prominent Features:
3D Instagram Video Templates
AI system to generate and customize a 3D logo for Instagram videos
Who Is Renderforest Best Suited For?
If you wanna create studio-like 3D Instagram Reels and Instagram News Feed and IGTV for promo and product release, Renderforest can be a great alternative with no editing experience needed.
Instagram video editor apps on iPhone and Android
Well, for many Instagrammers, filming and editing Instagram videos wherever you want with your phone remains the top choice. Here, we would like to introduce you to the top 4 Instagram video editor apps on both iPhone and Android.
1. InShot
If all you need is the basic video editing like trimming, splitting, merging, and adjusting video speed, adding filters, stickers, and text, adding music, etc. InShot will offer you all the tools needed without being overwhelmed by unknown editing features.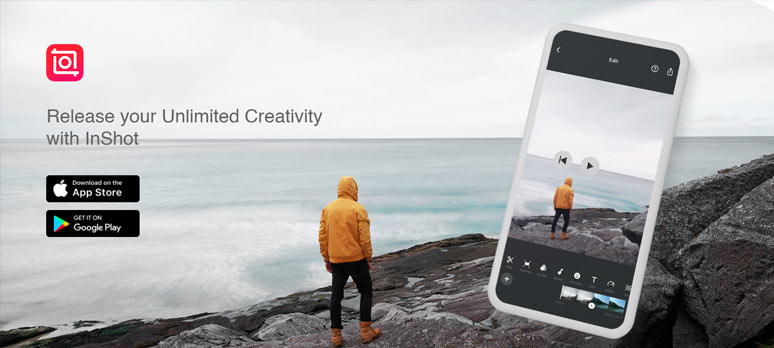 Use InShot to edit videos for Instagram Stories, etc.
Recently, Inshot also added a picture-in-picture effect for you to overlay a video over another video in the same frame or do a color correction to all videos. Other than that, you may export 4K 60fps videos on Instagram, Tiktok, etc.
Prominent Features:
Trim, split, merge, flip, rotate videos; adjust the speed
Do color correction to all videos
Add video filters, such as glitch, cinema, film, etc.
Add music, stickers, and texts
Who Is InShot Best Suited For?
InShot is such an easy-to-use and basic Instagram video editor app for iPhone and Android and iPad users. So, it's mainly for beginners. You can watch an ad to remove a watermark. It's quite a user-friendly option for most users.
2. iMovie
For IOS system users, the App's pre-installed iMovie app remains a go-to choice for editing Instagram videos. You can begin by selecting a premade video template to create a Hollywood-style movie trailer for an Instagram Story or Reels or clicking on "Movie" mode to edit multiple clips and photos into a great Instagram video.

Use iMovie to edit Instagram videos across platforms
Once your video or photo assets were imported to iMovie, you can add transitions, animated texts, sound effects, change video speed. By tapping the "gear" icon at the bottom of the right corner, you can apply a color theme to color grade all the clips and photos, along with a BGM.
You may also freeze a frame or detach the audio from a particular clip and then manually audio-duck the volume of another clip.
Prominent Features:
Cross-platform on both iPhone and Mac
Trailer mode and movie editing modes
Detach audio from original clips
Do color-grading, apply music, animated texts
Who Is iMovie Best Suited For?
If you happen to post Instagram videos using iPad, iPhone, and Mac, the iMovie app offers you an easy option to edit a refined video for Instagram in minutes. You can add B-roll, BGM, sound effects, animated texts, transition, etc. Since iMovie doesn't have many fancy visual effects, If all you need is some basic editing for Instagram News Feed or showing what you are doing on 15-sec Instagram Story, iMovie can be a free alternative.
3. CapCut
CapCut is the latest feature-packed mobile app for Instagram and Tiktok without watermark. Apart from the basic editing tools like trimmer, aspect ratio, background change, etc., you can achieve studio-like effects only available on Adobe Premiere Pro, such as separating an object from a video, detaching audio from the video, adding keyframes, using a curve to adjust video speed, etc.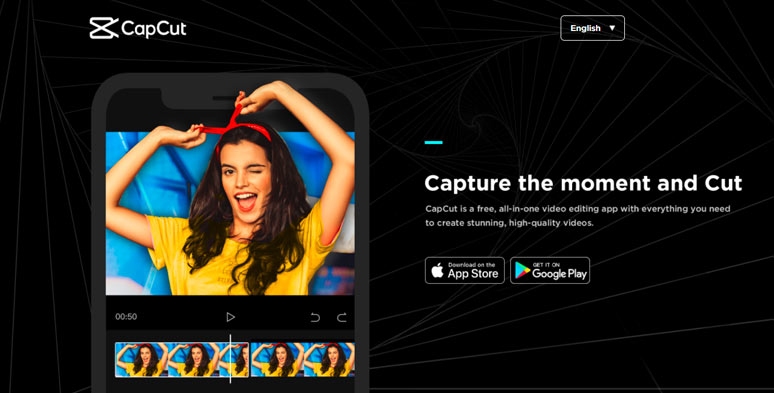 Use CapCut to create stunning video effects for Instagram Reels and Stories, etc.
You can easily add audio, special effects, photos, and videos in different tracks on the timeline, which is exceedingly helpful for editing.
Prominent Features:
Use Chroma Key to remove unwanted background in the video
Add keyframes in the video
Change the opacity of the video
Create picture-in-picture effects
Detach the audio from the video
Change male voices in the video to female, kid, mid-aged man, etc.
Special effects for swapping face, facial expressions, accessories, body parts, lens flare, etc.
Who Is CapCut Best Suited For?
CapCut would be a perfect tool for the day-to-day post of Instagram videos for Vloggers, Instagrammers who want to create elevated Instagram videos with amazing visual effects. It can truly make your creative juice flow.
4. Adobe Premiere Rush
Adobe Premiere Rush is more of a simplified Premiere Pro video editor on smartphones, capable of creating stunning pro-level Instagram videos in a breeze.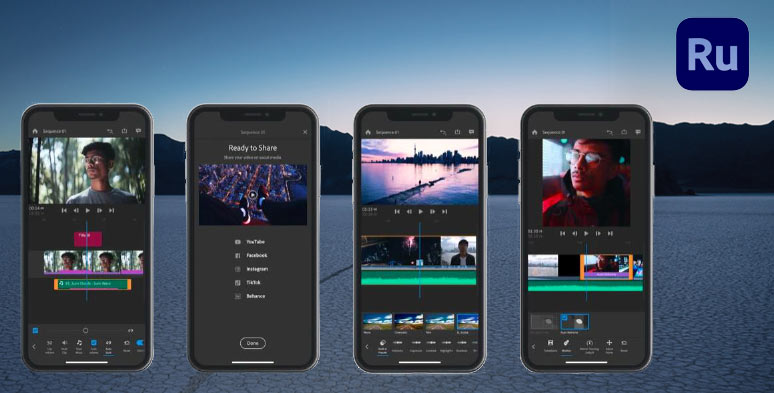 Use advanced features of Adobe Premiere Rush to edit Instagram videos
With an intuitive video editing interface, tools like texts and motion graphics, transitions, color-grading, speed changer, audio enhancer, transformer, trimmers, trash can are aligned in an orderly fashion on both sides.
You can add and insert multiple video overlays and audio on different tracks on the timeline with great ease. For premium users, you may enjoy audio-ducking and auto-reframe and thousands of featured royalty-free sound effects and text animations.
Prominent Features:
Thousands of sound effects, animated titles, graphics, overlays, and transitions
Adjust the speed of both audio and video
Flexible multiple tracks on the timeline
Auto audio-ducking and auto-reframing
Sync the editing project to the cloud
Easy transfer Adobe Rush projects to Adobe Premiere Pro on the desktop
Easier share for multiple social media
Who Is Adobe Premiere Rush Best Suited For?
If you are a desktop Adobe Premiere Pro user and want to create elevated videos for Instagram Reels, Instagram promo videos or IGTV, or trailers on Instagram Story, Adobe Premiere's auto-sync and clouds feature will make things much easier for you to edit videos on different platforms.
Besides, for Vloggers or podcast hosts, Adobe Premiere Rush's premium one-click auto-ducking feature also makes audio-mixing easy for you. Of course, you need to upgrade to premium users to enjoy all the royalty-free sound effects or more valuable video assets.
Now, It's Your Move
So, that's all the top 8 Instagram video editors you may use to take your Instagram videos up a notch. And no video editor is built equally and can meet all your needs. Given the vast royalty-free stock assets, zero cost, and versatility, FlexClip, and CapCut could be two great choices for either editing Instagram videos online or on your phone. Hopefully, you find this post helpful. Start editing your Instagram videos with your ideal Instagram video editor, now!