An ink effect brings a sense of artistry but it can be time-consuming and difficult for newbies to make on their own. Even for a professional, creating a stunning ink effect with top-notch software like Premiere Pro can also leave you exhausted. Feel scared by the words above? FlexClip is here to save you from the award situation to create ink effect videos effortlessly. Let's dive in right now!
The Best Tool to Make Ink Effect Videos Online
Known as the best free video editor online, FlexClip offers many features to help you create stunning videos in minutes, regardless of your editing skills. Aside from basic edits like trimmer, it includes various overlays and videos to generate special effects, including ink effects.
Key Features of FlexClip's Video Editor
4M+ royalty-free media resources to enrich your videos
Various ink overlay effects and other overlay presets
Hundreds of ready-made
templates
with ink effects
Easy-to-use interface without video editing skills requirements
Directly upload to YouTube and Instagram or share to other platforms
Popular Video Types with Ink Effect
1.Wedding Story Slideshow
Pair your wedding footage with an ink splash effect to create a touching wedding slideshow. The already dynamic look of FlexClip's ink effect overlay is complemented well with subtle parallax movement and it makes your love story eye-catching and distinctive.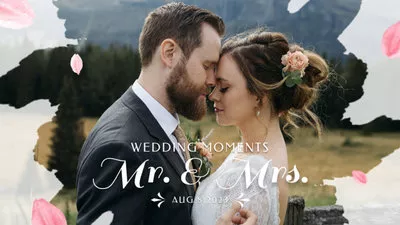 Pink Flower Love Wedding Story Slideshow Video
2.Memorial Video - Ink Animation in FlexClip
The last you can do to honor your loved one is to create and play a memorial video at his/her funeral. The ink animation of this template sets a strong tone for your memorial video by highlighting the personal smoothly. Use this ink effect to produce a heartfelt video to say goodbye.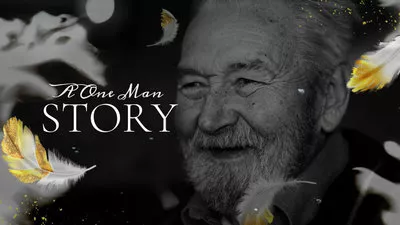 Golden Feather Memorial For A Man Slideshow Video
3.Splash Ink Opener
If you're looking for an intro template with ink effects, this ink splash intro template is perfect. It's ideal for corporate videos, art videos and personal slideshow videos. Try this ink intro in your business and personal videos.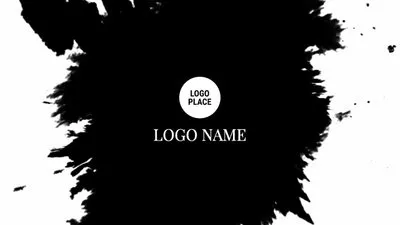 Splash Ink Simple Intro
4.Art Video with Ink Effect Transition
The art video features a stunning ink transition effect, bringing interesting elements to your video. What's more, it changes single transitions to a creative scene that will give your graphics and videos a visceral and unforgettable look.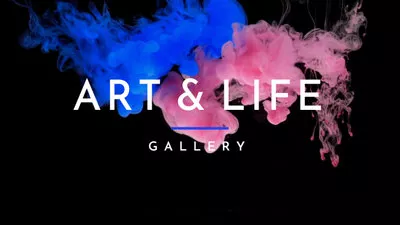 Art Ink Wash
5.Family Collage Video
This template showcases your photos in a special shape and uses an ink effect overlay as a transition to switch fluidly. The ease of use of this FlexClip ink transition will allow you to be creative and bring your video project to another level. Use it to share your family memories with eye-catching ink effects quickly and easily.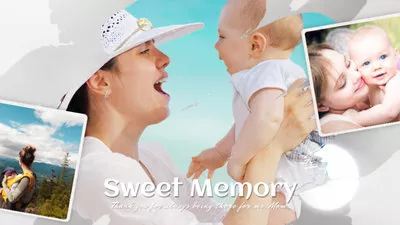 Family Memory Collage For Mothers Day Slideshow
How to Create Ink Effect Video in Minutes with FlexClip
FlexClip offers two ways to make an ink effect video, either by adding an overlay effect or inserting a fluid ink transition. No matter what method you pick, it gives your video a creative and integrated look without any editing experience needed. Now let's take a look at how to do that.
Method 1: Superimpose an Ink Overlay Effect in One-click
It's the easiest way to create an ink video by superimposing a pre-made overlay to your video. By doing so, you don't need to master any editing skill or adjust parameters to make this effect matchable. Follow these steps to configure it.
Step 1
Import your footage from PC, Google Drive or mobile phone. When it's loaded, drag and drop it into the timeline.
Step 2
Trim out or split unwanted parts of your video to make raw edits. After that, go to the Overlays panel and find the Effect Overlays option. Here tap on the See all icon to explore all the effects.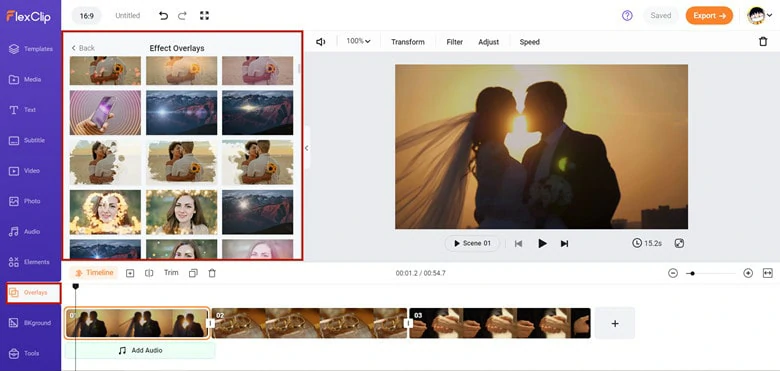 Find the Overlays Panel of FlexClip
Step 3
Find the ink effect you like and place your mouse over the preset effect to check if it's performed in the desired way. Then apply this effect to your video.
Adjust the Overlay Effect as You Like
Step 4
Adjust the blend mode and opacity degree to integrate better. Perfect your video with music, sound effect and text. When it's over, export and share the video to social media.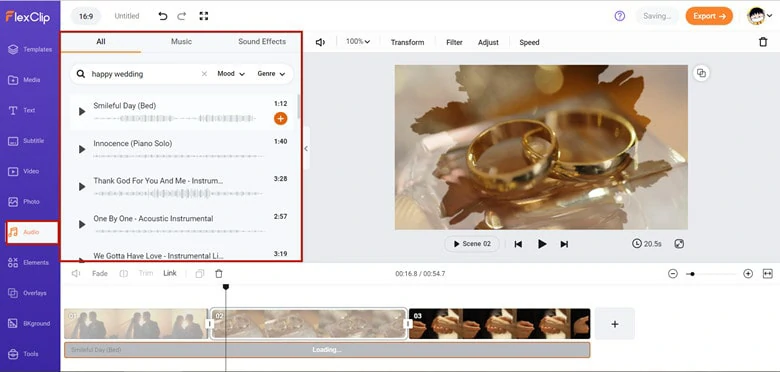 Make More Edits to Perfect Your Video
Method 2: Use an Ink Video to Create an Ink Effect
Want more ink video effects? You can DIY an ink effect using FlexClip's picture-in-picture feature. Follow the steps to create your video with special ink effects.
Step 1
Enter FlexClip's editor page and go to the Media section to upload your footage and prepared ink video. The media stock will offer a hand if you don't have an ink video.
Step 2
Add the background video to the timeline and then click on Add as Layer button to place your ink video over the background to create an ink effect.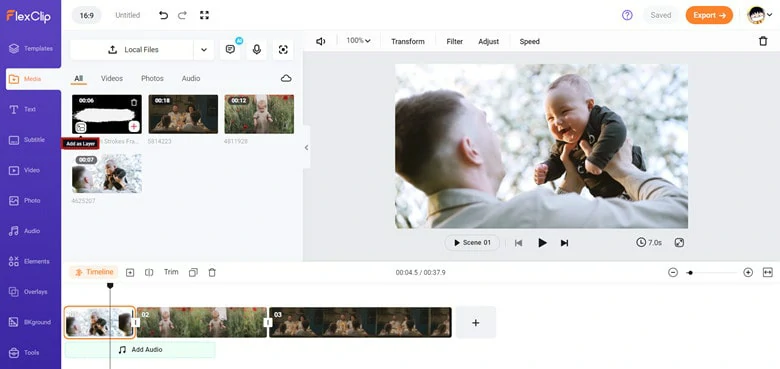 Add Video as Layer to Your Video
Step 3
Drag and drop the border to cover the whole video and change the opacity value to blend the effect.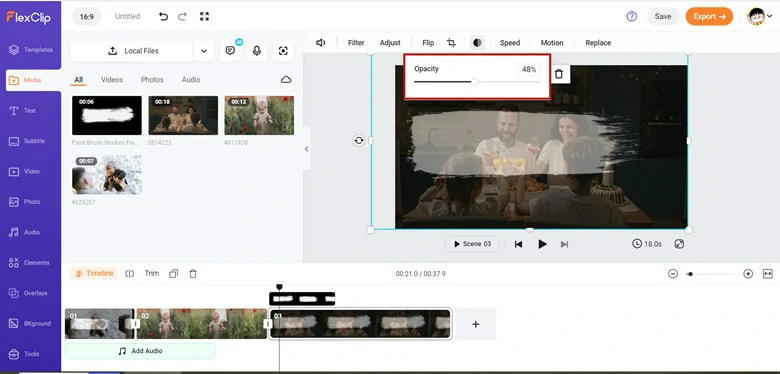 Change the Ink Effect
Step 4
Give your video further edits by adding animation, text and music to take it to the next level. When finishing edits, export the video to local drive or directly share it with a clickable link.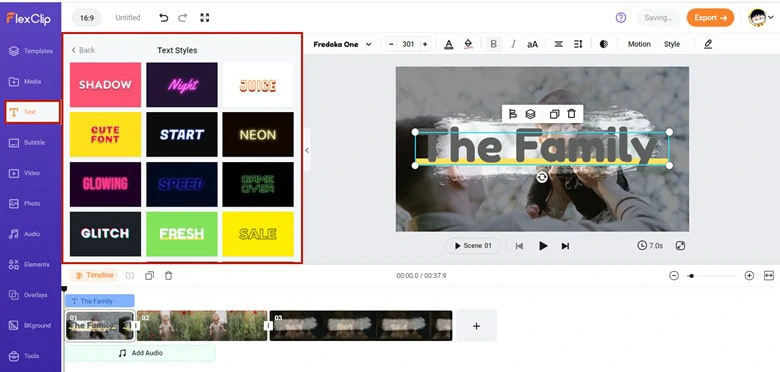 Polish Your Video as Needed
The Bottom Line
That's all for how to create an ink effect video online using FlexClip's handy tools. It's easy to use and free to edit. Use it to produce your artistic videos.