With the rapid growth of television and media advertising, the role of radio commercial has been extremely underestimated. Up to now, radio advertisement can still be an effective way to reach a large and diverse audience as most people will turn on the radio to pass the time while driving, doing chores, or other moments they stay alone.
If you're a small business owner who wants to boost sales, a radio ad is the most effective way to get started. Here in this blog, we'll take you through two online tools to help you learn how to make a radio ad. Let's get started right now!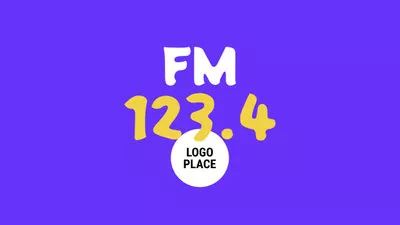 Radio Ad
Music Radio Podcast Audio Trailer
5 Tricks to Create a Good Radio Advertisement
Want to have a try? Wait, Buddy! Let's learn some crucial factors that composite engaging radio ads at first.
#1.Determine Target Audience
Defining what the audience wants matters a lot when trying to create a radio ad. It helps establish an authentic connection with the listeners and find the right time to slot a tailored message, which significantly hooks the audience's desire to take action.
So, before jumping on the board, put yourself in other's shoes - ask yourself questions like: Who is my business/service targeted for? What are the customers' pain points? How can I differentiate from other competitors? In return, you'll find crucial information that craft a successful ad.
#2.Clear Message
After a deep study, it's easy to lose track of the radio commercial when there are plenty of ideas floating around. But remember: Less is More! Just focus on your product or service's differentiating features, create a sense of urgency on how a special offer is only available for a limited time, provide some customer testimonials and add the necessary call to action. That's enough message for a radio ad.
#3.Attention-grabbing
The first few seconds of a radio ad is extremely important to make the listeners draw in and interested in what you're going to say. So, the opening part should be engaging and attention-grabbing, and the whole content needs to be storytelling so that the audience will not turn off or switch to another session.
#4.Audio Quality
Unlike video promotion, which uses visuals to hook the audience, a radio commercial heavily relies on the audio element to stimulate the listener's emotions. The narration style, the background music vibe and the soundtrack duration can all make or break the radio advertising. So, to hook more listeners to your audio, keep the audio quality as high as possible.
#5.Include a Call-to-action
Ultimately, your radio advertising aims to drive listeners to take a specific action, whether it's a particular purchase, retail store visit, or website click. For this reason, the call-to-action is a critical part of your radio ad and to be effective, your CTA should tell people what you want them to do, and make the action easy to remember.
Two tools to create a radio commercial ad
1.FlexClip
Looking for an all-in-one tool to create a radio ad online? FlexClip is ready for you. From radio script generation to audio dubbing, there will always be a corresponding solution for you. It's totally free to use and easy to catch up. Check its features as below:
Coming up with an original yet memorable radio script is a challenge even for the professional. But now things have changed a lot with the help of FlexClip's radio script generator. Just enter your keywords, the AI machine will automatically generate a complete guideline to conduct the commercial. What's more, it continues producing new scripts until you feel satisfied.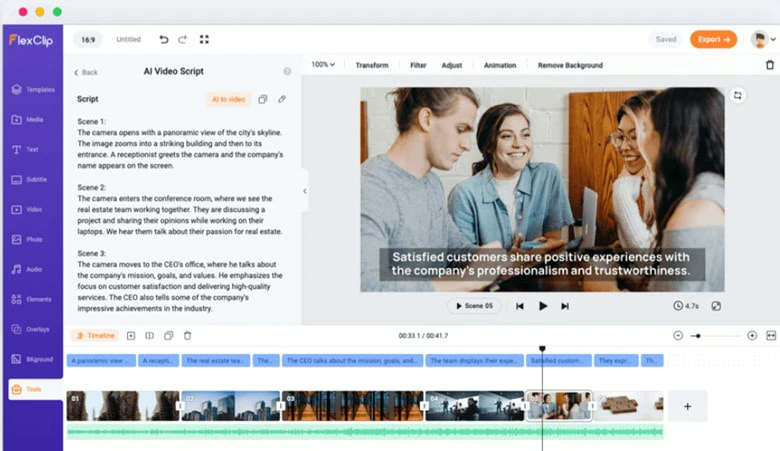 Radio Script Generator in FlexClip
Powerful Text to Speech Tool
It's no longer a daydream to produce natural-sounding radio audio effortlessly with the help of FlexClip's text to speech feature. Supporting 140+ languages including Japanese, English and French, you can easily turn your script into a soundtrack with the control of speed, mood and pitch to match your different needs.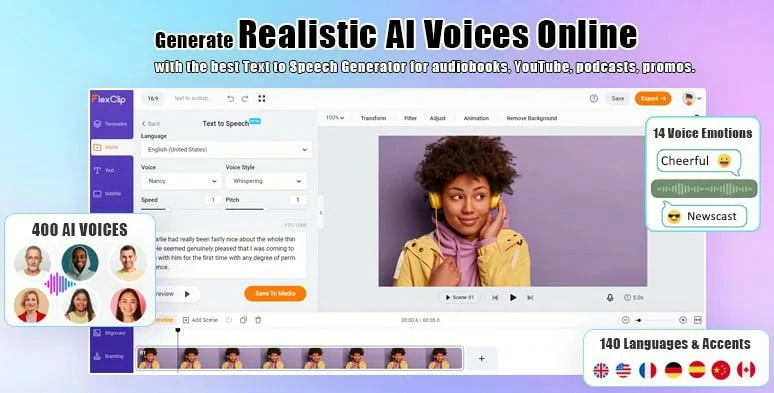 Powerful Text to Speech Feature to Create Awesome Radio Audio
Multiple Background Music
Background music is the essential part to highlight your viewer's emotion. Yet, finding a royalty-free and free background soundtrack is time-consuming. Now, FlexClip knows your demand by offering millions of royalty-free music to level up your video. No downloading is needed.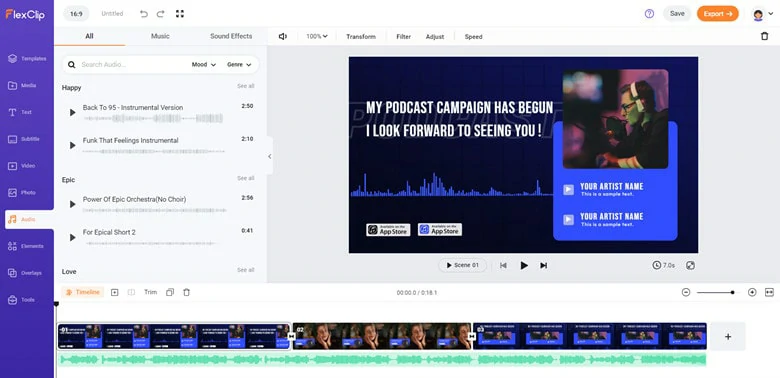 Multiple Background Music in FlexClip
How to create a radio ad in FlexClip
Step 1
Tap on Create it Now icon to enter FlexClip's editor page.
Step 2
Use AI video script generator to quickly make a radio script with your ideas, keywords or a sentence that describes your theme. Once it gives your result, check to see if there any spelling mistakes. While if you already have a document for audio dubbing, use it directly.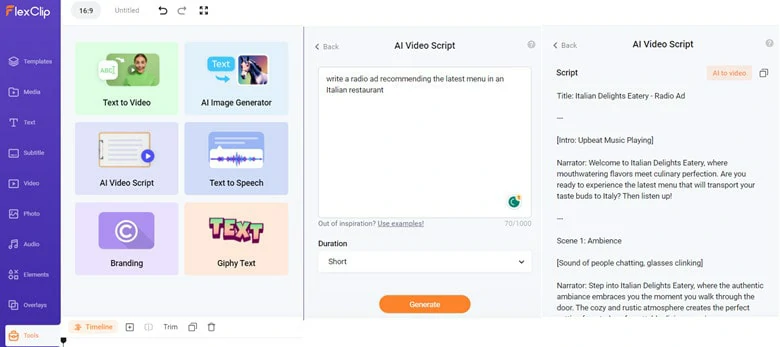 Generate Radio Script with FlexClip
Step 3
Move to Text to Speech panel where you can paste your script, select the desired audio language and make soundtrack settings. Once you have made all the things done, tap on Generate icon to get started.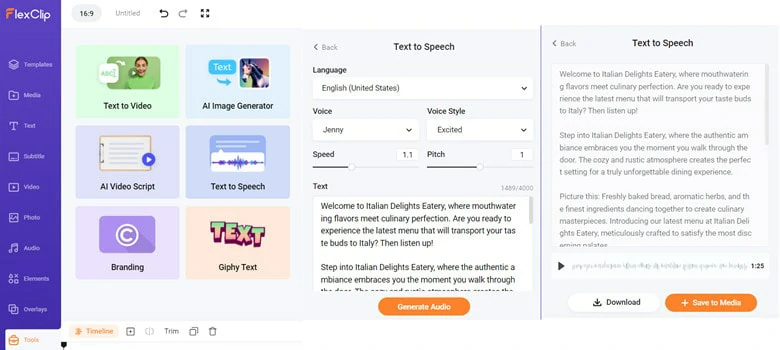 Turn Text into Natural-sounding Radio Ad
Step 4
Preview the generated radio audio and export it as MP3 or WAV format.
2.Speechify
Specialized in text-to-speech functionality, Speechcify is the industry-leading tool trusted by many professionals to create realistic radio soundtrack to stand from the crowd. With over 200 AI voice options available, you can choose the voice genre that fits your brand and audience. Additionally, customization of speech, tone and inflections of the voiceover is accessible to create a tailored soundtrack that connects to the listener. Thanks to its simple interface, anyone can be a master to create a unique radio audio on this platform.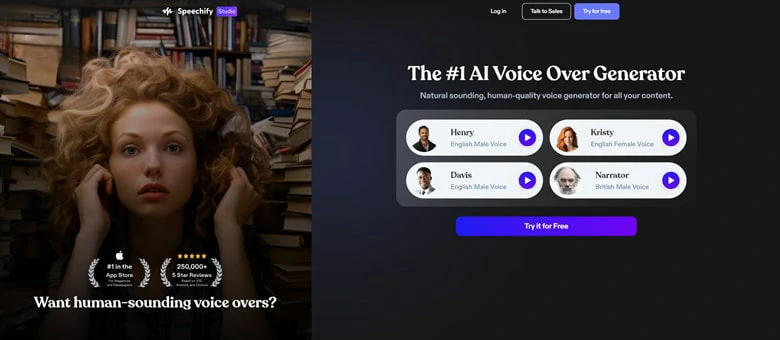 Text to Speech Tool Online - Speechify
How to use Speechify to produce radio audio
Step 1
Access Speechify official website.
Step 2
Type in the text you'd like to hear spoken and select a voice & listening speed, then press "Generate" icon to create a radio audio.
Step 3
Click the MP3 button to download the natural-sounding radio ad for free.
The Bottom Line
That's all for how to make a radio ad with AI technology online. Now pick your favorite tool and boost your business via an engaging radio commercial right now!