Comic strip is a popular art form that not only entertains but also educates because of it can explain complex stories and concepts using images and dialogue. Not only cartoonists can create comic strip, teachers can create comic strip to educate students and businessmen can create comic strip to attract consumers. It plays an important role in our daily life.
As a beginner that wants to create a comic strip design, you must not know where to start. Therefore, we will recommend a strong comic strip maker for you to create your own amazing comic strip. Let's start!
Part 1 The Best Comic Strip Maker - FlexClip
FlexClip's strong photo editing features will offer a different experience for you to create a comic strip online. Its advanced AI tools, large elements library, powerful editing features, and stunning effects can help you make a comic strip with great ease.
And below are FlexClip's strong functions that can help you make wonderful comic strip.
1.AI Tools Save Energy to Make Comic Sketch or Script
FlexClip's AI tools can save your time or energy to design your comic strip or script. For example, when you need to prepare the storyline of the comic strip, its AI Video Script feature can help you to generate comic script automatically. And its AI Image Generator allows you don't have to create sketch before making comic strip. You can type your desired description about the comic image and then you will obtain AI image in different styles. There's always one you like.
2.Remove Background Feature Easily Extract Character from Image
Moreover, FlexClip's Remove Background feature can help you to extract cartoon characters from the comic image and paste them to any backgrounds to do more edits. Just one click, you will don't have to remover background manually.
3.Large Elements and Text Library Inspire You to Customize
FlexClip owns a large elements and text library, which enables you to customize comic strip creatively. It provides free text fonts and colorful speech bubbles for you to ensure your readers know who's talking. And you can also add borders, stickers or cartoon graphics to give your comic strip a more engaging appearance.
4.Output Comic Strip Video Makes It More Attractive
FlexClip not only allows you to output comic strip image, but also allows you to generate comic strip video with audio. Its abundant audio library will offer many rich options so that you can choose the best music or sound effects to fit for your comic strip video.
With FlexClip, it becomes easy for you to weave images, text, and emotion together to create a comic strip to be proud of.
Part 2 How to Make a Comic Strip in the Best Comic Strip Creator - FlexClip
Be interested in starting to make comic strip from scratch in FlexClip? These are detailed steps below.
Step 1 Set the Layout of Your Comic Strip
Click the Background Color can change the background color to fit for your comic strip image.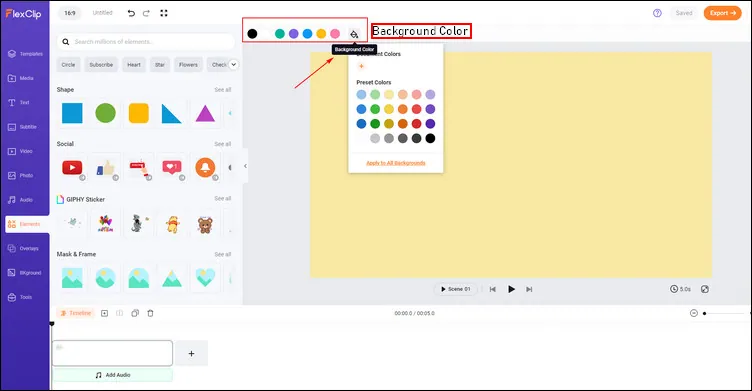 Change Background Color
Tap the Elements to search for border to set the layout of your comic strip and manually adjust its location and size. It will make your comic strip looks more organized.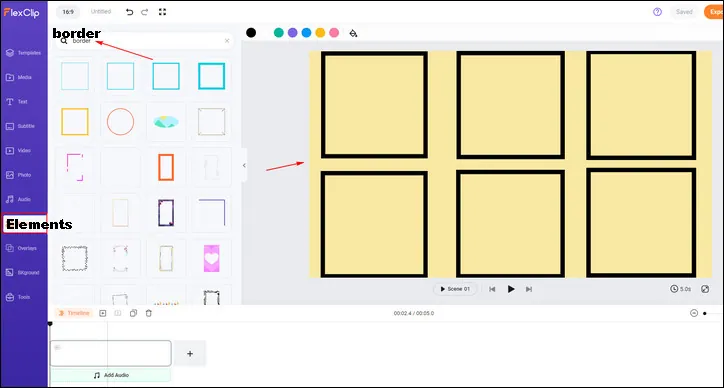 Add Border
Or you can tap the Elements to choose different shape to design your comic strip layout in another way. You have infinite possibilities to design it.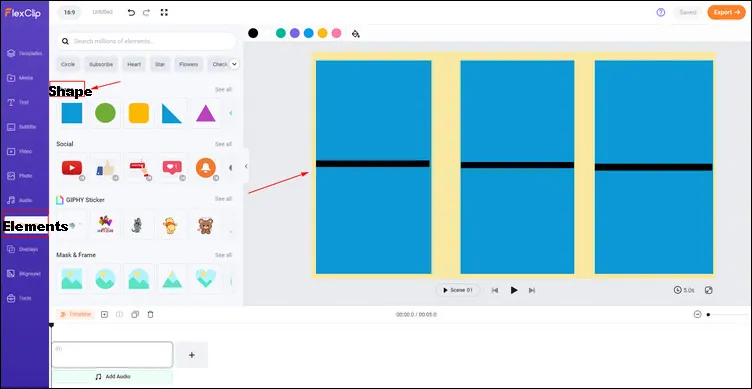 Add Shape
Step 2 Upload or Generate Comic Materials
Tap the Media to upload your comic materials from your computer or phone, Google Drive, Google Photos, One Drive, Dropbox.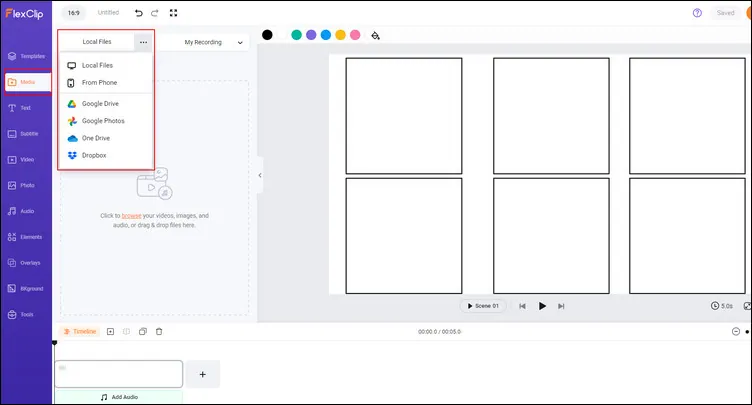 Upload
Or, if you need some tools help you to obtain comic sketch. Click Tools > AI Image Generator to type the description about the image and select the image style you want, then tap the Generate to generate your comic image.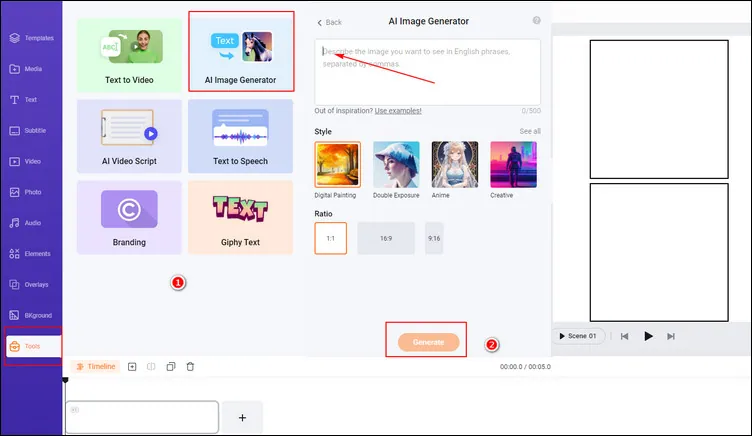 AI Image Generator
Pro Tips: If you don't prepare a engaging story for your comic strip, choose the AI Video Script to generate the comic script automatically.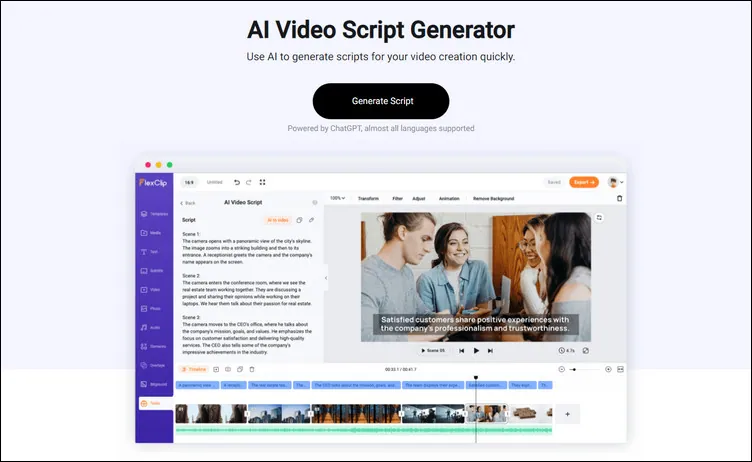 AI Video Script Generator
Step 3 Adjust the Comic Strip Image Fundamentally
Choose your comic images and click the Add as Layer to add them as layer. Then it's your time to manually adjust the location of comic images to fit for your pre-made layout.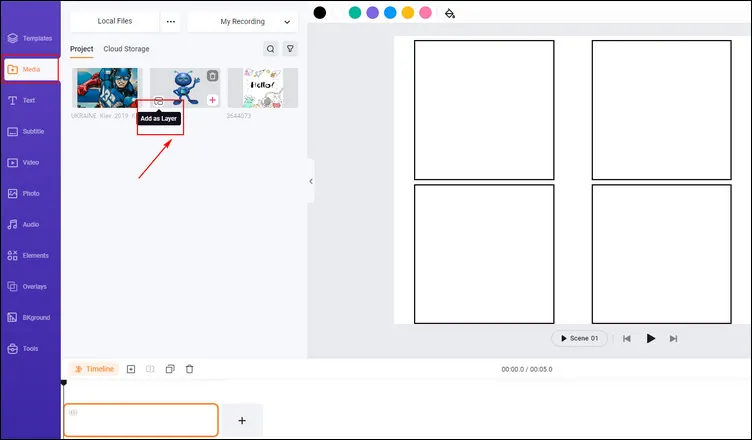 Add as Layer
And if you want to extract the cartoon characters from the original background to do more design, tap the Remove Background to achieve it.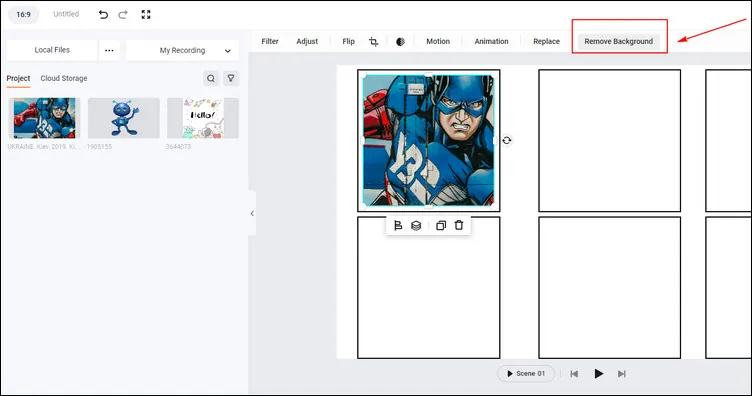 Remove Background
Step 4 Customize Your Comic Strip Advanced
If you hope to make your comic strip more attractive, click the Elements to search for speech bubbles you like and then type text to express the mood of character in the comic strip.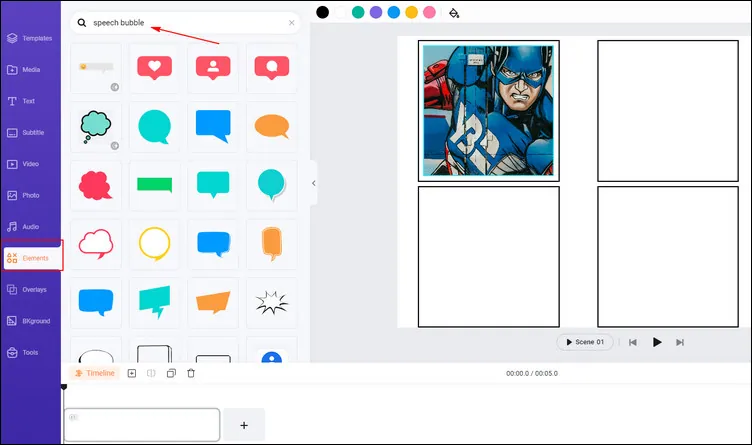 Add Speech Bubbles
Or, click the Text to choose speech bubbles or comic bubbles to design different conversations in your comic strip.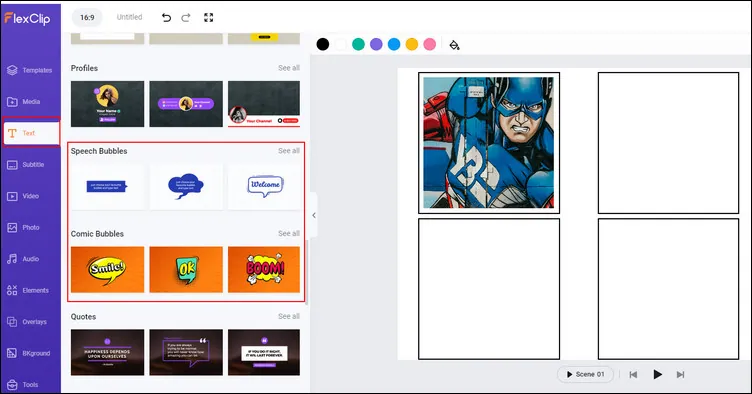 Add Text Bubbles
Also, you can search for some special cartoon graphic and stickers in the Elements library to enrich your image.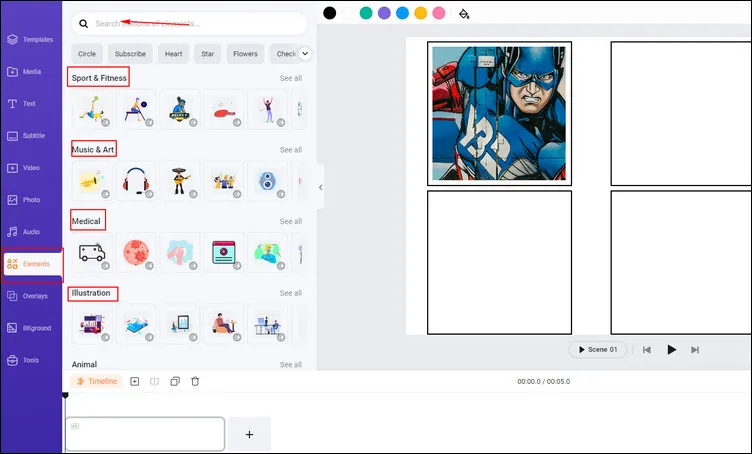 Add Cartoon Graphics
And maybe someone have a desire to output comic strip video with audio. So click the Audio to choose your favorite music or sound effects to attract viewers.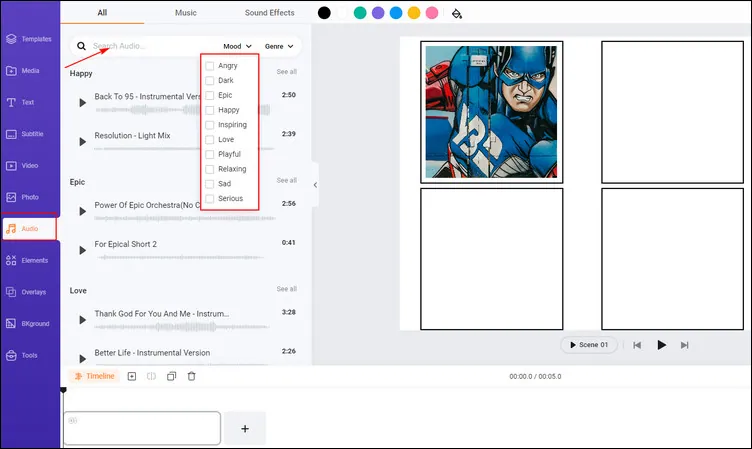 Add Audio
Step 5 Download Your Comic Strip
Once your comic strip are finished, you can tap the Export Frame to download your comic strip image.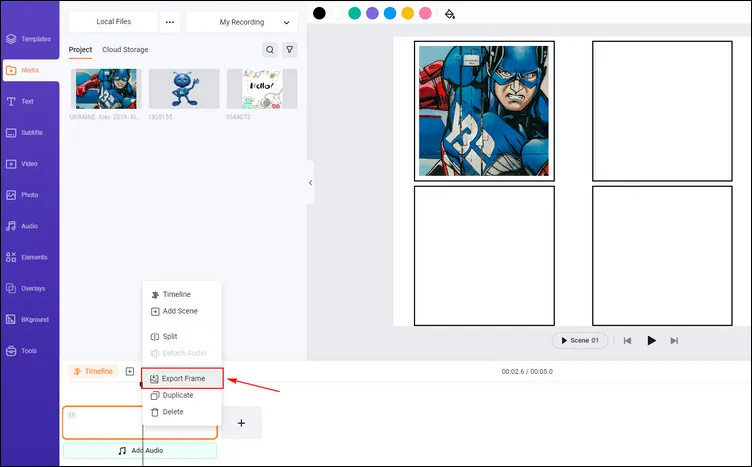 Download Image
Alternatively, if you decide to output comic strip video with audio. Tap the Export to download and even you can share it to different social platforms or share it to your friends.
Download Video
The Final Words
Hope this strong comic strip maker online - FlexClip can give you a simple and fun way to create a nice and expressive comic strip. Try it!.