After nearly 3 years of development, The number of TikTok active users reached 14.1 million. Even though there is still a long way to go before TikTok becomes a leading video sharing platform like YouTube, Internet celebrities and business people vie with each other to sign in on this platform for a boost in the number of fans.
Here is a piece of good news for maniacal TikTok users. TikTok is launching TikTok pro account.
Also Read: How to Make a Video Your iPhone/Android/Desktop Wallpaper >
What is TikTok Pro Account
TikTok pro is an extended version of TikTok. It doesn't enable you to access more video editing features, however, you can get extra analytics features that help you to track the weekly or monthly performance of the video, and followers' gender, location, interest and more.
TikTok pro is useful for TikTok celebrities to understand their fans more and create visual contents catering to audiences' interest. There are lots of successful cases of booming followers after using the TikTok Pro.
What's better, TikTok pro is currently free to use! Now, follow the steps below to get a TikTok pro account.
How to Get a TikTok Pro Account
Step 1 Go to the profile page, click on the Privacy and Settings Tab.
Step 2 Tap on 'Join TikTok Testers'.
Step 3 Confirm the application with the mobile phone number.
Step 4 Follow other prompts to finish.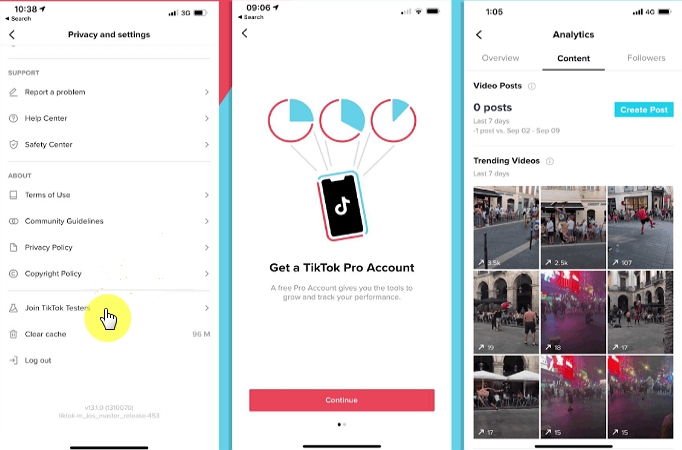 Image Board: How to Get a TikTok Pro Account
Once your Pro account is activated, there will be an Analytics button under the account option.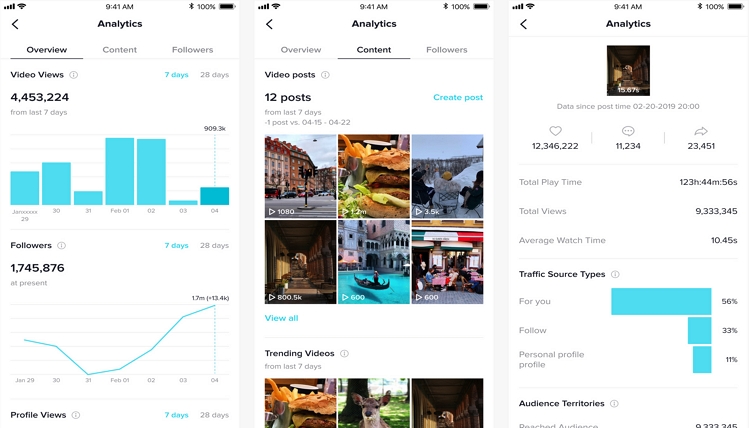 TikTok Pro Account Preview
How to Switch Back from Pro Account to Personal Account on TikTok
TikTok pro account is excellent. However, it doesn't fit those who just create videos for fun! If you regret getting a TikTok pro account, you can switch back from Pro account to personal account on TikTok anytime. Follow the steps below.
Step 1 Launch TikTok, go to the Profile icon, then click the three-dot icon on top right.
Step 2 Under Account section, go to Manage My Account.
Step 3 Click the Switch to Personal Account.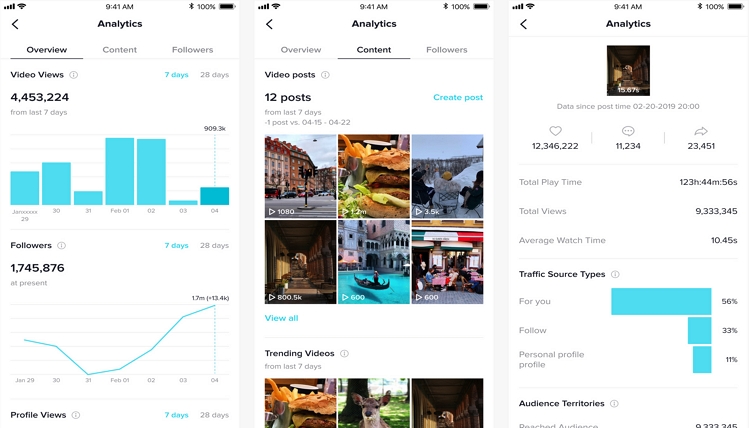 TikTok Pro Account Preview
Bonus: Tips on Making a TikTok Video that Gets Likes
We understand how eager you are to make a TikTok video that gets likes. However, more preparation may quicken the speed of doing works. Check these practical tips out.
1 >> Looking for trending hashtags. Hashtags can be regarded as a summary of video elements, for instance, the BGM. Love the music, love your video. That's what audiences would do.
2 >> Film in a unique place or show audiences interesting things you encountered. Most people shoot videos in their living room or bedroom. To be outstanding, go out and find something eye-catching!
3 >> Make a quality video. Though TikTok works well as a video maker, it does no harm to level up your work. Free video maker FlexClip helps you add dynamic texts, add watermark, add voice-over, etc. Give this professional video editor a try.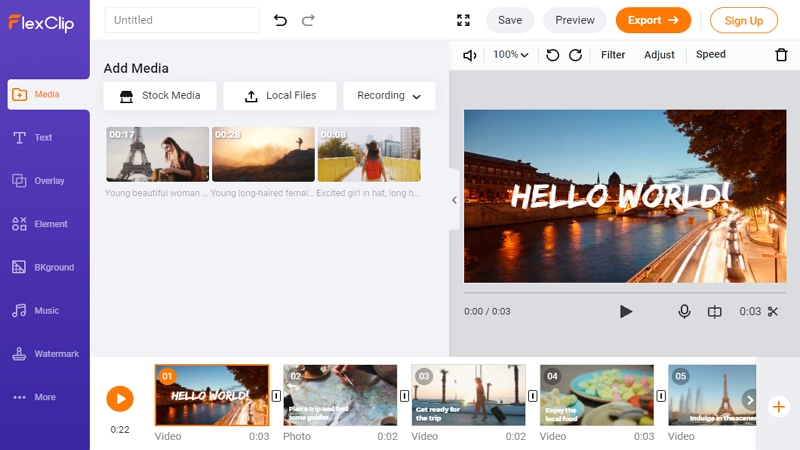 FlexClip Preview
4 >> Cooperate with others. Invite your friends who are also on TikTok to make a video together. Your friends' fans will follow you, and your fans will follow your friends. This is a win-win option.
5 >> Engage with Your Audience. Kindly view and reply to your fans' comments. If possible, go live and interact with your fans.
For more ideas to become famous on TikTok, please refer to: How to Become Famous on TikTok >