Summary: If you are looking for a free glitch sound effect, you're in the right place. In the post, we've rounded up five of the best websites for you to download glitch sound effects for free.
As you know, adding sound effects is essential for video production. Glitch sounds stand out from the crowd because they make your videos look cooler and more professional. They are commonly used for intro or video conversion. Here are some common glitches: computer glitches, digital glitches, static glitches, TV glitches, etc
So, where can you download a royalty-free glitch sound effect?
Don't worry. We'll introduce you to five of the best websites for downloading royalty-free glitches sound effects in the following parts. Let's dive right in now.
Also Read: How to Add Sound Effects to a Video in Only 4 Steps
Recommended: Best Video Editor with Glitch Sound Effects
Want to add glitch sound effects to your video? Why download the glitch sound effects first? All you need is a video editor with glitch sound effects. FlexClip is one such video editor. It runs on your browser and meets all your basic video editing. Besides, it has a vast sound library where you can get all the sound effects you need for your video, such as glitch sounds, holiday sounds, happy sounds, scary sounds, etc. Although it's so powerful, it's easy to use, and even novices can quickly make professional-looking videos. Give it a try now.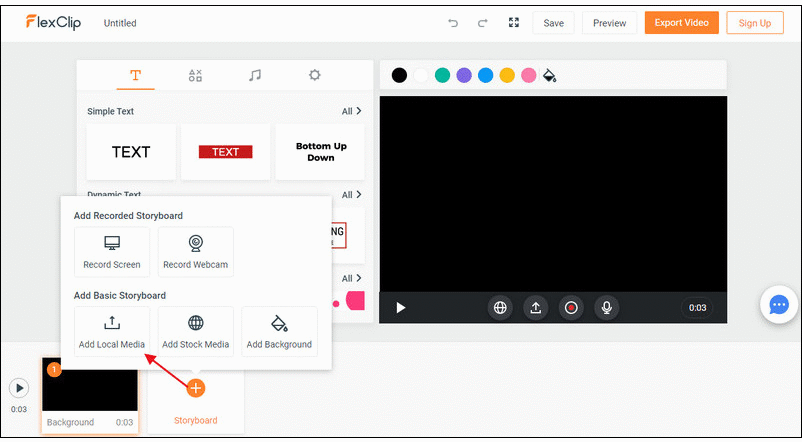 Image Board: How to Add Glitch Sound Effects to Your Video Using FlexClip
5 Best Sites to Download Royalty-Free Glitch Sound Effects
If you're looking for a free glitch sound effect for your video, Dreamstime is your best bet. It is the best sound library with thousands of royalty-free glitch sound effects suitable for all types of videos. From glitch noise, TV static to glitch transition, Dreamstime has them all covered. Just select the glitch sound you want, click the download arrow, and your audio file can be quickly downloaded.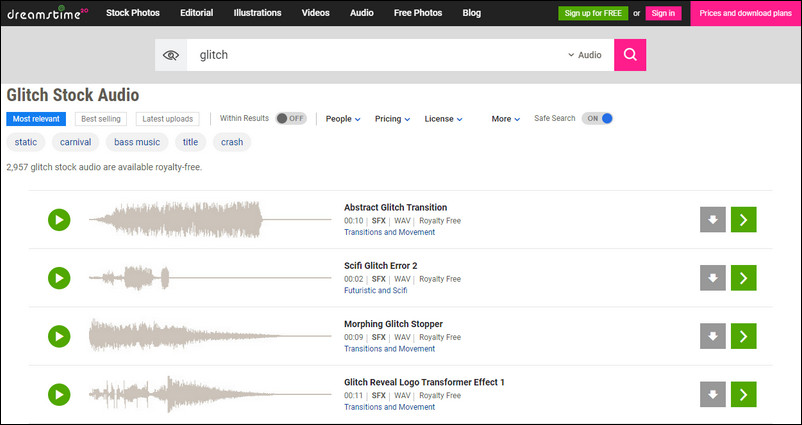 Image Board: Dreamstime
To quickly add glitch sound effects to your video, click here
Storyblocks is one of the best online music and sound libraries. You can find plenty of royalty-free glitch sound effects on the platform, such as computer glitches, TV glitches, distortion glitches, and so on. In addition to audio stock, Storyblocks offers you an unlimited number of video and image resources to help you make your videos more compact and engaging. To download your favorite glitch sound effects, subscribe to a Storyblocks subscription plan first.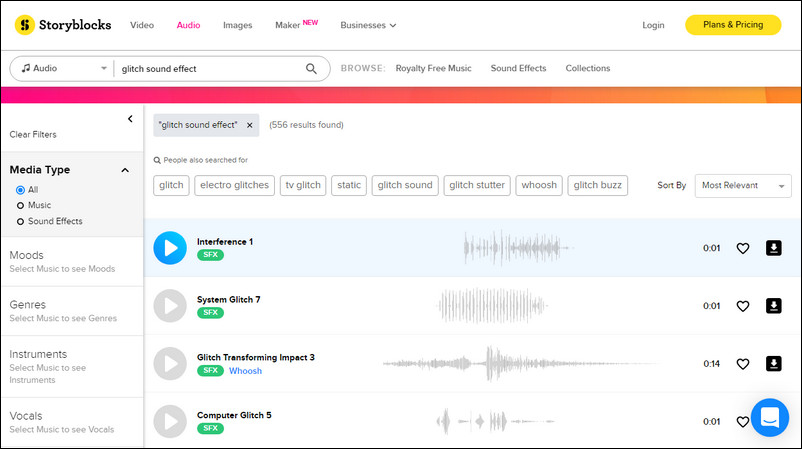 Image Board: Storyblocks
ZapSplat is another excellent resource for royalty-free glitch sound effects. But unlike the paid Storyblocks mentioned above, ZapSplat is free to use. Not only that, it also supports MP3 and WAV audio formats. Currently, the MP3 format sound is free to download, while the WAV format is limited to gold users. If you want to download higher-quality WAV sound, please subscribe to a higher paid plan.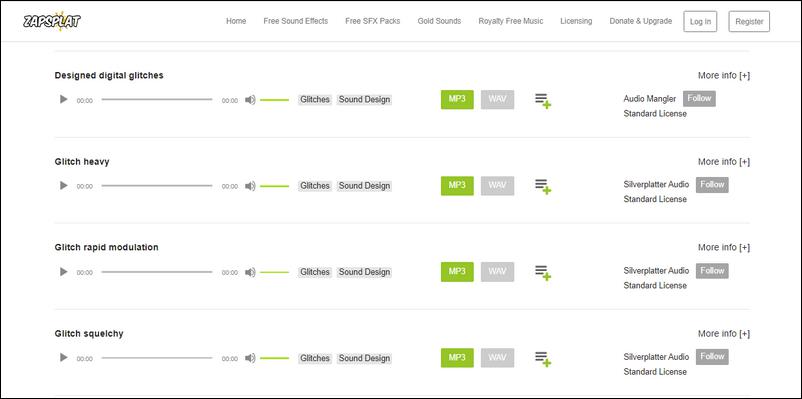 Image Board: ZapSplat
Freesound, licensed under Creative Commons, is a vast sound database where you can find audio snippets, samples, recordings, and various sound effects. The platform is open to everyone: sound professionals, sound enthusiasts, and those who need free sounds. Although it's free to use, you have to register an account with Freesound first so you can upload and download sounds to the database.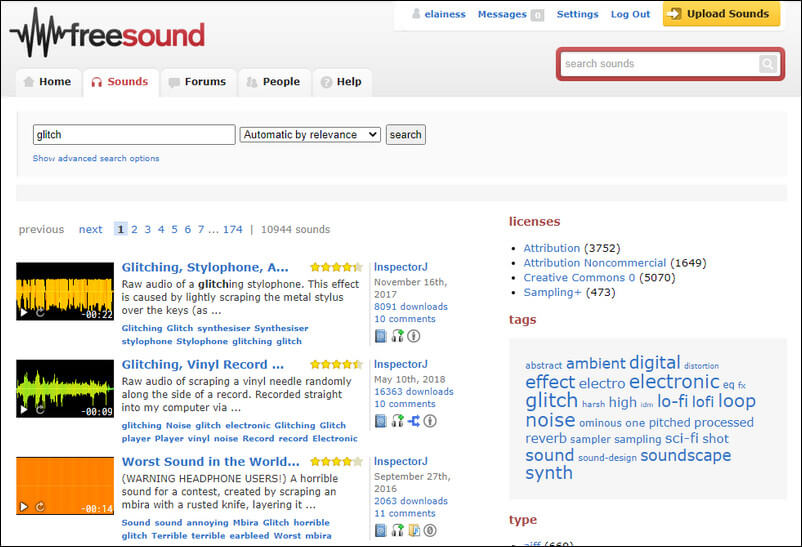 Image Board: Freesound
As its name suggests, TunePocket is a music library offering unlimited music for videos. If you are looking for a glitch sound effect, give the TunePocket a try. It provides you with many royalty-free glitch sound effects that are available in high-resolution 24Bit WAV format and can be used with any video editing software. It is important to note that you can download your favorite sound effects for free, but only for evaluation purposes.
VLC is a free cross-platform media player. What makes it unique is that while it was designed to play video, it includes the feature of video conversion. With the program, you can easily convert DVD-friendly VOB files to MP4 files without installing additional software.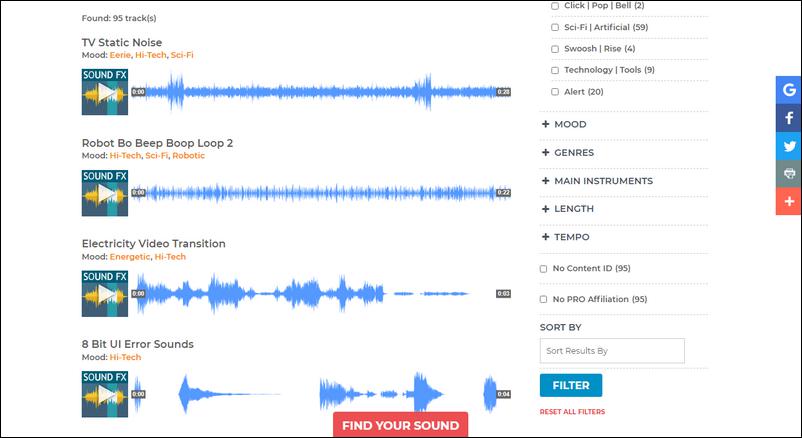 Image Board: Tunepocket
The Bottom Line
That's all for the five best sites to download free glitch sound effects. Which one do you like best and want to give it a try first? By the way, FlexClip is a powerful and professional video editor that can help you make stunning videos for YouTube, Facebook, and Twitter without any hassle. No need to install any software. Have a try now.