Summary: This blog aims at offering you some tricks and tips to DIY a good wedding video. Read it and you can surely become an expert in DIY wedding videos.
The wedding video captures precious moments that a couple would cherish forever. Generally speaking, many young couples would pay for wedding video services, including video shooting, video editing. However, a few couples also want wedding videos to be stylish.
It is understandable that you may want the wedding videography special and unique, but this can be risky. Nobody wants to look back the most important day with a poorly made wedding video. Tricks are important.
Here in this blog, we will show you the tricks and tips to DIY wedding videos. Keep reading and become an expert in making wedding videos.
Also Read: How to Make A Birthday Wish Video >
DIY Wedding Video - Part 1. Tricks & Tips for Video Shooting
> Make sure you have enough cameras. Recording everything fun at the wedding is necessary. The more cameras you have, the less chance that you would miss interesting things. It would be better if the camera can work well in low-light.
> Use microphones or headphones. It would be noisy at the wedding. Without microphones or headphones, people can only hear sounds of coughing and seat adjustments in the video.
> Time limitation. The ideal length of a wedding video is 10-15 minutes, so trying to make everything fun. One of your friends can go and film people doing silly dancing and the other friend can interview the guests and ask interesting questions. Creativity is crucial in wedding video DIY.
> Use tripod. Nearly nobody can hold the camera completely still. Shaky footages only make people feel like seasick.
DIY Wedding Video - Part 2. How to Edit Wedding Videos
Nobody enjoys unedited or poorly edited wedding videos. No matter how well you shoot, editing is important. At this point, a free but professional wedding video editor is what you need. Here we recommend you FlexClip.
FlexClip is a professional video editor. A late starter as it is, it suddenly stands out and wins much praise from users for its powerful editing tools, easy operation, high efficiency.
Powerful Editing Tools
FlexClip is equipped with powerful music trimmer, video cutter and dozens of text templates, allowing you to add customized music as background music, cut unwanted sections of a video and add texts.
Easy Operation
FlexClip is easy to operate. Each edit, like add background music, add watermark, can be done within a few clicks. With FlexClip, even green hands can DIY wedding videos with great ease.
High Efficiency
FlexClip is a web-based free video editing service. This saves you lots of time for you don't have to download one video editor to your computer. It is also very quick to download edited videos.
Below are detailed steps of how to edit wedding videos.
Step 1. Go to https://www.flexclip.com/ and sign up for free. Click the "+" button on the down left corner to add photos or add videos from computer to storyboard.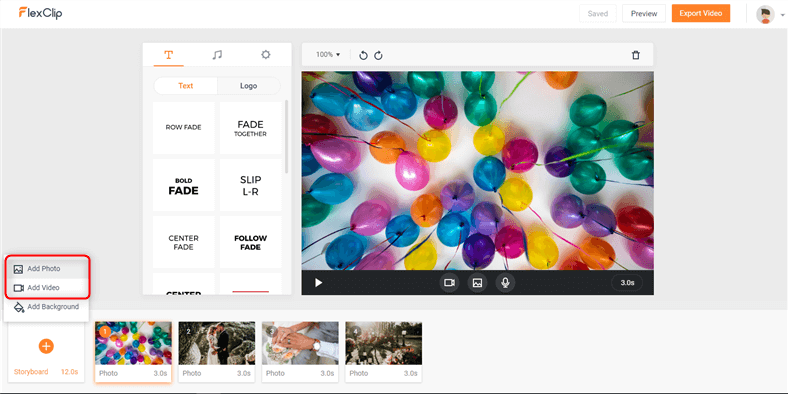 Image board: DIY Wedding Video - Step 1
Step 2. On the side panel, click Text to add texts with movements, like follow fade, center fade, line up slide. You can also add logos to the video if you like.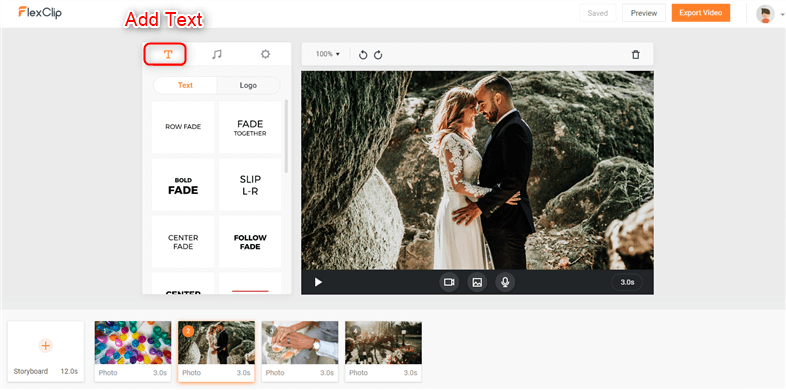 Image board: DIY Wedding Video - Step 2
Step 3. Go to Music and then upload songs you like from computer. Trim it, it can be then set as background music.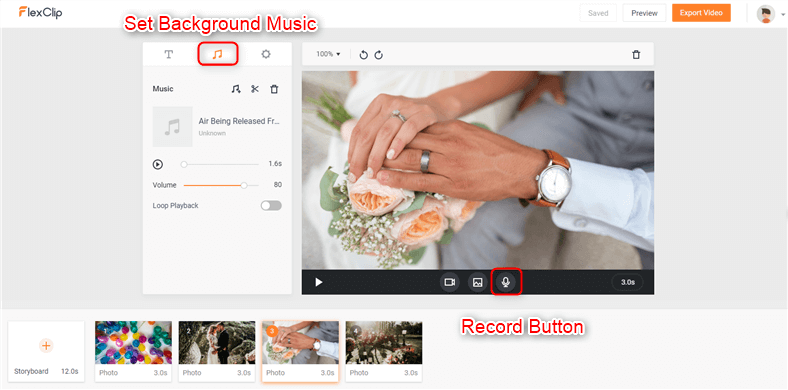 Image board: DIY Wedding Video - Step 3
Step 4. Click on the Preview button and then you can preview the wedding video you made. Continue to edit or save the video to computer.
The Bottom Line
That's all for tricks and tips to DIY wedding videos. Follow the above steps and you can surely DIY a good wedding video. By the way, FlexClip can help you more, like making YouTube videos, making birthday wishes videos. Give it a try and don't miss it!