Celebrating someone's birthday? You can make his/her day extra memorable and special with a birthday collage video that combines all the precious memories and your heartful wishes.
So, in this article, we'll share the best online birthday collage makers that can help you create a great happy birthday collage with song online for free without any hassle.
Contents:
Part 1 Best 3 Online Birthday Collage Maker with Song
Free Editable Happy Birthday Collage Templates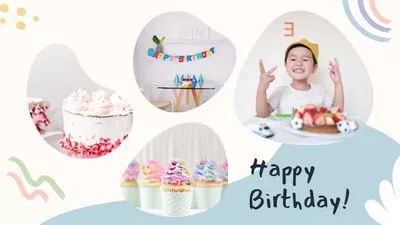 Happy Birthday Collage For Baby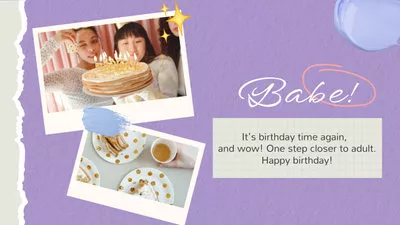 Friends Birthday Wishes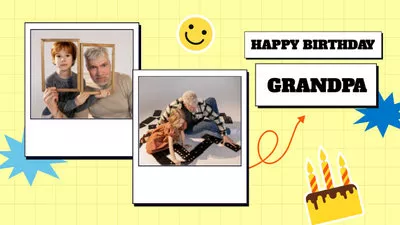 Birthday Wishes For Grandfather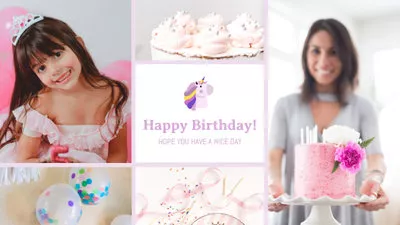 Happy Birthday Collage For Girl
Also Read: Top Birthday Video Makers with Music and Effects Free >
Part 1 Best Online Happy Birthday Photo Collage Makers with Music
Making a birthday photo collage with song has never been easier with the right photo/video collage maker. So here we'll introduce the best three online happy birthday collage makers with music to help you get started easily. Just check out now!
There are several tribute video software you can use to create a tribute video. iMovie by Apple, Windows Movie Maker by Windows, and some by Adobe are among the common ones. But here, we want to share some online ones to help you create your tribute video with music and more special effects.
FlexClip
FlexClip is a feature-packed online video collage maker that allows you to create happy birthday collages with your favorite photos and videos in several clicks.
Never mind if you're a novice at making a birthday collage, as FlexClip offers a wide array of designer-made video collage templates and easy-to-use editing tools to help you make your birthday collage with music quickly and easily.
Besides, FlexClip also provides you millions of stock videos, photos and music, animated resources, and special effects to take your birthday collage up a notch.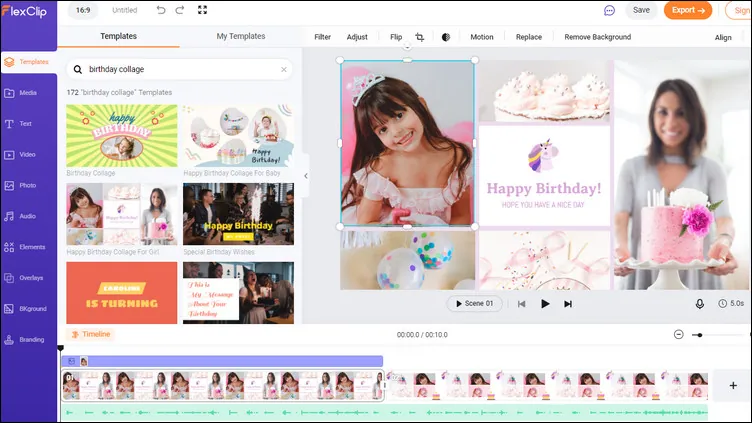 Image Board: Online Birthday Collage Maker - FlexClip
Canva
Canva is the largest and most well-established graphic design platform online. It also offers a powerful collage maker to help you make a photo or video collage for someone's birthday or any more occasions quickly and easily.
It has an extensive collection of birthday collage templates you can customize to create a photo/video collage for the birthday. All those templates are fully customizable and easy to edit.
What's better, Canva's free drag-and-drop editing tools make it easy to edit and make a happy birthday collage!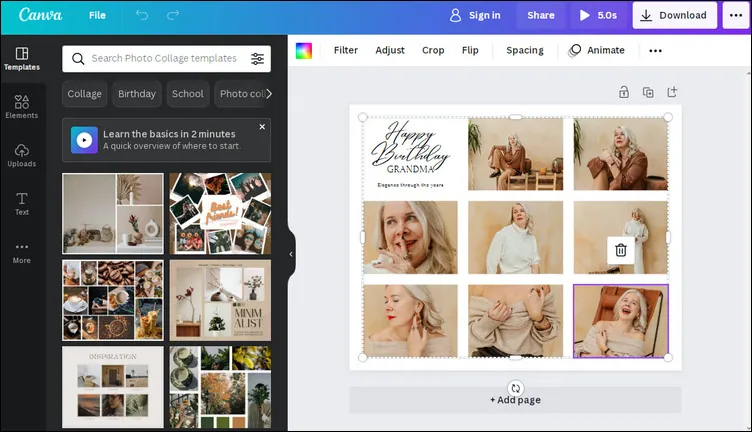 Image Board: Online Birthday Collage Maker - Canva
Smilebox
Smilebox's birthday collage maker also helps you turn your birthday photos or clips into an excellent video birthday collage in a breeze.
Like the former two birthday collage makers, it also offers stunning birthday collage templates that are fully customizable to help you get started easily. Besides, it also gives you the flexibility to design your birthday photo collage, and you can add any photos, edit the text and add any song you want.
To get started making a happy birthday collage, all you need to do is picking a template, applying your own photos, choosing a song, adding captions, and downloading.
Image Board: Online Birthday Collage Maker - Smilebox
Part 2 How to Make a Happy Birthday Collage with Song Online
Ready to test it out for someone's birthday? Now, we'll introduce the detailed steps to create happy birthday collages from pictures and videos using FlexClip . Just press the button below and follow the simple steps to make a great birthday collage video with music.
Step 1 Start with a Collage Template or from Scratch
Simply turn to FlexClip, go to the Templates section and scroll down to pick one video collage template you like or you can search the proper templates by keywords, and then apply it to the Timeline.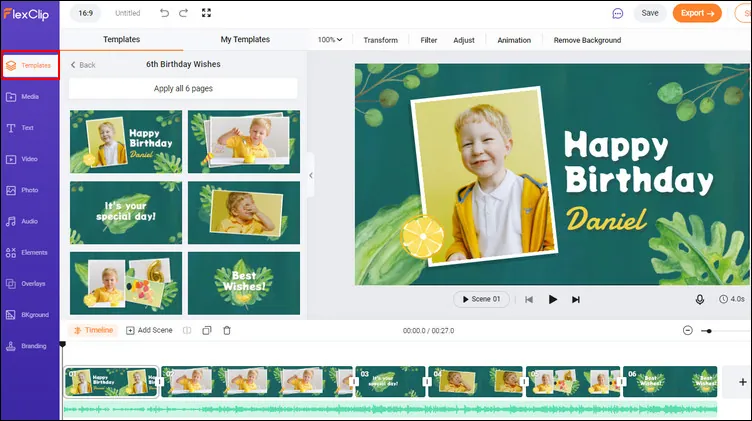 Image Board: Make a Birthday Collage Online Free - Pick a Template
Have the ideas in mind, or need something custom? It's not hard to create something yourself from scratch with FlexClip's user-friendly interface and easy-to-use editing tools.
Here we'll walk you through how to make a happy birthday collage easily using a template at FlexClip.
Step 2 Personalize the Template to Make it Your Own
Once you pick the template or scene you like and add it to the timeline, you can personalize the video collage in lots of ways here.
Upload your own photos or clips to the Media section and drag them to the canva to replace the default imagery in the templates.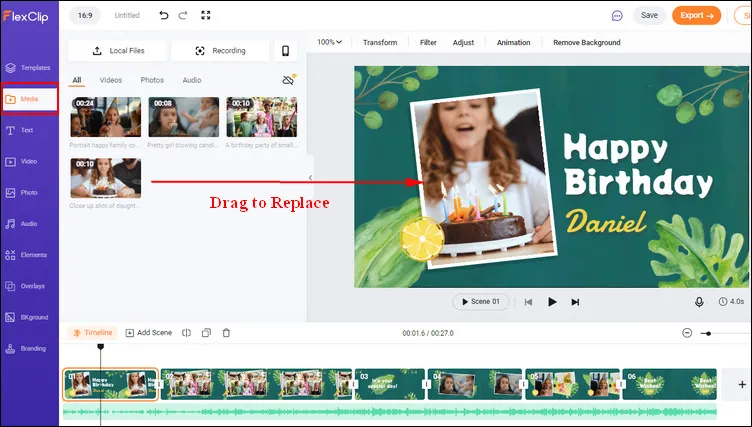 Image Board: Make a Birthday Collage Online Free - Replace
To edit your own birthday message, you just need to double-click the text box and then modify the font and color, or you can go to the Text in the sidebar to add multiple text boxes in your birthday collage video.
Image Board: Make a Birthday Collage Online Free - Edit Text
And, you can change the audio track, adjust the background, and more until it fits your needs. Also, feel free to edit the template using FlexClip's extensive animated elements and stunning effects to make your birthday collage video far more appealing.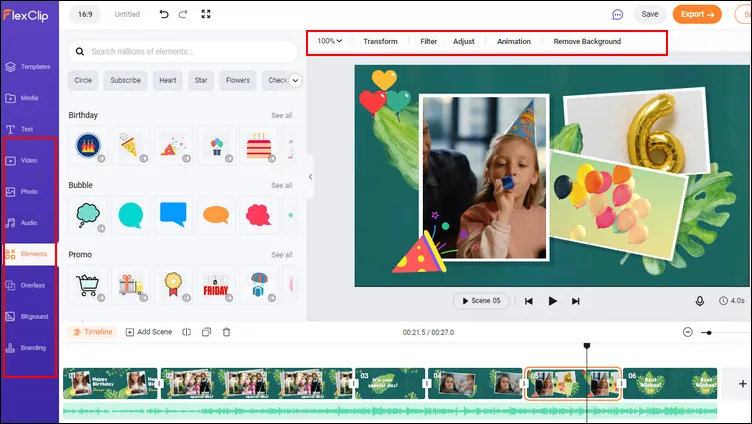 Image Board: Make a Birthday Collage Online Free - More Edits
Step 3 Preview and Download the Birthday Collage Video
When you finish editing the birthday collage, go to the preview button to check the final results, then export it directly and share with others.
It's done! With FlexClip's free and versatile video collage maker, just three simple steps and your awesome birthday collage are ready. Go ahead and try it free for yourself to make a happy birthday collage now!
Final Words
Thanks for reading, good luck and have fun making your own happy birthday collage video with one of the birthday collage makers introduced in this article! If you find this post helpful, don't forget to share it with your friends.