If you want a fast text copy extracted from a video's sound or another online audio, you'll need help from an audio to text converter.
World-leading audio to text converters are Google Now & Siri, which have adopted the most advanced transcription technology provided by Google & Apple. These two tools can effortlessly transcribe nearly all spoken languages. Let's check them out:
How to Transcribe Any Audio/Sound to Text in Google Now? (Android Phone)
Almost all Android users can access Google Now easily, although not many users know this.
1
Just try to open a dialogue to enter something.
2
Find the microphone icon on the pop-up virtual keyboard.
3
Open the video/audio with a player/online, and let your Android device get close to the voice's source.
4
Press virtual microphone, hold onto it, and transcription shall proceed automatically.
If you fail to find Google Now on your Android smartphone, you can go to Google Play market and download
Google Assistant
.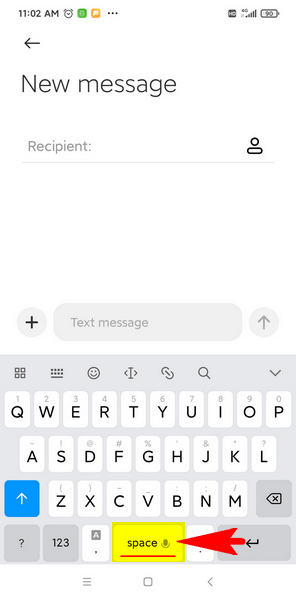 Image: Turn on audio to text transcription using Android virtual keyboard.
How to Convert Audio/Sound to Text with Siri? (iPhone)
Siri allows Apple users to make voice commands with Apple devices. The same, you can find the audio to text function on iPhone's virtual keyboard.
1
Navigate to an app with a virtual keyboard.
2
Find the microphone key on the virtual keyword.
3
Tab the microphone key and speak out. Whatever you speak will be turned into texts.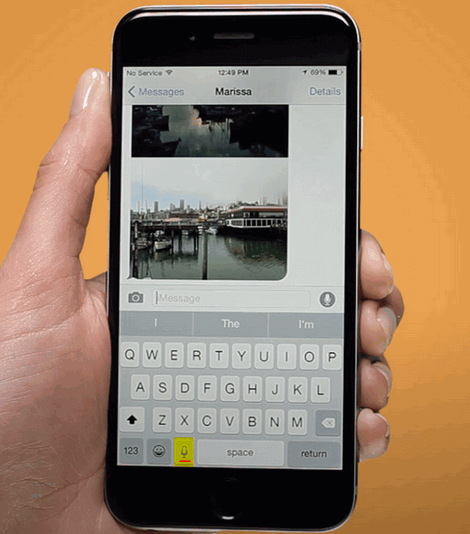 Image: Use Siri to turn audio to text on iPhone's virtual keyboard.
How to Convert Audio/Sound to Text using Google Docs? (on PC)
What if you want to transcribe sound to text on PC? Google Docs can help you out to transcribe any audio to text.
Of course, you can videotape or record an audio with a smartphone and sent it over to your PC. But, isn't this a bit complex? Is there any audio to text converter for PC or that can be used on PC?
Sure, just go to Google Doc where you can find the familiar microphone icon for transcription.
1
Open Google Doc and land a new doc page.
2
Go "Tools" in the menu, and choose "Voice typing".
3
Speak to your computer, or take your phone close to your computer when it plays the audio.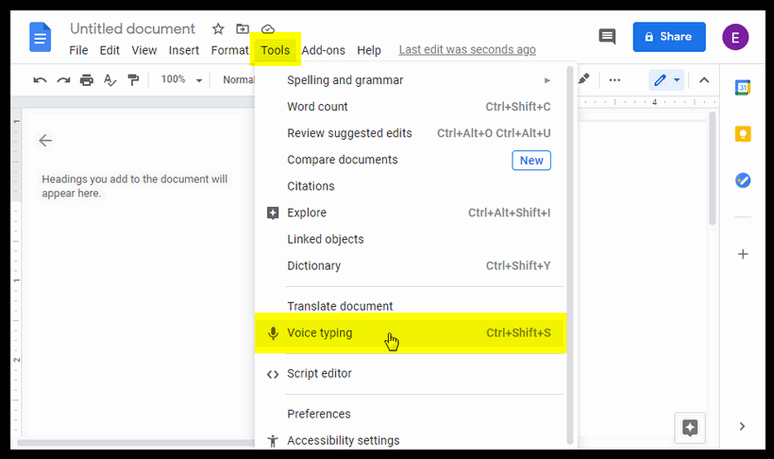 Image: Transcribe audio to text online with Google Doc.
Other Words
Today, automatic transcription technology is so powerful that YouTube, Facebook, and more video platforms have been used to turn videos into subtitles and captions during video plays.
However, when your video is not spoken in English or has a strong accent, these video platforms may fail to transcribe audio correctly, which will render a bad user experience for audiences.
To ensure a wonderful video watching experience, we suggest you add texts to video before uploading it to Facebook, YouTube, and other video platforms.
Here's how to add texts to a video:
1
Upload videos to FlexClip.
2
Add loaded videos as storyboards.
3
Go "Text" tab, choose a text style, and give it a click. Double click the text object to edit video caption.
4
If you like, you can control when video text shows.
Select a video text, and its editing bar will be displayed on top. Find the clock icon named "Adjust Element" to set text shows on which parts of the video.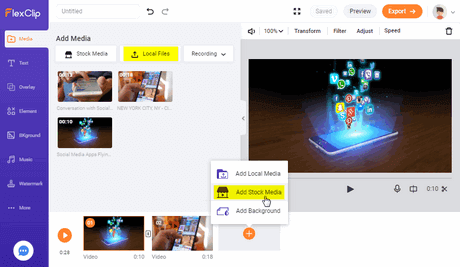 Image: How to add text to video freely.