Brief: Want to make an engaging animal video? Here, you'll find the best free animal video maker online, as well as YouTube best animal compilation videos. Ensure you've checked these tips to render a happy animal video, fast!
Animal videos are viral: People fond furry creatures, and can't help watching & sharing animal videos. When adorable & funny animal videos are live, the animal may even turn famous overnight!(Garfield, Aarons Mr. Kitten, to name a few.)
If you want to promote businesses/products, become famous on YouTube, or simply share happiness on social media, making & sharing animal videos can be your perfect media.
CONTENTS:
Part 1: Best Free Animal Video Maker [No Design Experience Required]
You can either start with pet shots or download animal videos. FlexClip animal maker can help you render a touching animal video. Be your videos & footage made from smartphone or digital camera, FlexClip can deal with your video editing effortlessly.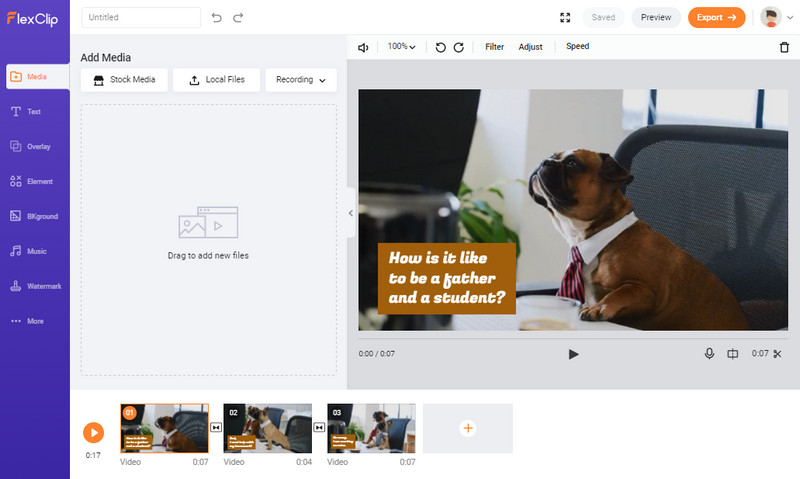 Image: Animal video maker free online.
How to Make A Cute Animal Video for Free? [Easy & Step-by-step]
Step 1 Land flexclip.com, and create a new video project with [Create New] > [+ Start From Scratch].
Step 2 Upload your animal footage by [+ Storyboard] > [Add Local Video]. Or you can search related materials by [+ Storyboard] > [Add Stock Media] to use professional videos & pictures.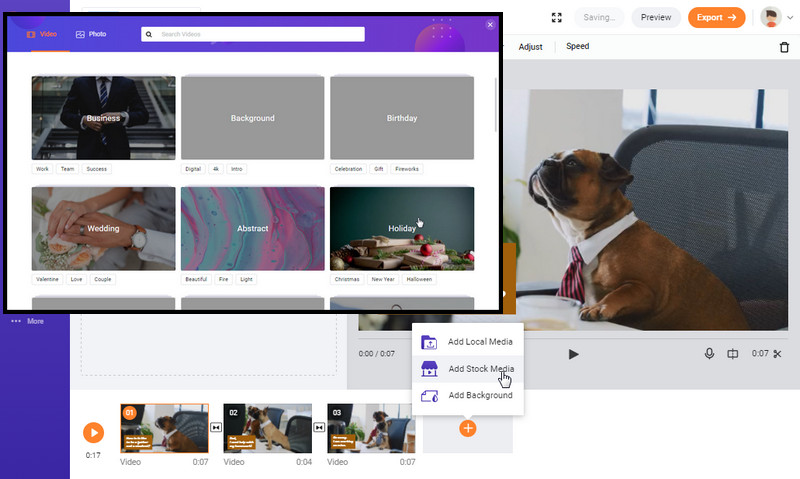 Image: How to make an animal video?
Step 3 Edit your animal footage as you wish, such as, adding scripts, adding animal voices, adjusting footage speed, etc.
Step 4 Choose a ratio and download your animal video.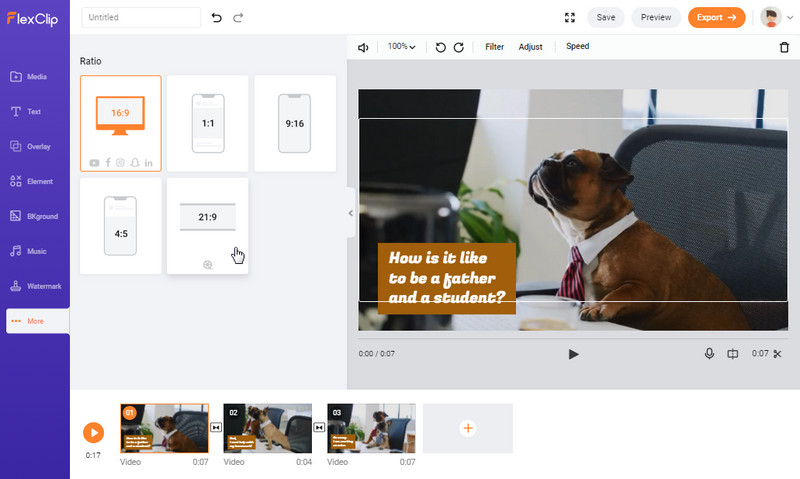 Image: Set the ratio of your animal video and download it.
How to Make A Funny Talking Dog/Cat Video?
Step 1 Upload your animal footage and pictures as storyboard in FlexClip editor.
Step 2 Mute the storyboard you need to add human voice.
Step 3 Add voice to animal video:
Press record icon on the interface to record something.
Or you can upload a separate audio file, by music label > [Add Music] > [Browse My Files]. (You can also adjust where audio starts.)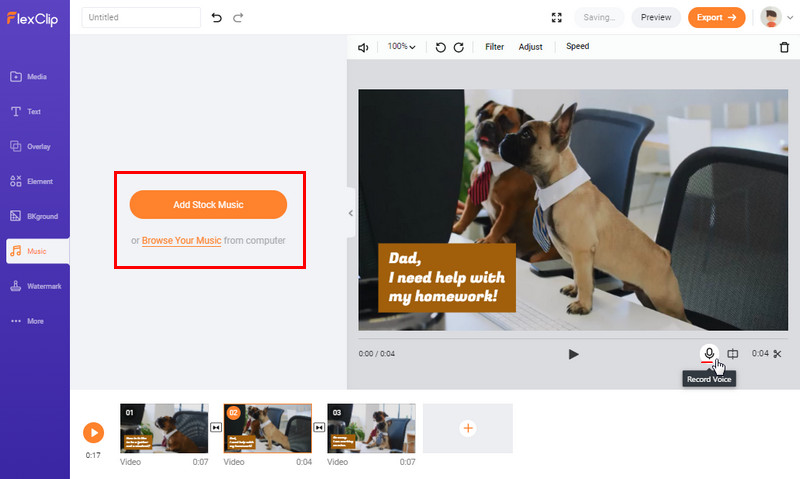 Image: Add voice to animal video.
Part 2: Ideas to Make A Virus Animal Video
If you have no idea of what to make, below ideas may give you some insipirations. They are the ideas extracted from the hottest YouTube animal videos:
Animal behaves like a human.
Animal footage pairs with funny human voice.
Animal footage with hilarious texts/scripts.
Cute baby animals.
Toddlers hangs around with animals.
Part 3: Top 7 YouTube Viral Animal Compilation Videos
If still lack thinking on how to compose & create your animal video, then our curated list of "Top YouTube animal videos" may inspire you. These videos are all are under YouTube creative common license, which means you can download and use any clip in your animal video creation.
No.1.TRY NOT TO LAUGH: Funny KIDS vs ZOO ANIMALS
Compiled by "Tiger Productions" channel, this very animal video hits 154,351,455 views on YouTube since its debut. These moments are so hilarious that you can laugh with tears from the begin to end.
No.2.Dog Days of Summer Coolest Dogs Video
Compiled by Funny Pet Videos channel, the cute puppy video has already won 6,472,623 views since Aug 5th, 2018. Those funniest moments capture puppy acting like a human being; dog insisting on doing meaningless things, etc. By merging these fun moments to an animal compilation video, they present us a video full of fun.
No.3.Creative YouTube Puppy Video - SNOW DAY Music
MILLI'S WORLD channel composes the sweet, creative doggy music video – "SNOW DAY". The lyrics and melody are cheerful. It uses video editing tricks of muting the dog footage, slowing down some footage, and switching angles and scenes to keep audiences engaging.
No.4.Funniest Jealous Pets Ever Compilation
Animals can be jealous, including dogs, parrots, cats… They will become jealous and angry when they've been neglected. Check how hilarious they will behave, when other animals get more endorsements.
No.5.Laziest Pets: Cute and Funny Animals Compilation
When animals are tired, they will turn lazy or even play dead. Then, people can do nothing but laugh. This lazy animal video has successfully gotten 751,761 views successfully, and you can do that easily, either.
No.6.Cute Pets And Funny Animals Compilation
This is a collection of hilarious animal moments. Sometimes they play smarter than human beings, and sometimes, they aren't(herhaps just because they don't want to. LOL).
No.7.Awesome Funny Pet Animals Life(Funniest Dogs and Cats)
Animals and pets have their own funs. Sometimes, they live in the same world with us, other times, they seem to live in a different world.
Part 4: Last Words
The success of animal video lies in the true feeling of animals and caring hearts: Fun moment clips are more important than advanced video editing tricks. And never mute your laughters and conversations with your animals/pets, such audios will resonate with audiences.
Via watching animal videos, audiences can always find balance, life fun, and inner peace. That's what animals makes us a better human, and that's the reason that humans adore animal videos. FlexClip video editor is the shortcut to make your animated animal video!