Are you looking for a tool to add animated underlining on text? Then try After Effects. After Effects is part of the Adobe Creative Suite of products and is a tool based on animation and video making. Designers like you use it to create titles, intros, and transitions between clips for more seamless video production. As with other Adobe tools, the great thing about using this set of tools is that functions and interactions give you a feeling that you have already used the application before, making it easier to learn on the fly.
Why would you want to add an underline in your text?
Producing innovative videos can be challenging. Nowadays, when video trend is getting significant attention, adding animated text to them can give them a more captivating touch. Currently, there is an excessive inclination toward animated text in a video. Imagine the moving, rotating, or reappearing lines with your text in a video, along with variations in colors! Adding an animated text to a video will be like adding another feather in your cap, thereby making your video more successful in terms of attracting more viewers.
When you talk about animating text, adding simple lines or even animating an underline can do the trick. Are you curious about how you can add underline in a text in a video? Well! This post is just for you. Read out this post and learn how easy adding animated underlined text with After Effect in a video is. Let us begin exploring!
How to Underline Text with After Effects
Unfortunately, The After Effects text engine does not support an underline feature. Simply speaking, it's quite a limitation, and you cannot underline text in After Effect directly. Their "Help" system won't be much of a use to you either. But don't worry, we have got your back; in After Effects, there are a million ways to work around things. Luckily you can create an underline on text in After Effect by following the steps below.
Step 1
Open after effect and type something there. Let's say, "Underline my text." And place the text at your desired position. As you want to animate your text, put it in the center.
Step 2
Now go to layers, select new, and select solid fill.
Step 3
Besides the color option on the pop-out screen, select the eyedropper button to match it with the color of your text and hit okay. A single-colored screen has appeared.
Step 4
Go to scale by pressing "S" on your keyboard and unlink the scale by pressing constrain proportion option.
Step 5
Adjust the width of your layer until it matches your text's width. And adjust the length until it looks like an underline.
Step 6
Now press "P" to enter the position and reposition your line under your text. You must have guessed by now it's complex, like a mind-boggling puzzle but stays tuned; there's more for you at the end. Anyways, you already got an underline under your text. It's time to add some animation.
Step 7
Select your Solid Color layer. Click on the rectangle tool and make a rectangle around your underline.
Step 8
Time it to around 1 to 2 seconds, go to the mask and create a keyframe on the mask path.
Step 9
To animate your line, drag the cursor on the timeline back to the start. Select a normal cursor from the toolbar, and resize your rectangle dragging it from left to right until the line disappears.
Create an Animated Underline - After Effects Tutorial
And here you go. You successfully animated a line under your text! Don't believe me? Go on and hit on the play button. I know, I know, that's too much an effort to add a line. And you are probably wondering…
How to underline animated text in an easier way
Let's get straight to the point; there are loads of alternatives available. But you have to try FlexClip. FlexClip is a comprehensive yet straightforward online video editor. It allows you to add underlined text to video in several clicks. The fonts and various of text styles will meet all your needs.
In a word, animating an underline on text is a piece of cake with FlexClip. Just follow these simple tips, and you are there.
Quick Tutorial on How to Create Videos Online with FlexClip
Step 1
Select the text option on the navigation bar. Select a style from a wide range of options available at your tips. A text box will appear on your screen. Double-click on the text box and type your text there.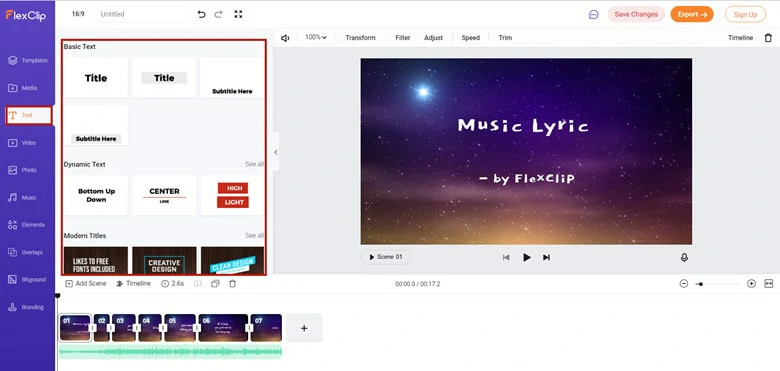 Select a Type of Text
Step 2
Double-clicking on the text box will display some styles, scroll down and select the underline option.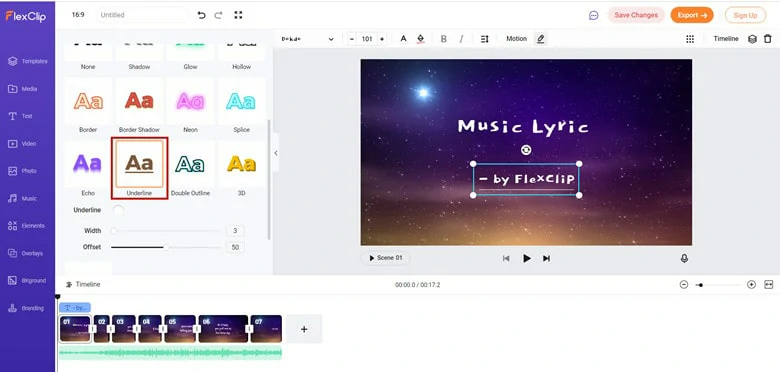 Apply the Underline Effect
Step 3
Save your text and export.
The Bottom Line
Video trends are getting significant attention, and adding animated text can give them a more captivating touch. Animating a line with such a text can work as rolling out the red carpet for your text; such a task of underlining animated text is easier with FlexClip itself. The right tool like FlexClip is the solution to any issues you may encounter while making campaigns, promo, or product launch videos. In FlexClip, you get more tools to work with, easy templates, and a giant supply of royalty-free content. Remember to give it a try!