Adding an animated GIF to your video is a smart strategy to bring an extra fun flair to a mundane video. Very often, it works like magic for grabbing people's attention.
So, whether you wanna poke fun at your friends' embarrassed smile, make a hilarious video for YouTube, or create a brief in-stream video ad on Instagram or Facebook, etc., adding one or multiple GIF overlays to your video could be a game-changer to get more views and a higher click-through rate.
In this post, we will walk you through how to easily add a GIF (from GIPHY) to a video on pc using an online video editor, Adobe Premiere Pro, or even directly add a GIF to your video through iPhone, Android, and iPad.
Add GIFs to a proposal video by FlexClip
Here's What You Will Learn:
Also, read how to add combine or merge GIFs.
How to Add a GIF to a Video on PC
To begin with, since not every video editor can support an animated GIF file, chances are when you import your GIF to the video editor, the original animated looping GIF could become a still image.
So, to successfully add a GIF to a video as a GIF overlay, you are expected to either convert a looping GIF into an MP4 file beforehand or select a flexible video editor that is compatible with both GIF and video file format.
Sounds complicated? No worries! Here are our GIF hacks that can help you easily add a GIF to a video on PC.
1. Directly Add GIPHY's GIFs to a Video by FlexClip
The easiest way to directly add a GIF to your video would be using a free online video editor that integrates with GIPHY's trending GIF assets and has versatile tools for both GIF and video editing.
The answer to that is FlexClip, a user-friendly and feature-rich online video maker that allows you to directly add funny and trending GIPHY GIFs to your video with animated texts, music, sound effects, emojis, etc.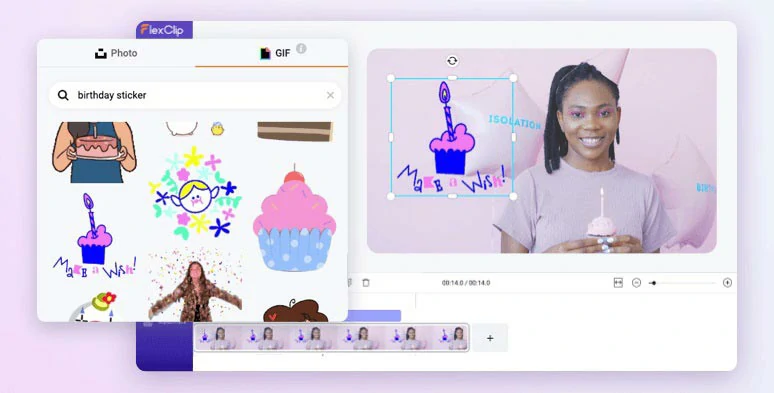 Easily add GIFs to a video by FlexClip online.
With FlexClip, you can easily trim the duration of GIFs to be added to a video and flip, rotate, and add a filter to a GIF, and decide how a GIF can reveal itself in a video or apply a crop mask to crop a GIF into a circle, square, heart, or any shapes imaginable. Super helpful!
Step 1
Access FlexClip
and upload your video and GIFs assets from your PC, phone, Instagram, Facebook, Google Drive, One Drive, Dropbox, etc. You may also customize the video aspect (16:9, 9:16, 4:5, 1:1) for different social media needs.
Upload your video assets to FlexClip and set the video aspect ratio needed.
Alternatively, if you don't have any GIFs, no worries! Just click the Photo tab > GIF > you can search for and add the hottest GIPHY GIFs that fit your video.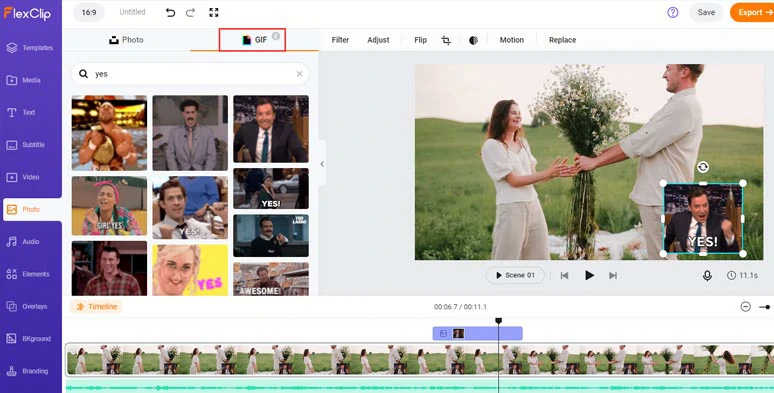 Add trending GIPHY GIFs to your videos by FlexClip.
Step 2
Add GIFs to a video on the timeline.
Click the "Plus" sign to add the video to the timeline and you may trim or split the clip when needed. Then click "Add as Layer" to add one or multiple GIFs to the video.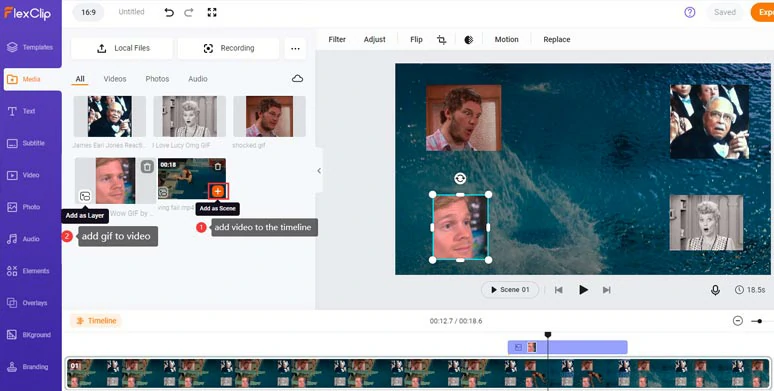 Add GIFs to the video online free by FlexClip.
So, you get this funny video with GIFs:
Add multiple GIFs to a video using FlexClip.
Or, you can drag the corners of a GIF to fill the screen and trim its duration on the intuitive timeline. So, the funny GIF can show up when you need to evoke hilarious emotions from the views for a particular moment in your video.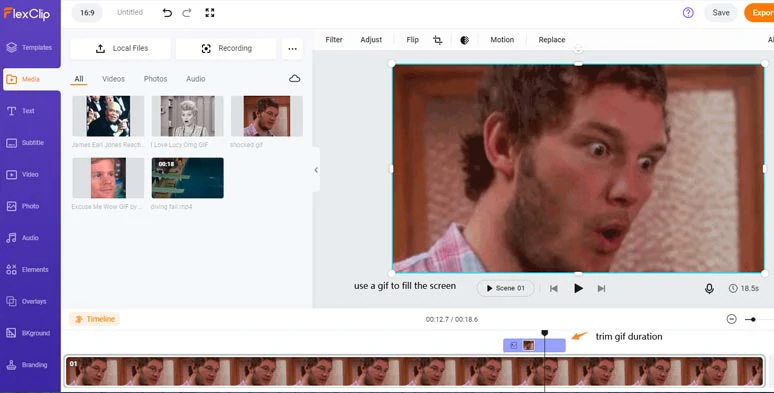 Overlay one GIF on a video to create hilarious effects for a specific video moment.
You may also crop your GIF into a unique shape like a circle, and animate a GIF or multiple GIFs with zoom, bounce, fade, stomp animations, etc. or colorize a GIF with a filer.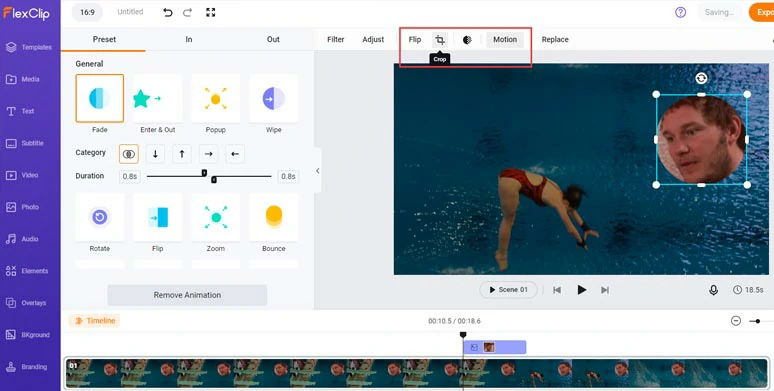 Crop, flip, rotate and animate a GIF over a video.
Step 4
Add royalty-free music or sound effects to GIFs in the video. (optional)
To make your GIFs come alive, you can add funny sound effects like cricket, farts, laughers, crowds cheering, applause, ambient sounds, etc. as the GIFs pop up in your video. Just click the Audio tab > sound effects > search the sound effects needed. You can adjust the volume of the audio, or trim and split the audio. If it is music, you can add a fade in/out effect as well.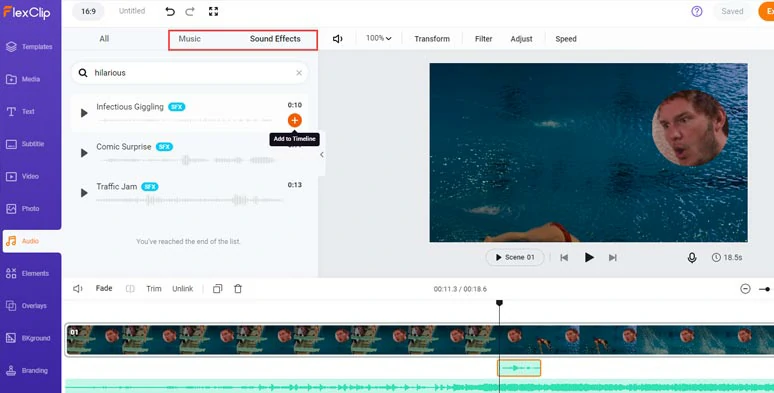 Add royalty-free music and funny sound effects to GIF over the video.
Step 5
Preview and share.
Done with the editing. You can download the 1080P video to your PC or directly share it on YouTube, TikTok, One Drive, Google Drive, or Dropbox; a clickable link and an embed code are also available for your blogs, newsletter or another repurposing. Pretty handy! Also, read how to post a GIF on Instagram.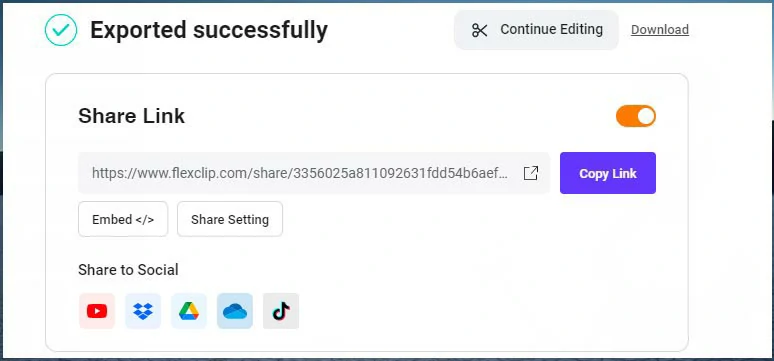 Easily share and repurpose your videos.
Bonus: Use Free Video Templates in FlexClip.
You may also browse through thousands of stylish and fully-customizable
video templates
in FlexClip. All you need is to drag and drop your clips to customize them into a compelling video in minutes. It can be your great timesaver and boost your video editing efficiency 10x faster.
Animated Sport Intro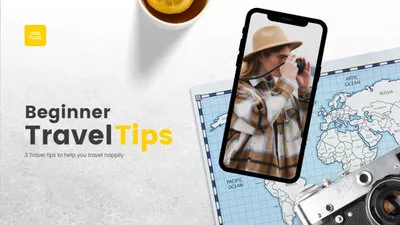 Travel Suggestions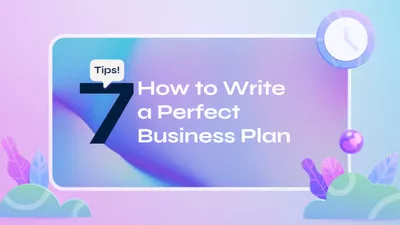 Universal Business Marketing Tips Youtube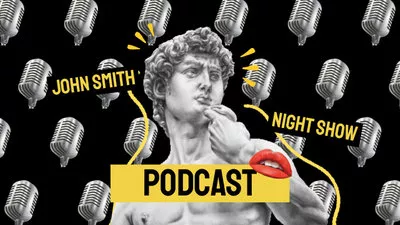 Funny Podcast Collage Intro
2. Use Adobe Premiere Pro to Add GIFs to a Video
If you happen to have Adobe Premiere Pro on your pc or laptop, you may also use it to add a GIF file to a video. However, since Premiere Pro doesn't support GIF format, you have to convert the GIF file into an MP4 file in the first place.
Use Adobe Premiere Pro to add GIFs to a Video
Step 1
Download a GIF from GIPHY to Your PC
Head to GIPHY.com and pick a GIF you like and then hit the share button, which looks like an airplane. Next, click on the Instagram icon, then GIPHY will allow you to enter your Email address and send you a 15-sec MP4 file of the exact GIF to your email. Then, you can save the video version of the GIF to your pc.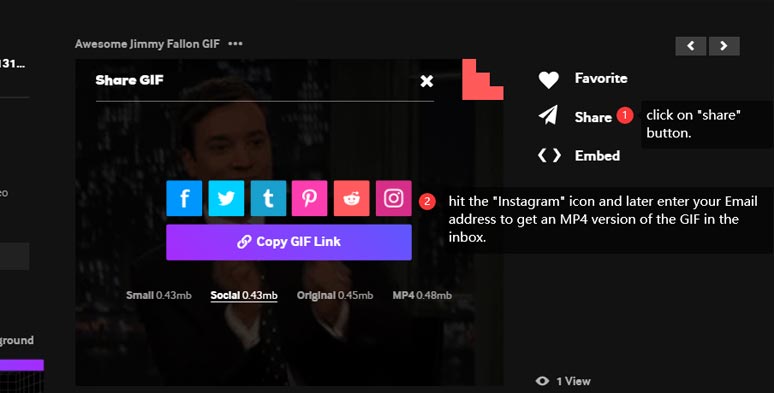 Download an MP4 version of the GIF from GIPHY
Step 2
Add a GIF to a Video by Premiere Pro
Launch Premiere Pro >go to "File" > "Import" > select a GIF in MP4 format from a prepared folder > drag and drop a gif to the exact frame you want on the timeline. You can adjust its duration as well.
If your GIF has a black or green background color, you can remove the background color to create a transparent GIF. To do so, go to "Effects" > "Keying" > select "Ultra Key" for the GIF > move eyedropper to click on the background color of GIF, then background color will be removed from GIF, leaving you a clean and transparent GIF.
How to Add a GIF to a Video on iPhone/Android/iPad Using CapCut
If you are always on the move with only an iPhone, Android, or iPad available, you can also add a GIF to a video with ease. All you need is GIPHY's mobile apps and the other is a free and feature-packed video maker and editor called CapCut, which is accessible to both IOS and Android users.
How to add a GIF to a video by CapCut on iPhone/Android/iPad
Step 1
Directly Save a GIF to Your Device
For iPhone/iPad users: Launch the GIPHY's mobile app > select a GIF > then long-press the GIF > select "Save to the Camera Roll".
For Android users: Launch the GIPHY's mobile app > pick a GIF > tap the "Share" button, which resembles a plane > hit the Instagram Icon > then an MP4 file of the same GIF will be saved to your photo gallery.
Step 2
Add a GIF to a Video in CapCut
Launch Capcut > add your clips first > hit " add overlay" > GIF from live photo> add it to the video. That's it. It couldn't be easier.
Of course, you can add multiple GIFs to the same video as well by CapCut. And there are more advanced features like keyframe and background removal tool, etc., waiting for your discovery.
Step 3
Preview and Export
Now, It's Your Move
Human eyes are built to capture moving objects. While adding an eye-catching GIF to your video can help you instantly convey the humor and make a tedious video come alive. Of the 3 options to add an animated GIF to a video, FleClip, with its flawless integration with GIPHY's GIFs assets and versatile editing tools, has the edge over others. So, start adding your first GIF to a video now. And don't forget to share this post on your Facebook and tell us your inspirations when adding a GIF to a video. Much appreciated!