Presently the video has become the mighty king of the digital world. YouTube, the second most visited website is based on this prevailing concept only. To get noticed and stand tall in this pool of content, creating excellent content paired up with a smart branding mechanism is the dire need of time.
You have created awesome content but if it is not protected and presented properly it can get lost in the vast mess of content instantly. The essential part of this technique is to add a YouTube watermark to your videos.
Major Reasons to use YouTube video watermark
Watermark might seem like a tiny logo in the corner but it has major purposes to serve!!
Professional Outlook: It makes your content looks professional and authentic. The watermark embedded in your videos shows your professionalism and medication to your work.
Brand Recognition: It highlights your brand and gives it a visual avatar that helps the audience to remember you clearly. This boosts your channel's name and branding.
Optimized Protection: The intense competition has made YouTube a chaotic place. Watermark allows you to protect your content from being stolen and copied.
Grow your audience: On YouTube, you can add a link to your channel on the watermark, which allows the audience to become a subscriber. This builds your relationship and trust with your viewers.
YouTube Image Specifications
YouTube recommends abiding by the following specifications for YouTube video watermark:
Image must be less than 1MB in size
The square format of minimum dimension 50×50 pixels must be used
Use one color background for your image
The watermark can be a logo, text, website URL, or any customary image that reflects your brand image. It can either be transparent it is opaque based on the creator's preference. Most prefer it to be slightly transparent to make it look like a part of the video.
After learning all these perks we are sure you are also excited to master this skill. Well, we have summarized some easy methods to add a YouTube watermark to your videos.
How to Add Existing Watermark to All YouTube Video
If you have an appropriate watermark ready to be used on your videos keep it safe on your desktop out of your video editing program. Then follow the below steps:
Sign in to your YouTube account. At the top right corner select the thumbnail image of your account. A drop-down menu will appear. Click on the gear icon of Settings.
A setting center will appear, here click on the 'view additional features'.
You will find the branding option in the third position to the left of the window.
Click on the blue button of 'add watermark'. You will be asked to choose the image for the watermark from your library. Once the upload completes, click on the save option.
We found through our research that Subscribe YouTube watermark brings more subscribers to your channel then a simple watermark. So, try to add red bell subscribe watermark to your videos for better results.
YouTube Watermark Time Settings: It's up to you to put your watermark appear at the start or end of your video. You can even let it appear throughout the video. Click on the Update button once the adjustments have been made.
How to Add a Youtube Watermark to Your Videos
How to Add Text/Image Watermark to a YouTube Video
If you are looking to add a customized image or text to a specific YouTube video then use FlexClip, a professional video editing software that allows you to create magic with just a few clicks. It allows you to adjust the watermark's size, opacity, and position to enhance its richness and suitability. You can also explore numerous music, video clips, and photo options to level up your game.
The software requires no download or registration to create the magic you have visualized. Click on the Create a Video button and follow the stated steps for further guidance:
Upload your video to the Media section. Apply it to the storyboard.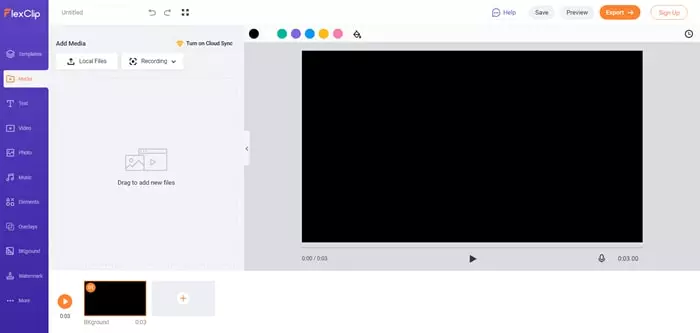 Upload Media Resources from Local Files
Click on the Watermark icon and then the Text option. Enter your desired text.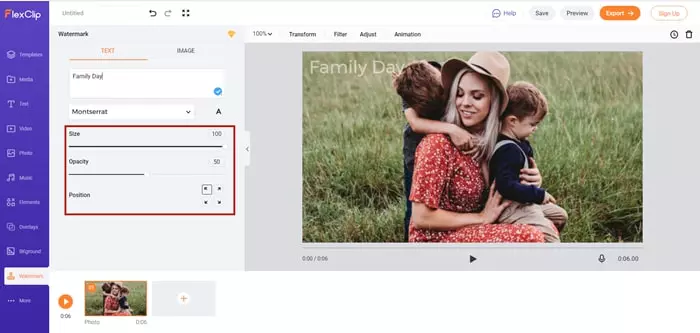 Add Watermark to Video
For a text watermark find a suitable font and adjust the size, position, and transparency levels.
Click on the Preview button to preview the watermark if you are satisfied download the video otherwise continue editing for enhanced results.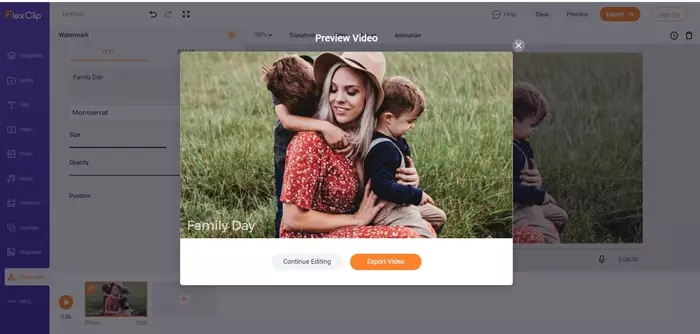 Preview the Watermark in Your Video
For a Logo Watermark: If you want a logo watermark then go to the watermark section and select the desired image and upload it as a remarkable logo watermark.
The Bottom Line
Adding a watermark to your YouTube videos have become extremely quick and simple with FlexClip's powerful editing tools. Not only this FlexClip has the potential to fulfill all your photo and video editing needs including video speed adjustments, funky filter applications and much more to create fun entertaining content. Give it a try!