Video essay is a kind of video with written essay content. It demonstrates statistics, brings in facts, and advances auguments.
Now, video essays are getting more popularities than ever. Not only some colleges ask applicants submitting video essays, but also more people are uploading video essays to express their ideas.
If you have already had some plans on creating a video essay, this article will save you lots of time and money. Without further ado, let's use some of the cutting-edge AI technology to finish a video essay in just a few minutes!
Can't Miss: Create A Infographic Video to Display Statistics >
Part 1. Most Popular Video Essay Topics
In case you don't have a spefic topic, here are the most popular video essay topics on scocial media platform. Pick one topic that intersts you most.
* Culture and History
History and culture can sometimes be boring. A video with vivid description is much more interesting. Like the religion history in Japan, or the brief history of Kung Fu.
* Science
Science video essays are more related to our daily life. Coronavirus broke out in China several weeks ago. A video from Chaiknows describes how this virus spreads and how to prevent it wins over millions of views on YouTube. If you know about science, this is what you can try.
Need a logo for your science video? Grab a free science & technology logo design now >
* World Issues
Any issues around the global will be great, like economy crisis. What's the influence? Or how it influence relationships between the countries?
* Daily Life
Video essay topics are not always complicated. Try some debate topics related to daily life. For example, should we tip the guide? Or should tea party be abolished?
How to Make a Video Essay
You can't include every text to the video. You need to create a video script based on your video so that the video is more pleasent to watch. The video script can be a summary of your essay. However, a video script tailered for your video is better.
Create a Script for Your Video Essay
Now, you can turn the script to a video. FlexClip understands the script, finds the pictures that relate to the text, and then combines them. Copy and paste and video script to the FlexClip's text to video tool and try if you can get a satisfying video essay.
Turn Script to Video
Step 3
Edit the Video FlexClip Generated
It is understandable that you have your own pictures you want to use or you are not satisfied with the pictures FlexClip found. Upload the pictures to the Media section, drag and drop to replace.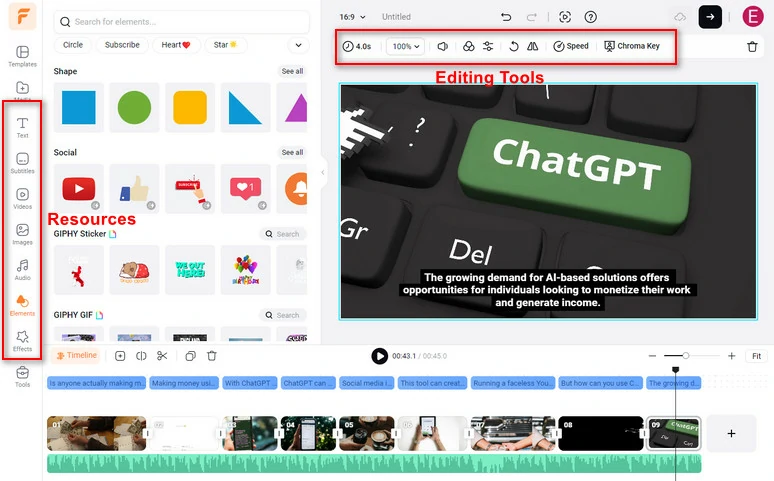 Edit the Video Essay
Download the video to your desktop. You can also share the video to YouTube, Instagram or share via a short link.
Conclusion
Now, you might have known how to create a video essay. The video essay you created will be liked by others. Remember to give FlexClip a try! It also works well to create other types of videos, like sports video, holiday video. If you like this post, do remember to share it with others.