This unboxing video creating tutorial will tell you what unboxing videos are and how to make an unboxing video that people will like. Follow us and make unboxing video creation easy and effective.
Unboxing videos are videos that record yourself opening items for the first time. They are rather advertisements than reviews about a product's pros and cons. Lots of YouTubers have been making unboxing videos. Originally, the unboxing video focus on fashion or high-tech items, but now, unboxing videos are presented in variety of forms. Toys, food, beauty products have all become the item for unboxing videos.
Why people enjoy unboxing video? Watching unboxing video give viewers the experience of feeling the product, and get to know the product before deciding to make a purchase. On festival, unboxing video will also give people inspiration on what present to give for families and friends.
If you are still not sure about creating unboxing videos, the following reasons can assure you. Your unboxing videos can bring you fame and generate a large sum of income for promoting products. Currently, only a small number of bloggers are creating unboxing videos. With large demands for unboxing videos and less competitors, you stand a big chance of getting famous.
Unboxing Video Example
Part 1. How to Make an Unboxing Video that People Will Like
Even though there is no ritual formula of creating an unboxing video. However, here are several steps to follow if you want to create an excellent unboxing videos. Let's get started!
Step 1
Decide on Unboxing Items
A fashionista? Well, then create fashionable items unboxing video. If you are a game enthusiast, then make some unboxing videos about gaming equippment, or play games with it! A foodie? Then open more food boxes!
Deciding on what to unbox could be vital. Once you decide to create a certain type of product unboxing video, don't switch suddenly otherwise you will lose your fans. One more thing to mention, make sure you are unboxing things you are familiar with. Otherwise you will have nothing to share.
Step 2
Study the Product & Write a Script
A brand new equippment at your hand may lead you to silence, especially when you know nothing about the item. We suggest you study the product thoroughly through website or other people's comments.
As for writing a script, we don't recommend you to write every words down. You can list the pros and cons on a paper and talk about them one by one. If something unexpected happened, please act naturally.
With a camera or a phone, and some practices, you can become an expert in film shooting.
The essentials of filming are clean background and the right angle. You can never go wrong with those two essentials.
Step 4
Unboxing Video Editing
Loads of video editors can be used to combine unboxing video clips and edit. Our recommendation is FlexClip.
FlexClip, the best free online video editing service, can help you make unboxing video edits with great convenience and efficiency. It is said to be the best video editing service because it has:
Easy & Professional Editing Tools. FlexClip contains editing tools like video trimmer, music cutter, filters, video speed changing. You can make any edits as you wish in clicks.
Rich Text Styles. You have access to over 100+ text styles and widgets suitable for all scenarios. Use them freely!
One-Click Share. FlexClip helps you to share videos to YouTube in one click. No need to download your video and waste lots of time.
Moreover, FlexClip is a totally free online tool. It is totally free to use, and no download is needed.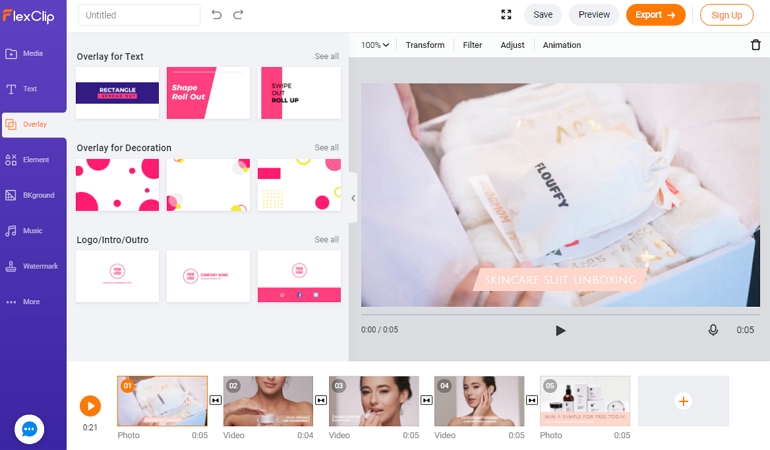 Image Board: How to Make an Unboxing Video that Everyone Likes
Here are detailed steps to use FlexClip.
1# Click on the Create a Video button to enter the editing page. If necessary, you can also browse more unboxing video templates
2# Add all video clips and photos to the Media section and apply them to the storyboard or timeline.
3# Go to the sidebar, click on the Text to add text and logo to the video.
4# Click on Music, upload music from the computer and then set it as background music.
5# Make more edits to make your video more eye-catching, like adding filters, adding transitions, changing video speed.
6# Preview and save. You can also choose to one-click share to YouTube or download to your computer.
You need to post your unboxing video as soon as possible. Some popular products can be outdated rather quickly.
Part 2. Tips to Make Viral Unboxing Videos
1. Find the Most Recent Products.
Get the newest products! People don't like unboxing video about products they've already known. This goes to all kinds of unboxing videos, especially you are creating unboxing videos for phones, computers. Even if you are not creating unboxing videos for the latest products, make sure the products on the video are niche or product people are curious about.
2. Find the Best Shooting Place.
An unboxing video should be attractive. The best shooting place should be rich in light. However, you have to select the color of lights carefully. You had better to go with red or yellow lights if you are creating a food unboxing video. If you are creating unboxing videos for beauty products, please go with soft day lights.
Make sure you are engaged with customers and stand on their ground. Ask more questions at the end of video instead of "that's all, goodbye", this will make people be more inclined to engage with you and subscribe to your channel. Also, don't forget to ask viewers what they want to unbox for the next video.
4. The Right Time Is Crucial.
Most people watch unboxing videos from October to December when it is time for people to look for gifts for Halloween, Thanksgiving, and Christmas. Figures indicate that unboxing videos win 60% of the views in those three months. So, the best time for posting an unboxing video is from September to November.
Part 3. How to Make Money via Unboxing Videos
Like mentioned above, unboxing videos may bring you fame and unexpected revenue. If you can create great unboxing videos, here are 3 ways you can make money.
1. Brand Product Advertisement
Lots of companies would want other people know their products. Besides normal advertisements on TV, they also tend to look for some celebrities to promote their products. For example, you are a fashion blogger with 100M fans, lots of makeup producers will ask you to unbox their products and recommend to your fans. Of course, those makeup producers will pay a large sum of money. Generally speaking, the advertisement fee is between $100 - $10000 depending on the number of fans and transaction rate.
2. Paid Advertisement
You may have noticed the ads popped up while you are watching a video on YouTube. Well, these are paid Ads. YouTube puts it in the middle of your video and pays you for per 1000 views.
To do so, you might need set up your YouTube account and enable the monetization features and connect your account to a Google AadSense account. Here is a video to help you out.
Image Board: Make Money via Unboxing Videos
3. Premium Contents
Once your account reached 1K followers, you have the option to create premium contents. You can charge viewers to access them. For example, you can charge $5 or $10 for exclusive or extremely popular products unboxing video.
The Bottom Line
That's all for how to make an unboxing video. As you can see, it is not hard to make an unboxing video with FlexClip. Actually, FlexClip can also help you with other videos, like Mother's Day video, Father's Day video. Remember to give it a try!