With over 1 billion users, TikTok has become the leading platform in video-sharing. Therefore, knowing what is trending on TikTok is necessary if you want to go viral. Besides content, TikTok sounds are industrial wind vane that helps you succeed on other platforms like Instagram.
In this blog, we will take you through how to use TikTok sounds on Instagram. Let's explore it right now!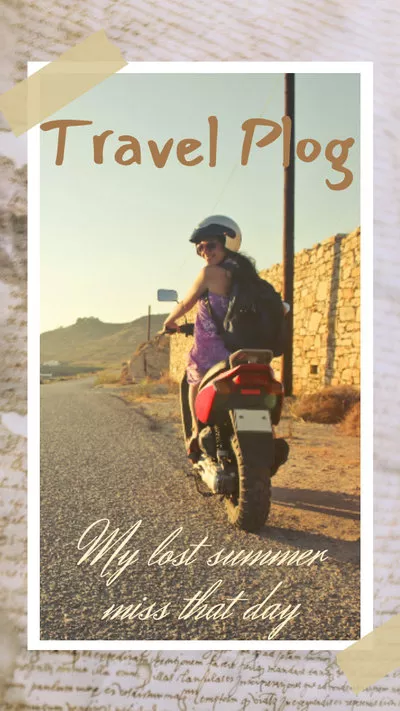 Way One: Directly Use TikTok Sound to Create an Instagram Video
Sometimes the best sounds and trends are found over TikTok. You can bring them to your Instagram to be rage whether you're a TikToker or not. It's super easy to do that by following the steps below.
Step 1
Find the TikTok trend you want to use and tap the sound icon at the bottom of your screen.
Step 2
Here tap Use this sound icon to
record a video
with that audio or add this sound to your favorites to use it later.
Step 3
Once you've made a video with the trend sound, check Save to device option and hit the Post button. If you don't want to post this video on your TikTok, simply delete it from your playlist as it already saves to your camera roll.
Step 4
Now it's time to upload this video to your Instagram. Open up Instagram, import the video with the trend sound and share it on your Instagram.
There will be a TikTok watermark on your video. Generally speaking, it's a little annoying and distracts the viewer's attention. If you don't like this solution, keep scrolling to find the next one.
How to Use TikTok Sound for Instagram Reels
Way Two: Make Instagram Videos by Extracting TikTok Sound
Instead of sharing an Instagram video with a TikTok watermark, you can extract the TikTok sound and use it to make an Instagram video. To do this, you need a professional video editor like kineMaster, a popular editing application for mobile phone users with many useful tools.
Here are steps to use TikTok sound on Instagram using kineMaster.
Step 1
Launch TikTok on your device and find the video with trending sound, then save it to your gallery.
Step 2
Go to kineMaster and choose a particular aspect ratio to create a new project. Here you'd better choose 9:16 for Instagram Reels.
Step 3
Hit the Media icon to import the downloaded video from TikTok. Now go to the right panel and enable the Extract Audio function to make the audio separate.
Step 4
After that, delete the video section and then go to the media to add a few videos. Then trim the video clips to work perfectly with the TikTok sound.
Step 5
Click on the Export button and upload the edited video to your Instagram Reels.
How to Use TikTok Sounds on Reels
Part 3. How to Find Trending Sounds on TikTok for Your Videos
There are many ways to help you identify what's hot on TikTok and we've listed some practical yet easy tips below. Let's take a look at it now.
Tip 1: Scroll the For You Page
Whether you're a newcomer to TikTok or a frequent user, there is no doubt that you spend the bulk of time on the For You page. Generally speaking, it's a good place to discover what sorts of videos and sounds people are using when scrolling your screen.
Tip 2: Explore TikTok's Sound Library
Another way to explore TikTok's trending sound is by using the sound library. On the Discover page, you will see various playlists that could feature trending songs like TikTok Viral, and it's worth a look.
Tip 3: Use the Search Bar to Find the Popular Music
TikTok makes it easy for you to catch what's popular via the search bar. Just tap in one keyword or use the hashtags and you can get lots of results at once.
Tip 4: Use TikTok's Creative Center
TikTok's Creative Center allows you to view the most popular songs on this app by region. All you need to do is to log in to the Creative Center to gain full access to the data.
Tip 5: Reply on Popular Video-sharing Platforms like YouTube
Popular video-sharing platforms are also a great place to discover what's hot on TikTok. Tap some keywords like TikTok trending on the search bar and you'll know what's the trending audio now.
Bonus Tips: An Easy-to-use Video Editor to Create Stunning Instagram Videos
Need a professional video editor? Dislike any complexity or installation? Come to FlexClip! As an easy-to-use video editor online, FlexClip packs a bunch of editing tools to make your process a breeze, from trimming, cutting to adding elements. Besides, it comes with loads of eye-catching templates that make your Instagram stand out.
Aside from editing tools, it also offers various media resources including music, stickers, GIFs and overlays that you can use for free. Generally speaking, no matter you're tech-savvy or a newbie, you can get a satisfying Instagram video in minutes.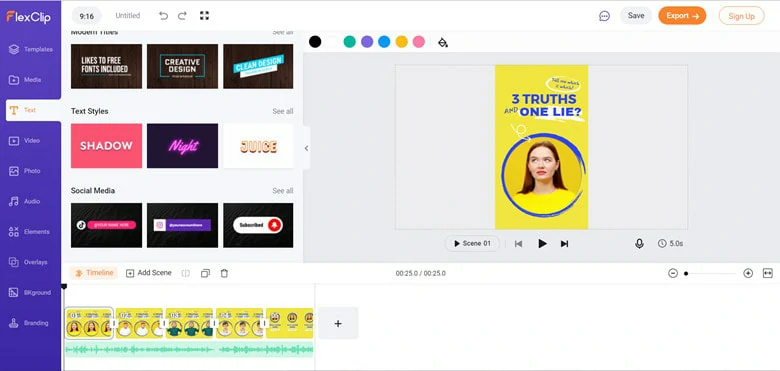 Best Instagram Video Editor - FlexClip
The Bottom Line
That's all for how to use TikTok sounds on Instagram. Quickly pick your favorite way to create your Instagram now. By the way, if you want to make a compelling video, don't forget to give FlexClip a try!