Every precious moment deserves to be recorded and shared to social media platforms. TikTok, as one of the leading video sharing sites, can help you create videos up to the music beat. However, most of you don't want Instagram followers to miss your excellent TikTok videos! How to post TikTok videos on Instagram?
Frankly, TikTok videos are vertical in 9:16. Instagram post video's maximum aspect ratio is 4:5. When you are done creating TikTok videos, you have the option to share it on Instagram, but your TikTok video will be cropped.
Under this circumstance, you have three options. One is sticking to Instagram sharing feature. Other two options are linking TikTok and Instagram accounts, or manually resizing TikTok videos and then posting to Instagram. Refer to the method you prefer.
Can't Miss: How to Make a Video Your Wallpaper >
Method 1. Best Way to Post TikTok Video on Instagram
The best way to post TikTok video on Instagram without getting cropped is resizing your TikTok video to 4:5 and then upload. Follow the methods below.
Step 1 Download the TikTok Video
The first step is to get your TikTok video downloaded. Find the TikTok video and then long press it, a menu with "Save Video" option will pop out. Click it to download.
Step 2 Resize TikTok Video for Instagram
Now, you need to transfer the TikTok video to computer and then use FlexClip, an online video resizer to do the magic. Click the Edit Video to get started.
Enter the editor page. Go to the settings icon to select 4:5 as the aspect ratio. Upload your video to storyboard.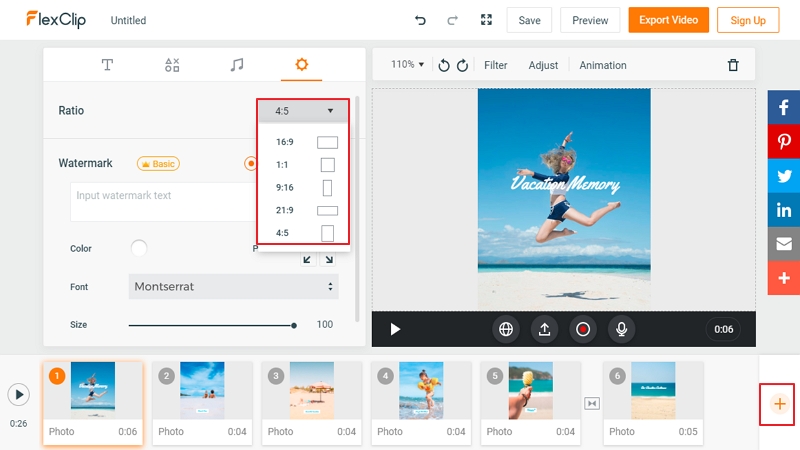 How to Share TikTok Video on Instagram - Step 1
You might find that part of your video are out the boundaries. Zoom in the video and then position your video where you want on the screen by dragging.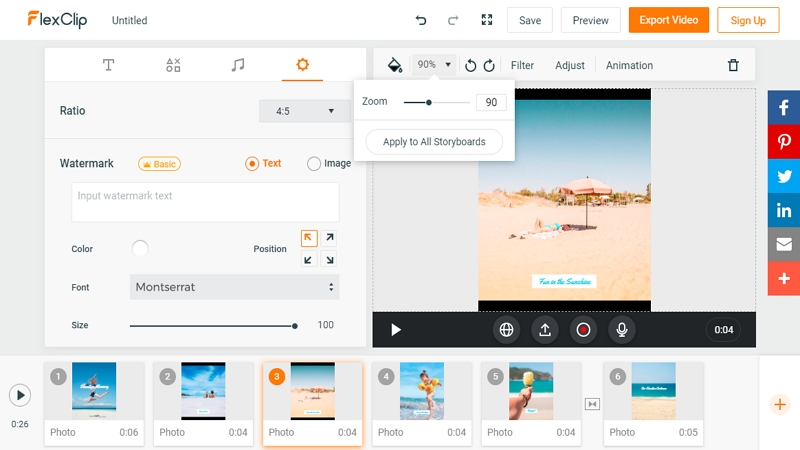 How to Share TikTok Video on Instagram - Step 2
Explore other features of FlexClip like adding music, text, widgets to make your video more interesting.
Step 3Publish & Share
Download your video as MP4 and then publish to Instagram. If you like, you can also publish your work to other social sharing sites.
Method 2. Post TikTok Video on Instagram with Default Share Feature
Note Through this method, you can only share public TikTok video to Instagram. As for a Private TikTok video, please follow Method 1.
Before posting your TikTok video, you can see an Instagram icon at the bottom. Tap it and then post. Wait a few seconds. Once the video is posted to TikTok, you will have the option to post the video to Instagram Feed or Instagram Stories. Choose one and share.
Method 3. Post TikTok Video on Instagram via Linking Accounts
Step 1 Launch TikTok account, and go to the personal homepage.
Step 2 Go to Edit Profile > Add Instagram to Your Profile.
Step 3 Enter your Instagram username and password to log in.
Step 4 Confirm and complete the process.
The Bottom Line
That's all for three ways to post TikTok videos to Instagram. Which method do you prefer? Tell us via Facebook. If you find this post helpful, we'd appreciate it if you share it with others. By the way, FlexClip is an excellent video editor with powerful tools and rich resources. Do remember to give it a try!