Flipagram is a personalized video editing software that helps users create short videos working on iOS devices. It has many nice features to make a good video, like adjusting speed, adding music. Besides that, this program can generate a URL to the video you created for most main stream social media, helping you become popular on all platforms with your work. Then, how to make a Flipagram?
Here in this step, we will show you step by step to make a Flipagram with music, photos and videos.
Also Read: 8 Best Video Background Music Resources >
How to Make a Flipagram with Music/Photos/Videos on iPhone
Before you get started, please download Flipagram from App Store in advance and sign up. Please be noted that it is a paid app.
Step 1 Click the red "+" icon in the bottom middle of the screen.
Step 2 Select the photos and videos you want to use.
Step 3 Click "Next" in the upper right corner.
Step 4 Go to "Music" > "Use Song" to select the music you want to use.
Step 5 Select the "Recorder" icon at the bottom of the screen then arrange all photos and videos.
Step 6 From the preview page, change the speed for each photo and video then select the size.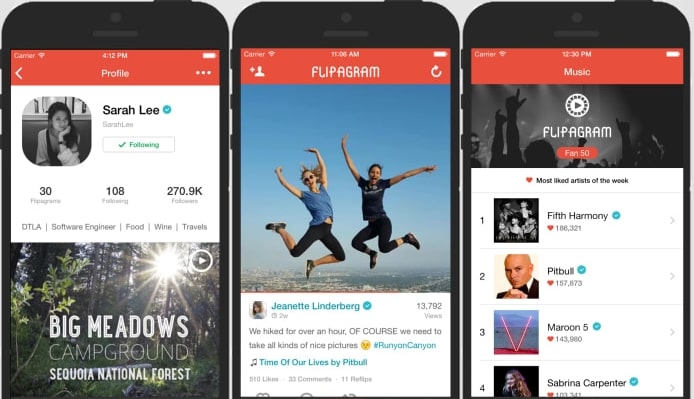 How to Make a Flipagram
Note

1. You can only use a music track up to 60 seconds from Flipagram's library.
2. Flipagram was acquired by Toutiao and now it is called Vigo Video.
Bonus Tip: An Alternative Way to Make a Slideshow
Even though Flipagram is a good app that allows you to make excellent slideshows, however, it is a paid app, and only iOS users have access to it. There are actually many free online services that help you create a slideshow. FlexClip is one of them.
FlexClip is an online program that helps you turn photos, videos you uploaded to slideshow in MP4 format. Compared with Flipagram, FlexClip is easier to operate. A green hand can easily catch up with it. Moreover, except for some regular features like changing the sequence, adding texts, FlexClip is equipped with millions of free photos, videos, and music to polish the slideshow. Last but not least, FlexClip outputs video quite efficiently. The whole process only takes a few minutes.
Now, go to www.flexclip.com, sign up, and then follow these steps to make a slideshow.
Step 1 Upload photos and video clips to the storyboard.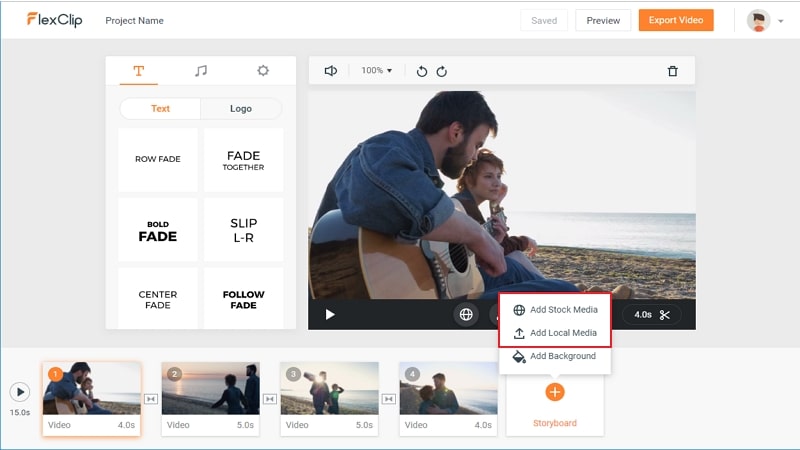 Image Board: Alternative Way to Make a Flipagram - Step 2
Step 2 Go to the sidebar, you can add dynamic texts, music, transitions for each storyboard.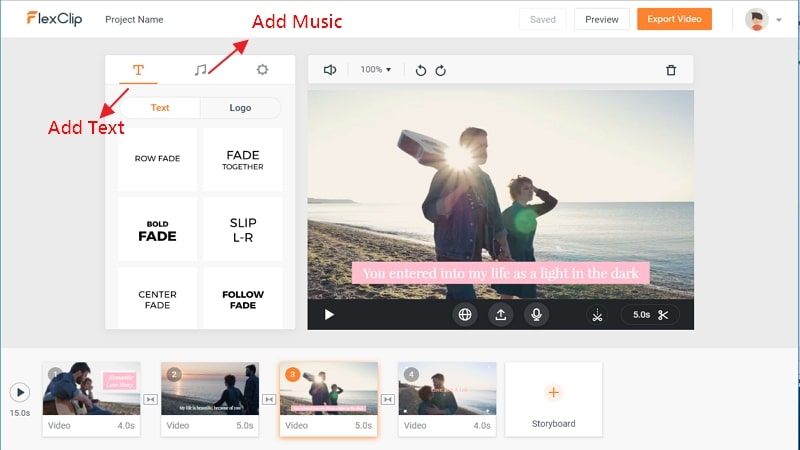 Image Board: Alternative Way to Make a Flipagram - Step 3
Step 3 Preview. Keep editing or export it to your computer and then share.
The Bottom Line
Thanks for reading. If you know some tricks and ideas about how to Flipagram, please contact us via Facebook. By the way, FlexClip can also help you create other types of videos, like Instagram video, YouTube intro video. Give it a free trial!