Overexposure is a common occurrence for most digital clips. Even experienced videographers face this problem. Oversaturated highlights on your videos often result from the shooting environment or a hardware glitch. Perhaps you're covering an evening event where the lighting can be highly dynamic. Too much light can easily penetrate your camera sensor and amplify the tonal range of your footage.
Even under ideal lighting conditions, your film camera is likely to make excessively bright clips. This is because light shifts between the different emulsion layers and can cause a loss of detail in the light areas.
The good news is that overexposure is hardly a setback nowadays. So if you've accidentally overexposed a shot, you don't have to worry about retrieving the washed-out shadows. Several excellent videos you've seen probably had this defect, but it only took a couple of simple adjustments to make them usable.
All you need to achieve the ideal color effect and exposure for your videos is a good post-production tool and technique. An efficient video editing program like Adobe Premiere Pro will enable you to breathe new life into lost shots. This tool is a time-based video editing software that allows content creators to correct overexposure issues in a flash.
How to Fix Overexposed Video in Premiere Pro
The steps outlined on this page will teach you how to fix overexposed video in Premiere Pro. So without further ado, let's dive in.
Step 1
Open the Lumetri Scopes
Open the Lumetri Scopes panel at the top left of the screen.
Follow this sequence in the Color workspace (Window > Workspaces > Color).
Then select the footage you want to adjust and click the Basic Correction section of the panel to expand it.
Step 2
Adjust Brightness and Tonal Values with the Waveform Monitor
The waveform monitor allows you to locate bright and dark areas in your video. The overexposed parts will appear as dot clusters, and the white line on the waveform monitor will tend to 100.
You can reduce the value of this line by clicking inside the numeric value and dragging left. This will help to darken your clip.
To implement a natural color effect, you can explore the Creative section and select a preset that sets the mood you're looking for.
Use the vector scope to enhance the skin tones. Simply adjust the saturation notch towards the right.
Further, improve the skin tone by isolating specific colors for adjustment.
How to Fix OVEREXPOSED Video in Premiere Pro!
An Easier Way to Fix Overexposed Video
Although Adobe Premiere Pro offers several organizational tools and an incredible responsive speed, its expansive interface can be intimidating for beginners. People with little editing experience often find it challenging to apply the correct exposure adjustments. They should consider learning how to fix overexposed video in iMovie or FlexClip. Unlike Premiere Pro, the FlexClip video editing process is quick and straightforward.
Here are a few reasons why people love using FlexClip.
Easy And Precise Editing
FlexClip maintains a user-friendly interface. It's not difficult to find the tools and controls you'd like to use. The overall navigation is slick and intuitive. Therefore it is suitable for users with little production experience.
So how do we fix overexposure to this software? You can change Brightness and Contrast Effects to do the trick.
Step 1
Upload your video and apply to the storyboard.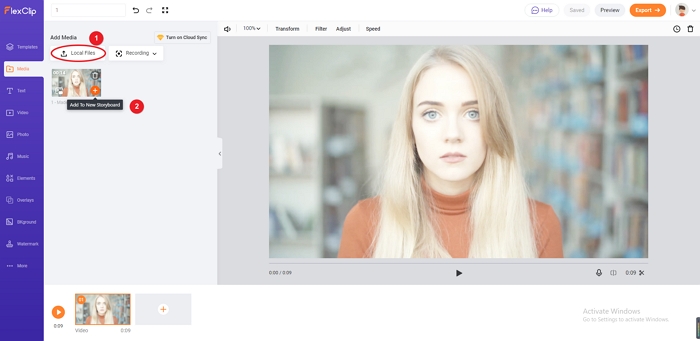 How to Fix Overexposed Video - Step 1
Step 2
Select the video, go to Adjust > Exposure.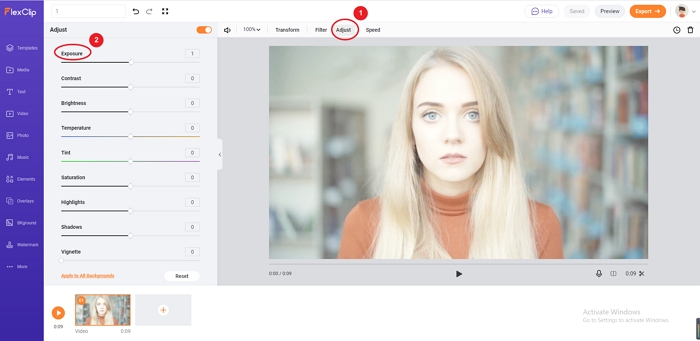 How to Fix Overexposed Video - Step 2
Step 3
Drag the slider until the photo looks great.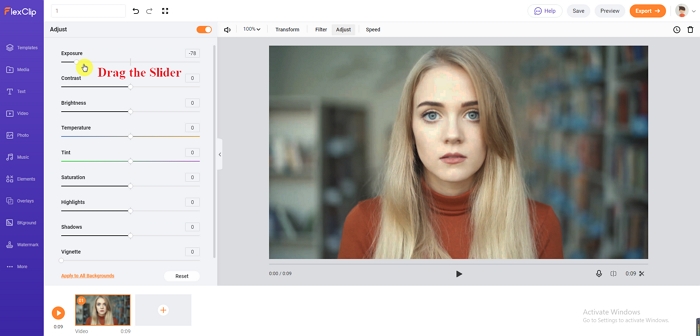 How to Fix Overexposed Video - Step 3
Bottom line
The steps on this page must have taught you how to fix overexposed video with Adobe Premiere Pro and FlexClip. Still, the best way to solve overexposure issues is to avoid it in the first place. Not every video qualifies for overexposure adjustments. If your footage is grossly overexposed, these tools will hardly make them look better. However, you can always use them for other content creation purposes, for example, generating slideshows, creating lower-thirds, adding stickers to video. Since it's free and online, why not give it a try!