As the entertainment industry has been growing drastically, various applications are being invented to engage audiences. One of the latest inventions has to be Facebook Reels.
Facebook Reels is quite similar with TikTok. It allows people to share and watch videos in 30 seconds or less. However, Facebook Reels can be restricted according to your privacy, whereas TikTok can be viewed by people worldwide. TikTok allows you to record for more extended periods than reel. Certain aspects are used in Facebook Reels, such as the soundtrack, audio, graphics, etc., to make the reel enjoyable. You can also locate reels in your feed or in groups, where you can easily like and comment, and even you can quickly follow the composer instantly from the clip.
Where to Find Facebook Reels?
In the United States, Facebook began bringing out Facebook Reels in its main mobile application for iOS and Android. Users should be able to discover and view Reels while scrolling across their Facebook newsfeed, or they might go straight to Reels from the Facebook interface. Reels appear in the News Feed on Facebook. Viewers are transported to a feed after clicking a Reel, where they can swipe up to view the preceding film, similar to several other brief video networks. Users may find reels depending on their preferences and what's trending at the top of the Latest Feed, among Stories and Rooms, and also in a new, dedicated News Feed section.
Why My Facebook Reels Not Showing?
You must be wondering, why Facebook reels not showing on your feed, and why aren't you able to make one either. The answer to your query is that Facebook reels are available in the US as of now thus you should go and check your location. If it is closed, you need to open and set it according to the US so that you can view and make reels.
How to Create a Facebook Reel Video
We comprehend videos must be 30 seconds or fewer, uploaded through Facebook's Reels option, and adhere to Facebook's Community Guidelines to be considered for the Reels stream. To maximize performance on both desktop and mobile displays, Facebook suggests publishing videos with square (1:1) or vertical (4:5, 9:16, and 16:9) aspect ratios. Videos must be under 60 minutes in length. The higher the capacity of the file of your video, the lengthier it will be. This may have an impact on the video's resolution and upload duration.
To create a Facebook reel, you must first download the Facebook application. There are a few different ways to build extremely simple reels. To get started, simply click on the reel provided beneath what's on your mind. 'Create reels' is the second option displayed beneath stories on your feed exclusively. To construct your personalized reels, simply click on one of them. Facebook presently includes several options for making Reels, notably the capability to use the Reels camera to film segments with up to 30 seconds of footage. By capturing or picking various clips from your collection, you can combine them collectively into a single Reel. Songs from Facebook's music library can be added. You can also choose Use Audio from another person's reel and then create a reel with it. You can also alter the video pace according to your preference.
How to Edit Facebook Reel Video?
To make your reels on Facebook more captivating and engaging you need to enhance them more to make them interesting and unique for your respective audience. You can edit it by applying various filters, adding stickers, altering speed, inserting captions, etc., to attract more followers and viewers to come and engage on your masterpiece.
FlexClip, a widely used free software that provides a varied variety of editing options, is the most widely used tool for leveling Facebook Reel video. One of the most notable advantages is that it is quite consumer-friendly, with a range of appealing photo and video resources from which you can choose to enhance the aesthetic of your reel. Furthermore, it provides a fast export pace without reducing video quality, as well as some amazing features that will assist you in improving your performance without sacrificing quality.
FlexClip's extensive media library has a large selection of photographs, video clips, and audio for consumers to choose from. Whatever type of video creation you're working on, you can locate the media files you need by navigating through genres or entering keywords.
The Bottom Line
Combining videos, sharing pictures, and posting reels have become one of the few norms these days, which gets you updated with the world. There is no harm in sharing what makes you happy rather it generates and opens up various options for you to get started from. We perceive making Facebook reels must be quite exciting and entertaining for you.
Moreover, having FlexClip edit your reels and make sure they look professional is honestly a life savior. Thus, we suggest you use FlexClip not just to make reels but rather TikTok, YouTube videos of any genre, and other Facebook videos, as it provides you with numerous editing options which can get you fame overnight.
Facebook Cover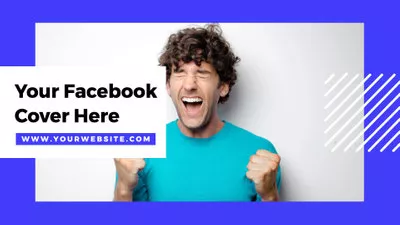 Facebook Cover Slideshow