"Portable Graphics Format" is the abbreviation for PNG." On the world wide web, it is the greatest widely used unprocessed graphic picture standard. This efficient image compression format replaced the Graphics Interchange Format (GIF). The PNG file format is an open format that does not have unauthorized copying. PNG images, like GIF images, can be displayed with transparent backgrounds. Furthermore, PNG files can contain 24bit RGB color palettes as well as grayscale images.
When anyone wants to convert photos into movies, it may appear unusual, yet numerous individuals presently attempt to transform PNG to MP4 for many purposes. Many users seek conversion to publish a sequence of PNG photos like a movie on various platforms, including Instagram, to upload and make your profile more fascinating and engaging for visitors.
You're probably wondering why it's necessary to convert PNG to video. PNG to MP4 conversion requires various tasks, including converting a stationary image to a single-image movie, creating slideshows from a collection of PNGs, publishing a particular image to a clip networking site and so on. Thereby, we have listed some steps beneath for you to follow and convert PNGs to an MP4.
How to Convert a PNG to an MP4 Video Online for Free
The most acceptable free online PNG to MP4 converter is FlexClip, which is the most widely used and widely adopted free video editing tool with a wide range of customization possibilities.
To begin with, it's highly adaptable and convenient, allowing customers to do transition easily. The superior film, picture, and audio layouts are also included. Moreover, it provides a fast export velocity without reducing video quality, making it simple to get and use the converted video. One of the most appealing aspects is watermark-free, allowing you to use any logos or multimedia watermarks you choose. No spamming is tolerated in their forum, which appreciates genuine criticism and beneficial achievements along with any fake advertisements.
Here are certain steps to convert PNG into MP4, which are:
Step 1
First, you need to click on the create a video button to convert PNG to MP4 after selecting PNG files which you need to transform.
Step 2
Now you must choose the runtime of the video. We should add that the default time is 3 seconds, but you can increase it to 60 seconds or decrease it to 1 second.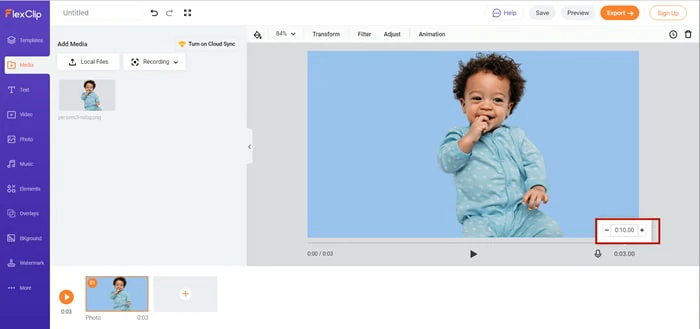 Set up the Video Duration
Step 3
To further modify the video, you may add certain moderation and make extra edits.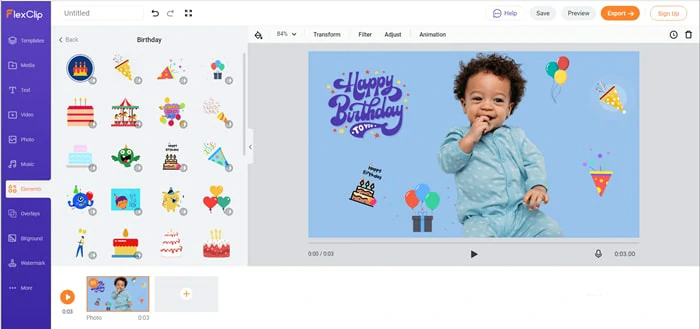 Make Editing to Video
Due to its simplicity of operation and flexibility, the FlexClip video producer automates the procedure. FlexClip makes it simple to extract the exact clip you need within a video source. Anyone may edit the clip, examine it, and modify it once it's the appropriate duration, either to satisfy social networking requirements or to make the video combo more fluid. It also includes a large number of video filters that can enhance the look of your movie. Anyone can generate notable image films and manufacture images in a movie livelier with FlexClip's free photo animation maker.
Step 4
Now you may download your MP4, which has been converted by PNG, and upload it on your social accounts or circulate it.
The Bottom Line
You must be aware that there is no better PNG to MP4 Converter other than FlexClip, which provides you with unique and various editing features. You don't have to worry about not being able to use applications or browsers when we have all sorted it out for you above and even explained it in several steps, making it accessible for all sorts of users. Now you can easily convert your PNG to MP4 whether to compile to upload it on YouTube, Instagram, or other various social networking sites. As we say, sharing is caring, indeed it is, and there is no joy greater than sharing your knowledge with others. To help others is to satisfy your soul, which means you shouldn't miss a chance and instantly share this link among your friends and family making it convenient for them to use this feature as well.