Want to use your MOV video files for live streaming or blogging, yet, only to find they were either too big for loading or incompatible with the media player?
Well, a great solution is to convert MOV to WebM. WebM is a video format made by Google for HTML5 web browsers and embedded media players. WebM's lightweight file size and ability to support audiovisual media make it a perfect choice for live streaming and blogging.
So, in this tutorial, we will introduce you to the 4 best MOV to WebM converters and walk you through their best features to convert MOV to WebM.
Here's What You Will Learn:
Also, read 6 Great Ways to Convert JPG to MP4 with Audio.
1. Convert MOV to WebM by FlexClip
FlexClip is a user-friendly and feature-packed online video maker that allows you to easily convert MOV to WebM and offers you a powerful video editor for further editing like adding animated texts, royalty-free music, and do trimming, cropping, or adding other video effects, etc.
FlexClip Mov to WebM online converter and video editor.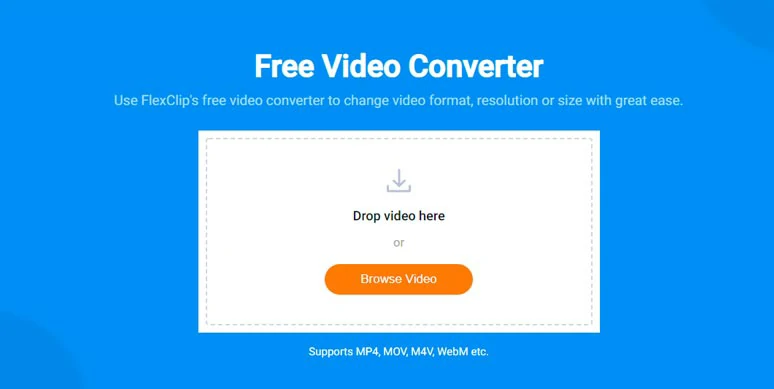 Upload a MOV file to FlexClip online video converter
Step 2
Select Resolution, Format, and Quality for Conversion
The intuitive MOV to WebM converter allows you to keep the original video resolution or choose lower pixels; then select target video format as WebM and set video quality as well. Then, hit the "Start" button. The conversion speed depends on your bandwidth and file size.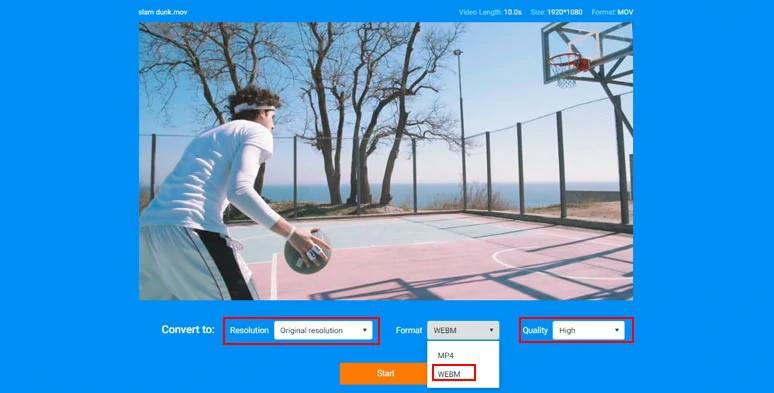 Select video quality and video format before converting MOV to WebM
Also, read how to reduce video size without losing quality.
Step 3
Download WebM File or Make More Edits
After the conversion is done, your WebM file will be automatically saved to your local PC. If you find it necessary to trim the video or add royalty-free music, video filter, adjust video brightness, or other visual effects, just click "Make More Edits". Then, the converted WebM file will be imported to FlexClip video editor for further enhancement.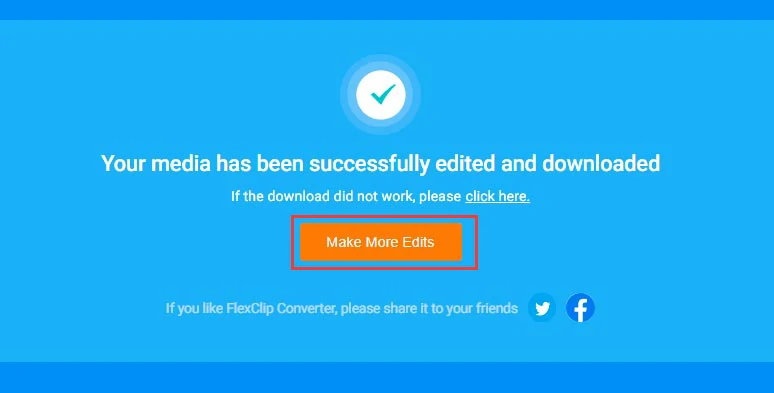 Select "Make more edits" for converted the WebM file
Who Is FlexClip Best-suited For?
Any content creators like Vloggers, YouTubers, TikTokers, gamers, etc. will love using FlexClip to convert MOV to WebM for live streaming, podcast, blogging, or making compelling promo videos. Just enjoy using FlexClip for the following features:
Convert up to 1GB MOV file to WebM and Edit WebM file with Powerful video tools and share.
4M+ royalty-free and high-res video, photo stocks, and GIF assets.
Tons of video tools like trimmer, video speed control, picture-in-picture effects, dynamic elements, video filter, etc.
Directly download the converted WebM File to the local PC or share it to YouTube, Dropbox and generate a clickable link and embed code for easy sharing and blogging.
2. Convert MOV to WebM by CloudConvert
CloudCovert is a professional online video, audio, and image and document converter. For free users, you can upload 2-3 MOV files to CloudConvert and convert them to WebM in batch. You may also adjust the resolution, quality, aspect ratio, video codec, audio volume, etc.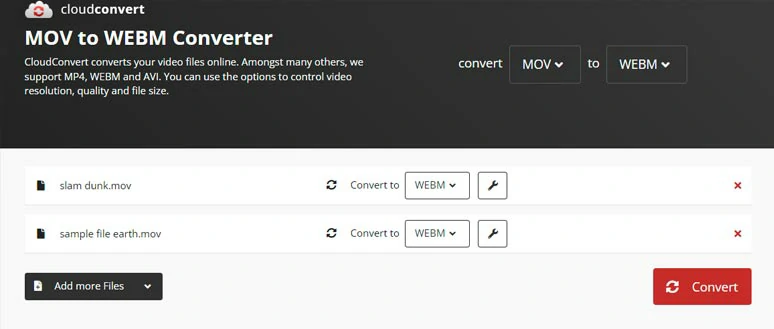 Convert MOV to WebM by CloudConvert
What is worth mentioning is that since CloudConvert has a fine integration with Google Drive, you can directly convert MOV to WebM within your Google Drive. Pretty awesome.
Step 1
Open Your Google Drive and Select a MOV file
Step 2
Right-click the Move File and Select Open With and CloudConvert
Then you can use your Google account to sign in CloudConvert and give its permission to use the MOV file in your Google Drive. Then CloudConvert directly converts MOV to WebM and saves the converted WebM file within your Google Drive.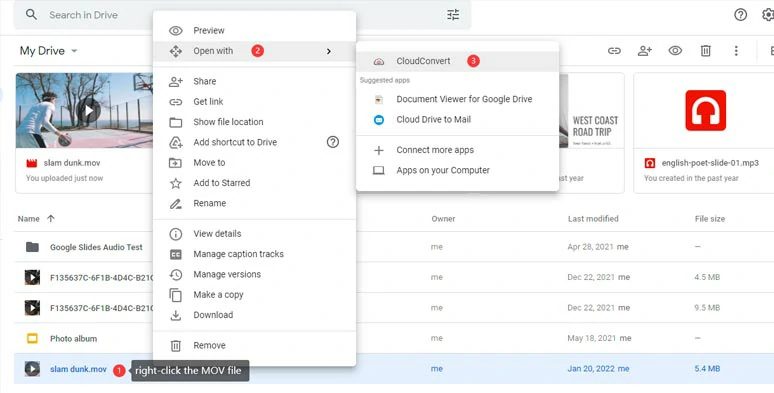 Convert MOV file directly to WebM in Google Drive by CloudConvert
Who Is CloudConvert Best-suited For?
If you have MOV files saved in GoogleDrive, you can use CloudConvert for direct MOV to WebM conversion within Google Drive. Or, you may also upload multiple MOV files to CloudConvert for free WebM conversion.
3. Convert MOV to WebM by FreeConvert
FeeConvert is a similar counterpart to CloudConvert. You can upload a MOV file from your local PC or Dropbox, Google Drive, or paste a URL with MOV files for WebM conversion online.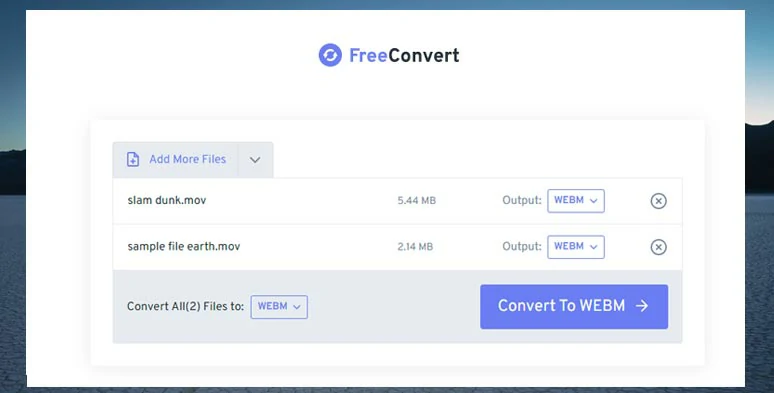 Convert MOV to WebM by FreeConvert
Likewise, FreeConvert supports MOV to WebM conversion in batch. For free users, you can convert up to 5 MOV files at a time. Meanwhile, you can adjust the video codec, screen size, video aspect ratio, FPS, or even, upload an SRT file for the subtitles of your video. Nice.
Another feature of FeeConvert is for free users, the maximum MOV file for upload and conversion is a Maga 1GB, which is indeed a generous benefit for everyone.
Who Is FreeConvert Best-suited For?
If you have many MOV files to be converted to WebM, FreeConvert is also a great alternative to CloudConvert. Besides, If you have prepared an SRT file for the subtitle of the MOV file, using FreeConvert to convert MOV and add subtitles to the WebM file would save you tons of time.
4. Convert MOV to WebM by Zamzar
Zamzar is another versatile in-browser video, audio, and e-book converter. You can upload one or multiple MOV files to Zamzar and convert them to WebM files. You can directly download the converted WebM file locally or Zamar will keep it in the Cloud for 24hrs before its auto-delete. The conversion speed is impressive.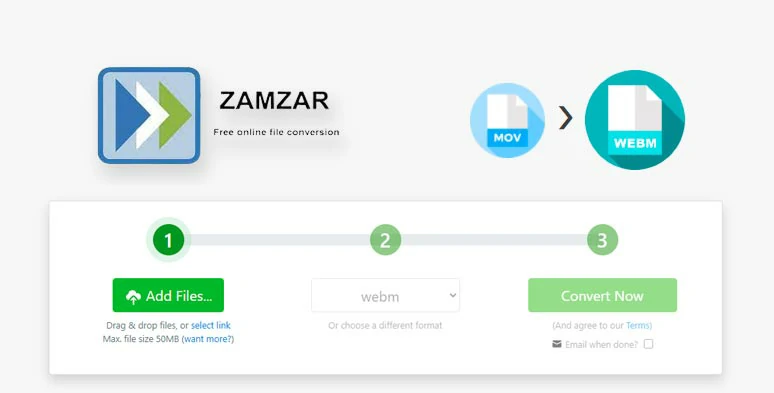 Convert MOV to WebM by Zamzar
The only drawback of Zamzar is you have no control over the codec, video quality, or other elements for the MOV to WebM conversion. Other than that, it is perfect for a quick Mov to WebM conversion.
Who Is Zamar Best-suited For?
If all you need is a worry-free MOV to WebM conversion and leaving all the settings unchanged, then Zamar is your man. While the 24hrs free Cloud storage does also work for team video sharing as well.
| &nbsp | Platform | Mov to WebM Convert | Cloud Storage |
| --- | --- | --- | --- |
| FlexClip | Online, Free | Convert 1 MOV file to WebM at a time; feature-packed video editor and vast stock assets and video templates; and multiple ways for sharing | Yes, for subscribers |
| CloudConvert | Online, Free | Convert MOV to WebM in batch; basic editing; convert MOV to WebM with Google Drive | No |
| FreeConvert | Online, Free | Convert MOV to WebM in batch; basic editing; upload an SRT file for video subtitle | No |
| Zamzar | Online, Free | Convert 1 MOV file to WebM at a time; can't adjust settings | 24hrs free |
For versatility and adaptability, FlexClip can be a great choice. Hopefully, our tutorial makes sense to you. So, free free to choose a MOV to WebM converter that meets your needs.