Are you looking for a vocal remover to extract vocals from songs? Look no further. Here in this blog, we'll introduce you to the eight best vocal removers for Web, PC, and mobile phones.
If you're a music lover, you might want to rework a song to make it personal. To do this, what comes first is to separate vocals or music from the song using a vocal removal tool.
As you see, there are lots of vocal removers on the Internet. Some of them may be helpful to you, while others may not be as good as they claim. So, what are the best vocal removers?
Look no further than this blog, where you'll find the eight best vocal removers for online, desktop, and mobile devices.
Also Read: Top 10 Best Lyric Video Makers for Web/PC/Mobile
Quick Navigation:
Part 1. Best Vocal Removers Online
At the top of our list is Vocalremover.org. It's a free online vocal remover and isolator that helps you separate voice from a song right in your browser. The process is very simple. Just click the "Browse my files" button to upload a song to the vocal remover tool, wait for the audio processing, and you'll get two tracks - a karaoke version (no vocals) and a capella version (isolated vocals).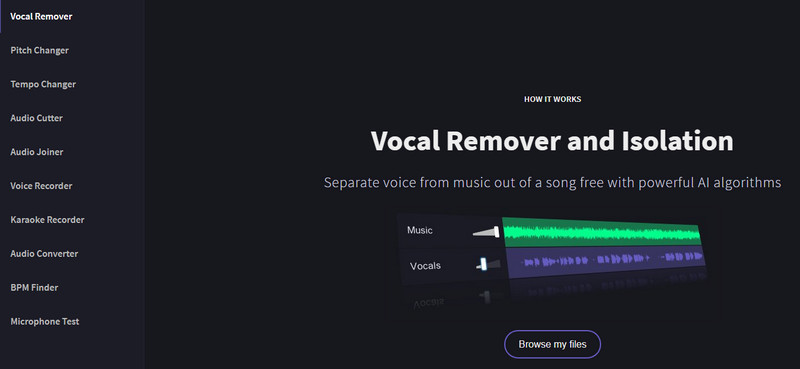 Image Board: Online Vocal Remover - Vocalremover.org
2. PhonicMind (Paid Online Vocal Remover)
PhonicMind is an online voice remover. But it's more powerful than Vocalremover mentioned above. It can extract vocals, drums, bass, and other musical instruments from songs. The only downside is that you have to pay to use the tool. Once you upload a piece of music to the video remover, it will give you a free sample that you can preview and download. If you want to perform the full conversion, you have to choose a price bundle first.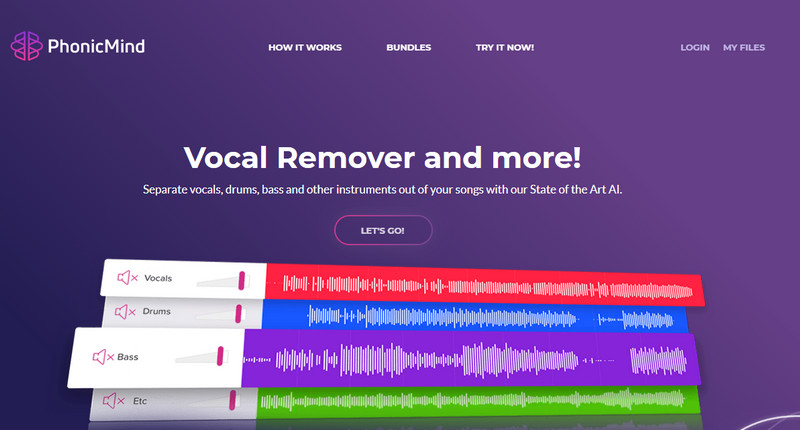 Image Board: Online Vocal Remover - PhonicMind
3. Edit Your Audio (Free Online Vocal Remover)
Edit Your Audio is a popular vocal remover with which you can remove the vocal tracks from any song in quick, easy steps. The application works online, which means you don't need to download any software before using it. This tool is unique in that it supports the import of audio files in a variety of formats, such as MP3, WAV, WMA, FLAC, and AIFF. To extract the vocal from a song, upload your music (up to 30MB) to the program, wait for a moment, and quickly download the converted result.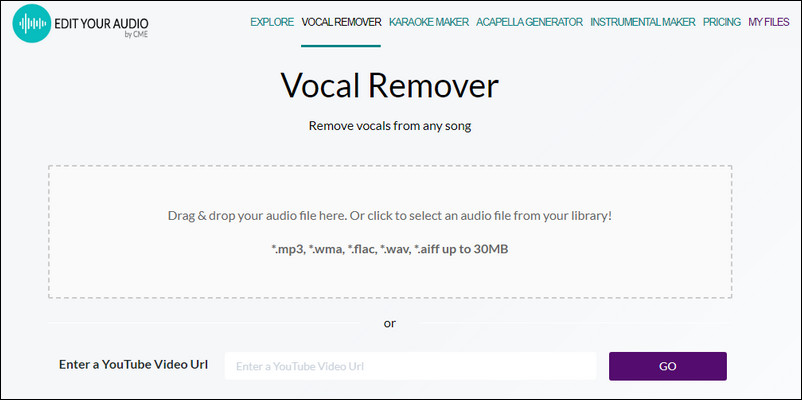 Image Board: Online Vocal Remover - Edit Your Audio
4. Vocals Remover (Free Online Vocal Remover)
As its name suggests, Vocals Remover is a vocal extractor that allows you to remove vocals from any song easily and quickly. It supports audio files in MP3 and WAV. To get a vocal-free music track, just upload a song to the vocal remover, wait for the conversion process, and download the converted audio. If you need the vocal only, click the http://www.acapella-extractor.com/.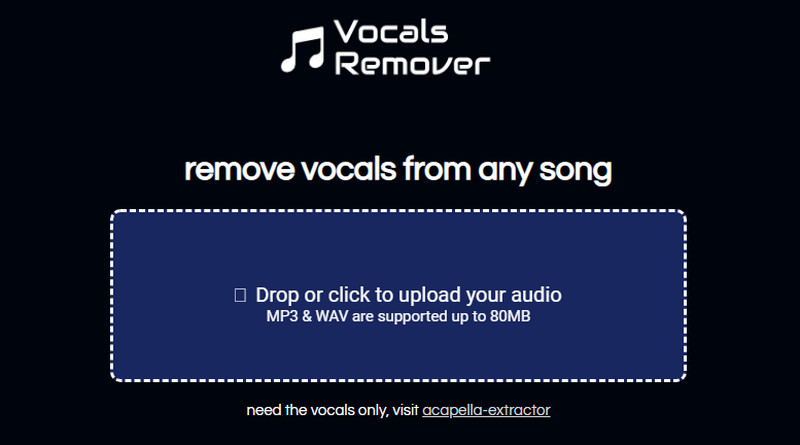 Image Board: Online Vocal Remover - Vocals Remover
Part 2. Best Vocal Remover Software for Windows/Mac/Linux
1. Audacity (Free Open Source Vocal Remover)
When it comes to voice isolation, we have to mention Audacity, a free, open-source, cross-platform audio editor. This tool meets your most basic audio editing needs, such as cutting, copying, and pasting music, removing vocals and background noises, mixing music tracks, and more. If you are interested in audio processing, this software is definitely your best choice.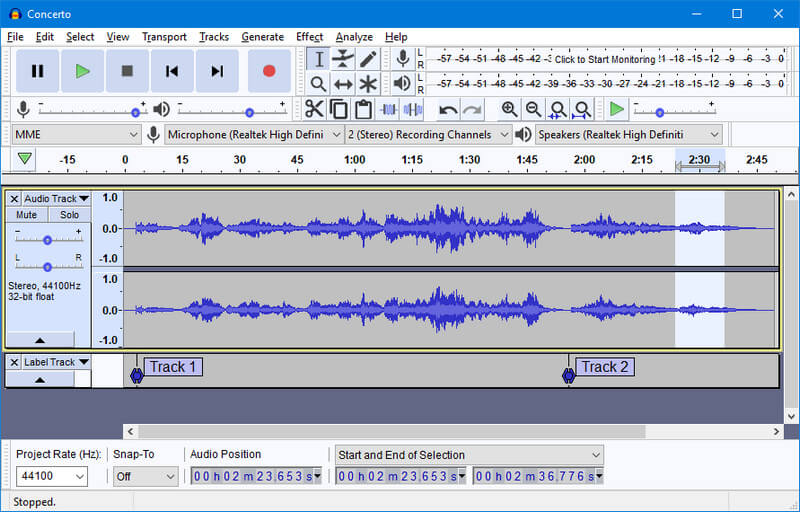 Image Board: Vocal Remover Software - Audacity
2. Adobe Audition (Paid Professional Vocal Remover)
You may find that many vocal removal tools do not completely remove the voices. For better results, you can give Adobe Audition a try. This software, available on Windows and Mac, is designed for professional audio editors. Since it's powerful and professional, it's not free. You'll have to pay at least $31.49 to use it. But trust us, it's worth it.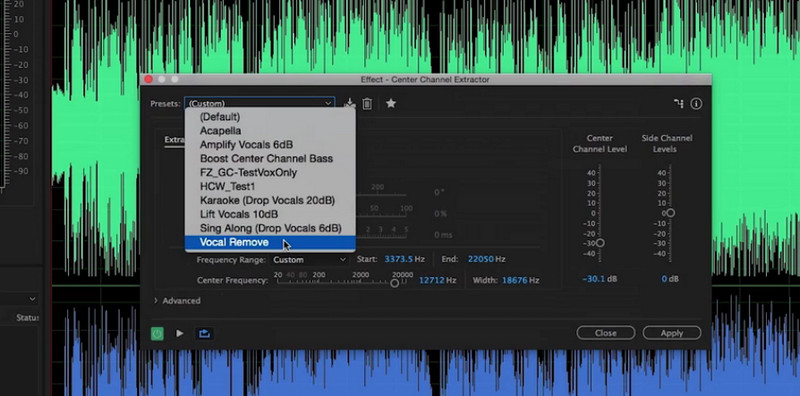 Image Board: Vocal Remover Software - Adobe Audition
Part 3. Best Vocal Remover Apps for Android/iPhone
The vocal remover app, designed for karaoke making, lets you easily convert songs in your library into karaoke styles. Not only can you use it to extract vocals from songs to create Karaoke songs, but you can also use it to separate music from songs so that you can play with your beloved instrument. Currently, the app is available on Android phones only.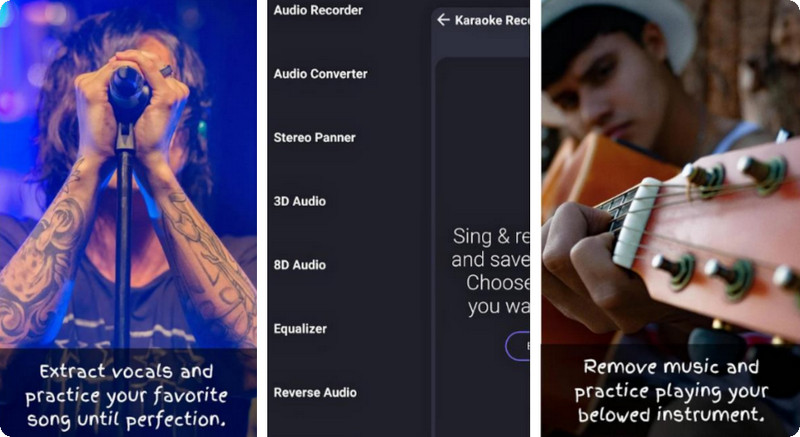 Image Board: Vocal Remover App - Vocal Remover - AI Karaoke Maker: Sonic Melody
Vocal Extractor is a vocal remover app available on iPhone. With it, you can quickly transform your favorite songs into vocals and accompaniments. When you're finished converting a song, you can also save the converted tracks to a local folder or export them to iCloud, DropBox, Google Drive, etc.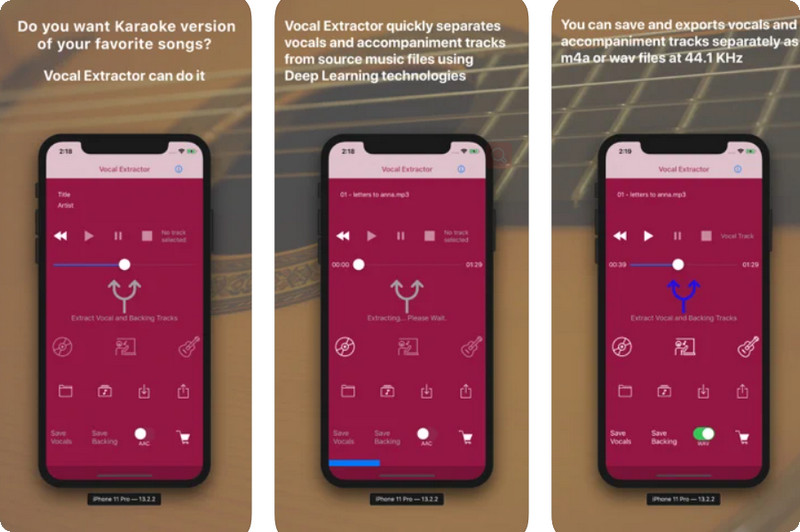 Image Board: Vocal Remover App - Vocal Extractor
Bonus: Create Music Videos Online for Free with Handy Music Video Maker
Want to make a music video? FlexClip is ready to help. It's one of the best music video makers online. Designed to be free and easy to use, FlexClip enables you to make an engaging music video in minutes, and even you are new to video making. To help you get started quickly, FlexClip also provides you with many music video templates that are easy to edit and customize. Simply choose a music video template you like and customize it with various customization tools. Create your music video now.
Final Words
Above are the eight best vocal removers we want to share with you. Overall, all these vocal removers can help you easily separate the vocals from the songs. Just choose according to your needs. By the way, FlexClip is a worthwhile music video maker that includes a lot of music video templates that are free to customize and a wealth of video making tools that can level your videos up. Don't forget to give it a try.
Think the post helpful? We'd be grateful if you could share it with your friends.