Date and time stamps on photos tell you when the photographs were taken. You can put the timestamp on photos to keep track of when you took those photos.
Also, adding a timestamp to your video is a great way to let the audience know more about your video details. Want to prove the day and time of a particular video record? Using a timestamp is a perfect way to go about it.
In fact, most digital cameras allow adding date or time stamps to photos when taking pictures or recording your video.
Unfortunately, in many cases, the date and time stamp are not turned on when you take photos or record your video. Want to add the timestamp to a video or photo already taken? We have the solution in this article for you.
Contents:
How to Add Timestamp to Photos Already Taken for Free
We'd better find an online solution to add timestamps to photos already taken. It allows you to put the date and date on your photos without the system barrier so that you can add timestamps to a photo on a Macbook, a Windows PC, or any other.
For this purpose, we have FlexClip, the world's most used video and image editing platform. It has many wonderful features, for example, enhance, retouch, add filters, remove/change the background, and transform; it also includes beautiful templates for editing videos and images.
One of these many unique features is that you can make use of its flexible text editor to add a well-designed timestamp to your photos that are already taken on your computer, or you can use its branding feature to work on multiple pictures, thus add datestamps in batch, and check how to:
Step 1 Upload Your Photos for Adding Timestamp
Access the FlexClip video editor, and upload your photos from the local file from your computer or your mobile phone. Once added, you can pick the right ratio for your photos and then add them as scenes to the Timeline.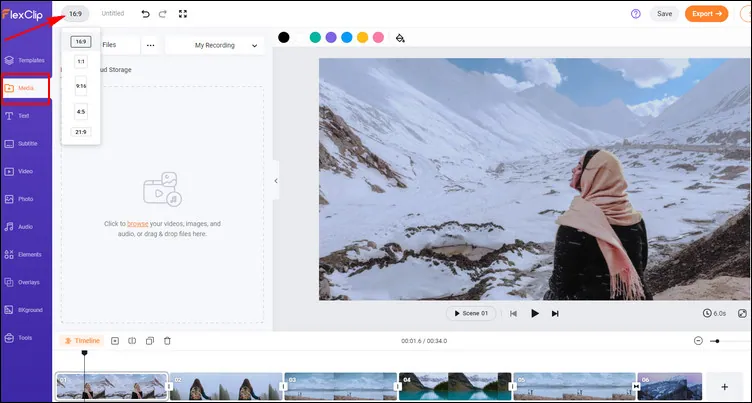 Upload Your Photos for Adding Timestamp
Step 2 Add Timestamp to Photos
At FlexClip, there are two options for you to add the time and date stamp to your photos.
The first option is using its easy text editor for typing the text you want to put on your images one by one. Simply go to the Text tab on the left panel, and choose a text effect for date and time stamp, and then type in your desired date and time.
Add Text Timestamp to Your Photo
And the second option is working with its branding feature for adding a text watermark as a timestamp on multiple pictures. Switch to the Tools tab on the bottom of the left panel and select Branding to add your time and date information.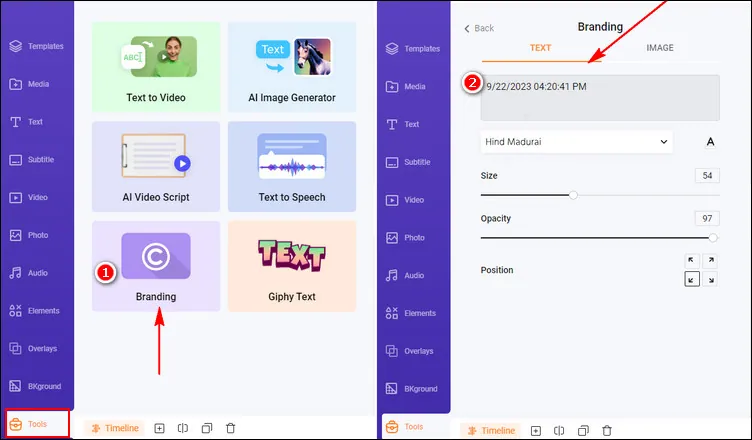 Add Branding Text Timestamp to Your Photo
Step 3 Adjust the Timestamp
Now, you can adjust the typed text to replicate the timestamp look.
You can customize the timestamp text as you wish if you use the text editor for adding the information! On the top menu, you will see an option for Font. You can choose different font styles by clicking on this. There are also buttons to adjust the size, change color, and adjust the transparency of the text.
Once satisfied, drag and drop the timestamp to any place you want to place on your photo.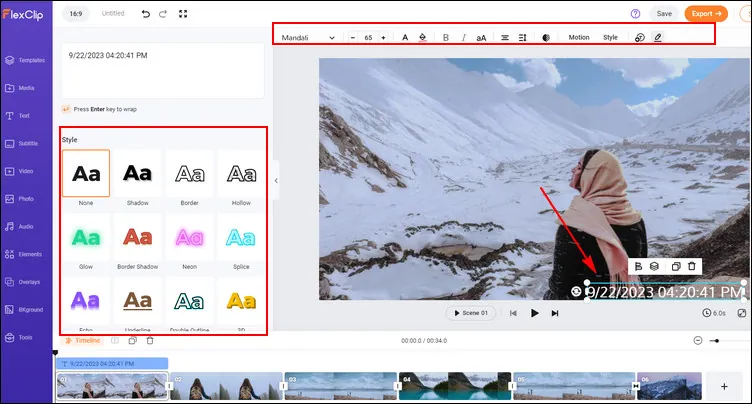 Adjust the Timestamp - Text
For a branding timestamp, you can also customize its font, color, and size, but the location option is relatively limited - you can only place your date stamp on the top left, top right, bottom left, and bottom right of your photo.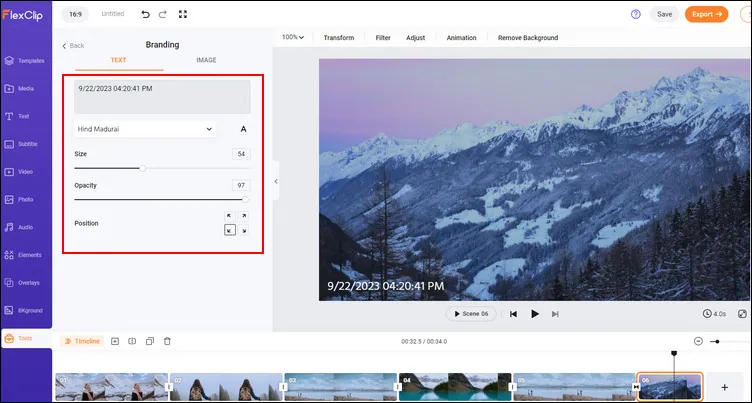 Adjust the Timestamp - Branding
Step 4 Export the Photo with Timestamp
Once all your adjustments are made, and the timestamp is in the right place, you can right-click on the Timeline and select the Export Frame to save your photo with the timestamp.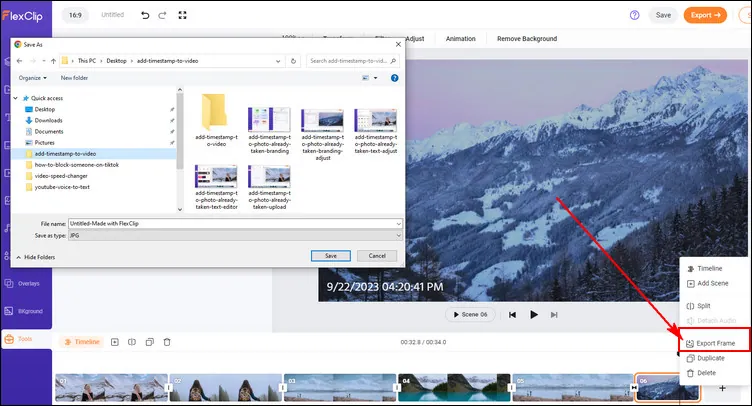 Export the Photo with Timestamp
How to Add Date and Time Stamp to a Video Online
As a powerful online video editor, FlexClip also allows you to add timestamp to your video within clicks. Now, we'll show you how to add a date and time stamp to a video with FlexClip.
Step 1 Upload Your Video or Create Content Faster with FlexClip
Also, upload your existing video to FlexClip first. Once your video has been uploaded, you can add it to the Timeline, then preview and edit it as needed with FlexClip's built-in video editor.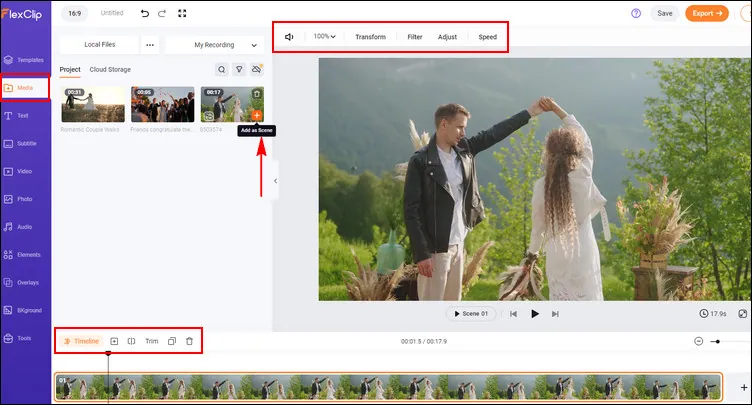 Add Date and Time Stamp to a Video - Upload
If you want to make a new video, FlexClip offers millions of stock resources and pre-made templates to help you quickly start with endless inspiration.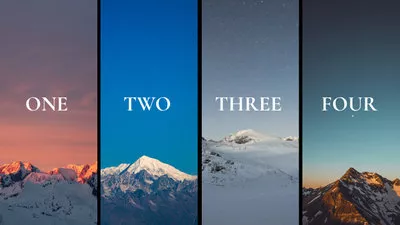 Travel Memories Slideshow Youtube Video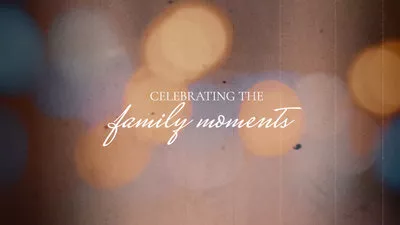 Memories Of Family Moving Moments Slideshow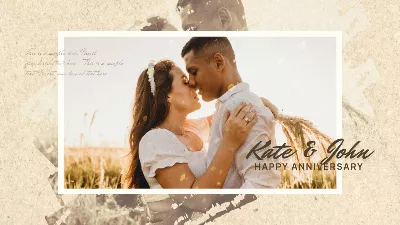 Love Romantic Wedding Anniversary Memory Floral Slideshow
Pink Cute Heart Friend Happy Birthday Message Slideshow
Step 2 Add Timestamp or Time Bar to Video
To add a timestamp to your video, you can refer to the methods we shared above for adding time stamps to photos.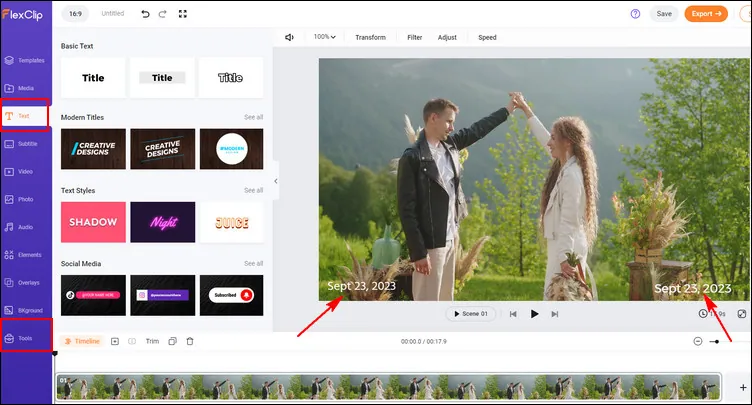 Add Date and Time Stamp to a Video
Besides that, here you can also apply the camera overlay effect that comes with a time bar on your video to show the time length of your video.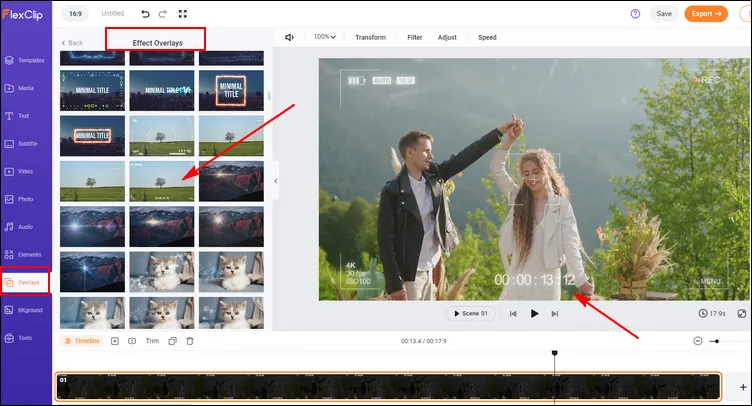 Add Time Bar to a Video with Overlay Effect
Step 3 (Optional) Make more Edits to Level up Your Video
Besides the timestamp feature, you can make more edits with FlexClip's powerful editing tools to level up your video. Such as editing video speed with the normal speed changer or curve speed feature, adding transition effects to your video, generating voiceover narration or auto subtitles with its AI text-to-speech tool or auto subtitle generator, etc. Just feel free to explore its cool features for editing your video into a masterpiece.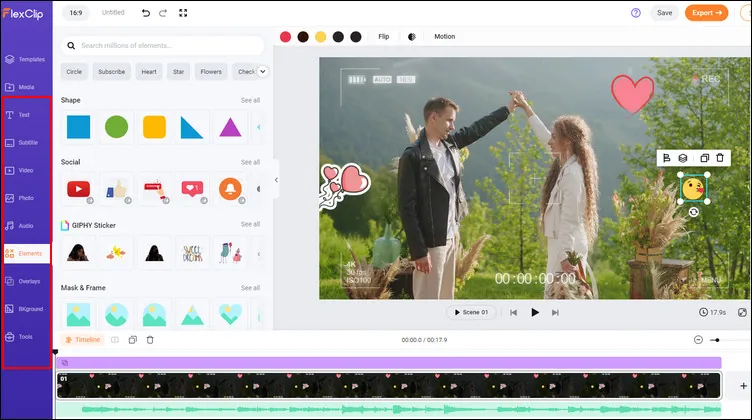 Add Date and Time Stamp to a Video - Edits
Step 4 Download and Share Your Time-Stamped Video
To download your video, you can simply click the Export button on the top right of your workspace. Here, you can save the video with timestamp to your computer, share your video using the provided links, or you can post it directly to some social platforms, like YouTube or TikTok. If you would like to make any changes, you can easily go back into your workspace and make any edits as needed.
Bonus: How to Add Timestamps to YouTube
It will also interest you that YouTube provides an easy way to add timestamps to YouTube videos. The advantages of adding timestamps to your recommended and YouTube videos are similar. But applying the same method to YouTube videos makes it more specific, especially when presenting it as evidence to an authority. To add timestamps to YouTube Video, we'd advise you to follow the guide of How to Add Chapter to YouTube Video to get it done.
The Bottom Line
The application of timestamps on your videos can serve many oppose, but then it is advised that you do it right. By doing it right, we mean adding the right font and applying the right animation. But in all you do, we strongly recommend you make use of FlexClip for optimum outcomes. So, if you find this article interesting, endeavor timestamps and share it for the benefit of others out there that might need it.