Can't visit YouTube's website or YouTube videos don't play on Google Chrome or your iPhone all of a sudden, etc.? No worries, we've got you all covered!
In this tutorial, we will offer you 11 proven solutions to troubleshoot when YouTube is not working on your PC, iPhone, and Android. So, you won't miss out on the latest posts of your favorite YouTubers.
Here is what you will learn:
1. Use Another Device to Check If YouTube Is Currently Available
The quickest way to check if it is the hardware malfunctions that lead to YouTube not working is to use another PC or iPhone to visit YouTube. Then, you can rule out the possibility of problems in your pc or phone and look for other issues like browser settings, etc.
2. Clear Chrome's Browsing Cache and Temp Files on Local Disk
Sometimes, YouTube is not working because the expired cache and excessive temporary files in the local disk might obstruct your computer from accessing YouTube's website. In this case, to fix YouTube not working, just delete the cache on Google Chrome and temp files in the local disk.
Step 1: Clear the Browsing Data on Google Chrome
Go to Google Chrome settings on the top right corner> scroll down to "Privacy and Security" > click "Clear Browsing Data" > click "Advanced" tab > select time range "All Time" and check "Browsing History", "Download History", "Cookies and Other Site Data", and " Cached Images and Files" > hit "Clear Data".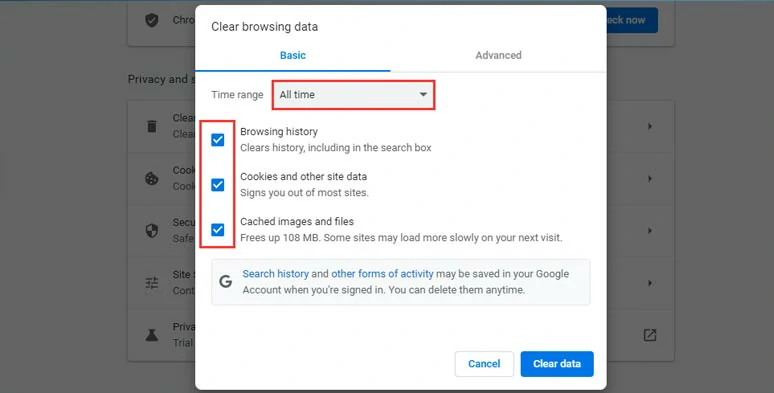 Clear browsing history and cache on Google Chrome.
Step 2: Delete the Temporary Files in the Local Disk
For Windows users, search "Prefetch" and "Temp" respectively on the taskbar and select all the files in them, and right-click to delete them.
Then, close all the browsers and visit YouTube again on a new Google Chrome browser. Previously not playing YouTube videos shall play as usual now.
Also read, how to make a YouTube playlist on PC and phone.
3. Turn Off the "Hardware Acceleration" Option on Google Chrome
If YouTube is still not working after clearing Google Chrome's cache, then you may try unchecking the "Hardware Acceleration" option on Chrome. Such a feature is made for smooth play of video and audio on websites without lagging. However, sometimes it can take up much RAM as well if your local disk is not sufficient.
To shut it off, click three dots on the top right corner of Chrome > click Settings > scroll down and select "Advanced Settings" > in System tab, uncheck Use hardware acceleration when available.

Uncheck Hardware Acceleration on Google Chrome
4. Update Google Chrome and YouTube App to the Latest Version
If your current Chrome browser or YouTube app is not the latest version, chances are that they might be incompatible with the latest update of the YouTube system itself. So, update your browser and YouTube app now.

Update Google Chrome to the latest version
Update Chrome on Mac and PC: Click three dots on the top right corner > click "Update Google Chrome" in the drop-down menu.
Update YouTube app on iPhone: Open the App Store > search for YouTube > tap the YouTube update button.
Update YouTube app on Android: Open the Google Play Store > tap the profile icon on the top right > tap Manage Apps and Device > tap See Details > update YouTube app.
If there is only the "Open" icon next to your YouTube app, it means your YouTube app is the latest version. So, you need other workarounds.
5. YouTube Is Blocked in Your Region.
Although YouTube is the most popular video hosting and live streaming platform in the world, its accessibility is also subject to the changing policies of local authorities in your country.
If YouTube is blocked or banned by the network administrator or local government, you may use a VPN to access YouTube from another country's IP address.
6. Use Downdetector to Check If YouTube Website Is Down
If everything is ok after checking your internet connection, clearing cache, updating your browser and mobile app, then, chances are the YouTube website itself is temporarily down for maintenance.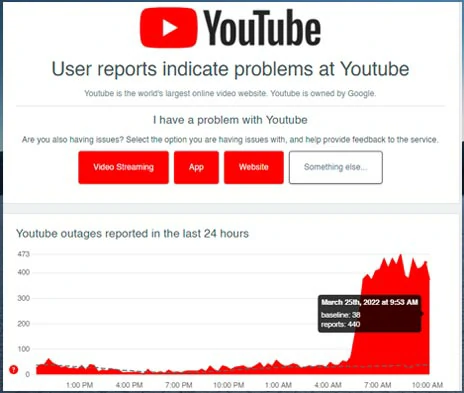 Use online YouTube Downdetector to check YouTube status
To prove it, you can visit YouTube Downdetector, a reliable online platform that has monitored online service for 10 years, to check if there are the latest reports of YouTube outrages in the last 24 hours. Reports of YouTube's video streaming, website, and app are also available.
7. Clear Cache on YouTube App
If mostly you visit YouTube through your mobile phone, it's likely that YouTube not working is as a result of a large amount of YouTube cache on your phone. So, try clearing cache on the YouTube app.
On iPhone: Just delete the app and reinstall it from App Store.
On Android: Settings > Apps > YouTube > Storage. Tap "Clear Cache" to see if it works.
8. Check the Internet Connection, DNS, and Malware
On PC, wired internet connection is far more stable than WiFi networks since it transfers data directly through Ethernet cable, without worrying the data loss in the air as WiFi networks do. If you only have WiFi connections available through your phone, try using another WiFi with a stronger signal.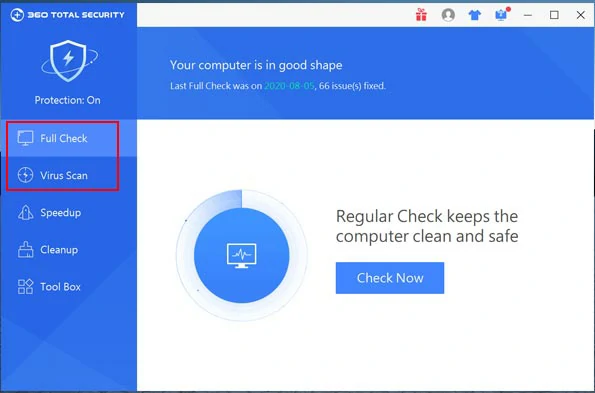 Use antivirus software to scan your PC
If YouTube is not working on your computer, you may also use antivirus or malware protection software to scan your PC and restore the DNS and delete suspicious malware and plugins. Then visit YouTube again.
9. Disable Some Unknown Extensions on Google Chrome
In some cases, unknown or newly-added extensions on your Chrome may be incompatible with YouTube and result in YouTube not working on your computer. Find and remove them.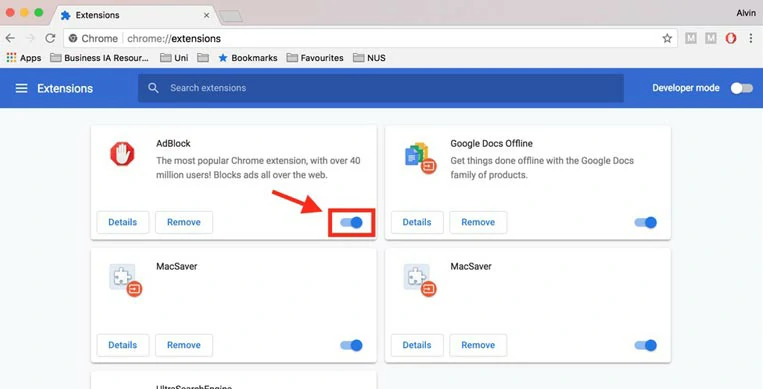 Disable unknown and useless extensions on Google Chrome
Open Chrome > click three dots on the top right corner > select "Settings" in the scroll-down menu > click "Extension" tab, uncheck the extension you find suspicious or useless. If you want to uninstall the extension, click the Remove button.
10. Update the Video Drivers
The outdated video drivers can cause the problem of YouTube videos not playing on Chrome, so updating the video drivers may help you out.
Please press Windows key + X and click Device Manager. Double click Display adaptors > right-click your adaptor and click Update driver.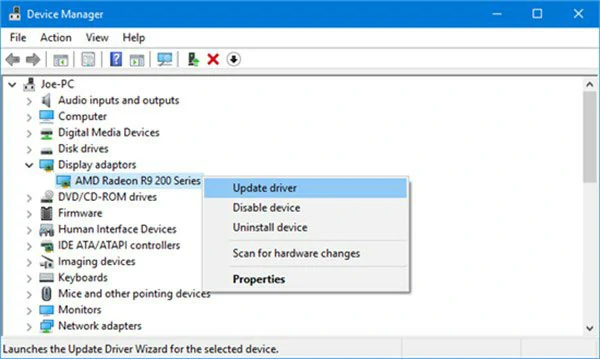 Update video driver
11. Sync Date and Time on PC
If your data and time are not in alignment with YouTube's, then it may cause the issue of YouTube videos not playing on your device. Just let your network automatically handle the date and time.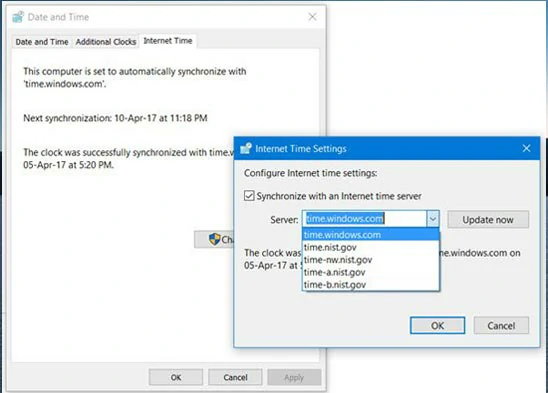 Sync the date and time on the PC
Bonus: Create Compelling YouTube Videos with FlexClip
Finally, If you want to create original YouTube videos using your footage and images, an easy-to-use video editor you may use is FlexClip. It's a versatile online video editor. You can upload stock assets from your PC or phone to FlexClip and use it to trim, split, merge videos with ease.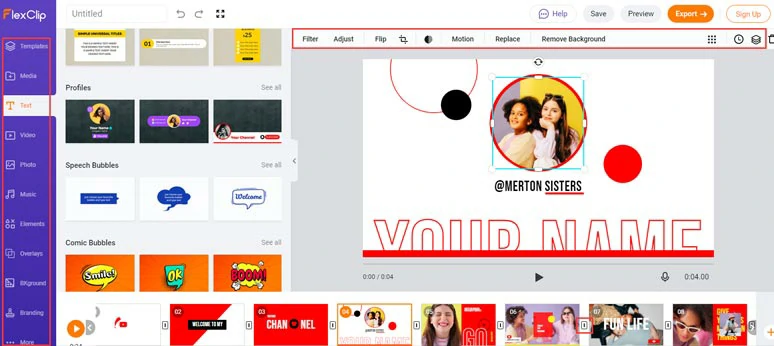 Create YouTube videos with FlexClip
Meanwhile, diverse designer-made YouTube video templates, user-friendly video features like picture-in-picture effects, image background removal, masking, animated texts, and elements, royalty-free music, and video, multiple ways for social sharing, etc. will save you lots of time for editing. While no software download and experience is needed. It's worth your bookmarking.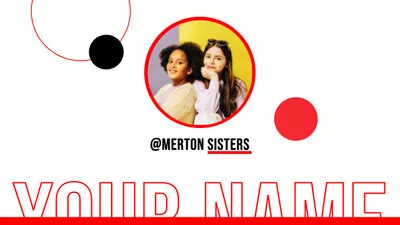 Youtube Trailer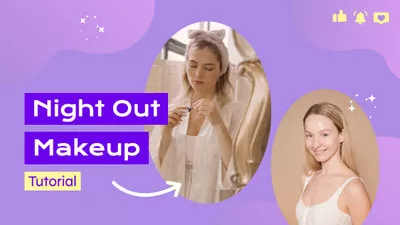 Makeup Tutorial Youtube Intro
Now, It's Your Move
That's all for how to troubleshoot when YouTube is not working on your PC, iPhone, Android, iPad, etc. If our 11 YouTube not working solutions do help you visit YouTube again. Don't forget to share it with your friends on Facebook and Twitter. While the user-friendly YouTube video maker—FlexClip, is worth trying. Bon Voyage!