Video to MP3 converters are extremely useful, especially when you want to save the audio from music videos, and there are lots of tools around that claim to do the job. The question is that videos take different formats, such as MP4, AVI, MOV, WMV. Not all video to MP3 converters support them, and some converters can even be hard to use.
Never waste your time searching all day long and make comparisons. Here, we will introduce you top 7 best free video to MP3 converters online and their pros and cons. Read this post and find the right video to MP3 converters!
Also Read: 8 Best Video Background Music Resources >
The Best Video to MP3 Converters List
1. Online Audio Converter
2. Audio Online Convert
3. Online Converter
4. Zamzar
1. Online Audio Converter
Online audio converter allows you to extract audio files from any videos safely and professionally. This converter works over 300 different video formats. Basically, it supports all videos. The uploaded files will be removed from the servers several hours later after you have done your work. No security-related issues would occur. Batch conversion is also supported. You can also configure the quality, bitrate, frequency and number of channels, apply reverse playback or fade in, or remove a voice from the audio track.
Pros:
1. Professional. Online audio converter provides tools to edit the audio files.
2. Safe. No security-related issues would occur.
3. Support all videos. Online audio converter supports 300+ video formats from local folders, Google Drive, Dropbox or an URL.
Cons:
1. You need to add an extension to Google browser.
2. There are ads.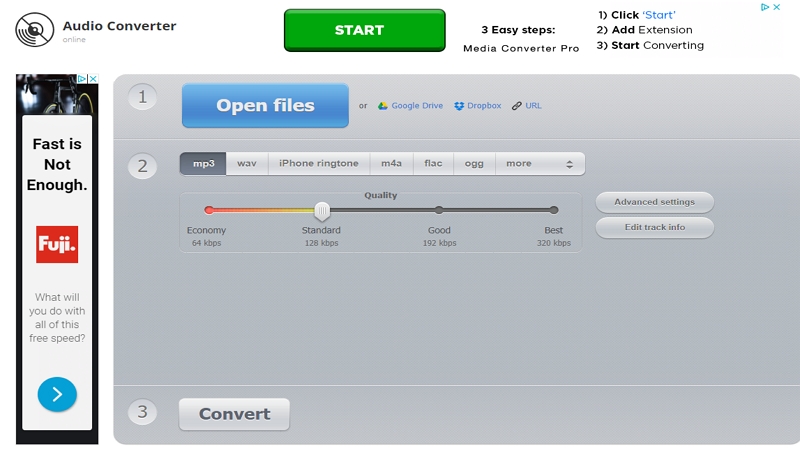 Image Board: Video to MP3 Converter - Online Audio Converter
2. Audio Online Converter
Audio online converter is specialized in converting audio files to MP3. However, it also helps people to convert video to MP3. Currently, it supports over 150+ source formats. The most common source formats are: OGG to MP3, MP4 to MP3, WMV to MP3. You can just upload videos from local folders, Dropbox, Google Drive, or URL, and then start converting. Advanced editing features are also available.
Pros:
1. Support most video formats.
2. Advanced audio editing tools meet all people's needs.
3. No download, no extensions to add.
Cons:
1. Slow converting process.
2. Ads are annoying.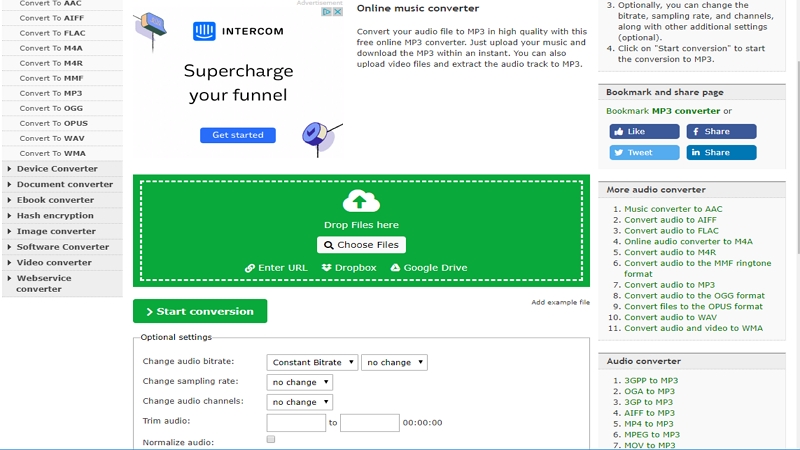 Image Board: Video to MP3 Converter - Audio Online Converter
3. Online Converter
onlineconverter.com is a multiple featured website and converting videos to MP3 is one of the best services it provides. It supports 40+ types of video from a local folder or URL. To use this tool to use , you only need to upload the file, and then convert.
Pros:
1. Easy, efficient.
2. Support most mainstream video formats.
Cons:
1. The video you want to convert can't exceed 200MB.
2. No other audio editing features.
3. Ads are annoying.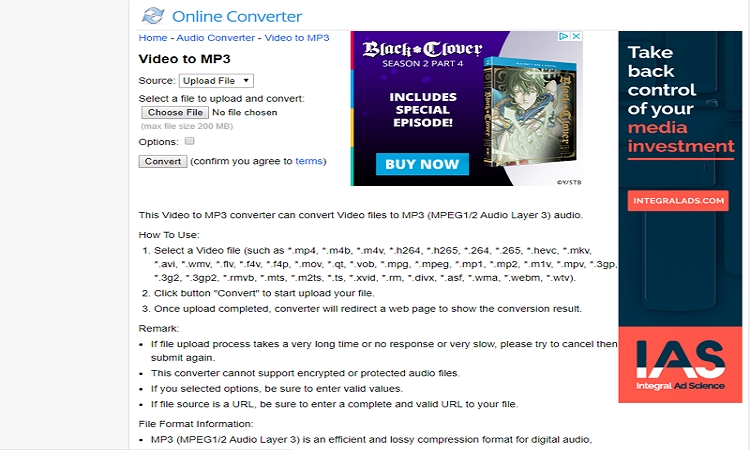 Image Board: Video to MP3 Converter - Online Converter
4. Zamzar
Zamzar is a professional video editing website providing all kinds of video editing services. It has now helped users convert over 510 million files. This tool is quite easy to use. Upload and then export. However, when it comes to convert video to MP3, it only supports converting MP4 video files to MP3.
Pros:
1. Ease of use.
2. Trustworthy.
3. Detailed information introductions below.
Cons:
1. Only MP4 video files are supported.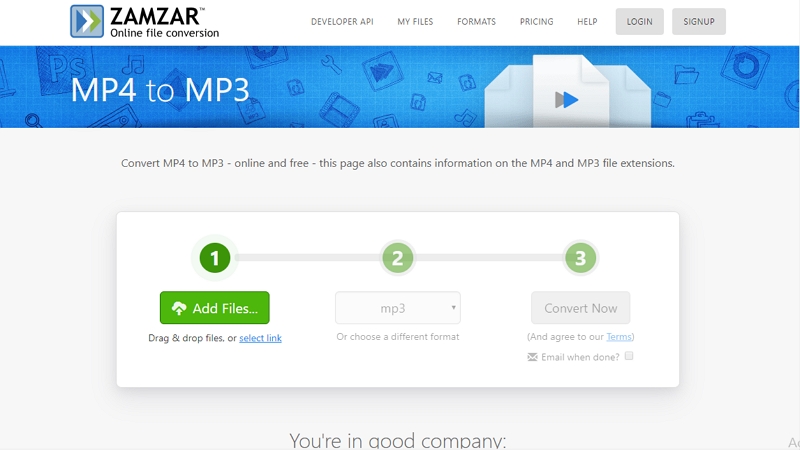 Image Board: Video to MP3 Converter - Zamzar
The Bottom Line
These are top 4 video to MP3 converter. Which one is your favorite? Tell us via Facebook. If you also have any recommendations, please also let us know.