So, you need a mood board. The obvious choice is checking this easy post to know why and how to create a mood board. Some mood board templates are also available. Let's get started!
What Is Mood Board?
Before getting started to design, you should define what your own style is and picture the things you like collectively. That's where the mood board kicks in.
A mood board is a visual tool that describes your concepts and visual ideas. Generally speaking, it is a well-arranged series of images, texts, GIFs, videos. The mood board saves you from confusing words while making presentation in front of customers or your design team.
Why Do You Need a Mood Board
* All elements deliver business values. Pictures, videos, color sets or typography make strong statements and build a unified message.
* Interact with customers. Through your mood board, customers will arouse certain emotions. That's one way to communicate with your customers.
* Reduce confusion. With a mood board, you don't have to use words to put customers or design professionals in confusion.
How to Create a Mood Board
Actually, there are no certain rules to create a mood board. The crucial step would be defining your style. With the right style, you are halfway to a mood board. However, the general steps of creating a mood board are:
Mood boards are all about exploration. You can try different directions and figure out what is the best. For example, a mood board about life can be luxury or minimalist. Be open-minded and figure out the best direction.
Step 2
Collect All Materials
Now that you have the right direction, the next step would collect all materials. Photos, videos, gifs, logos, music and written content are all included.
If you need photos, videos, lots of stock libraries can be relied on. Among them, we recommend FlexClip's media library with millions of royalty-free photos and videos.
You can also adjust the overlay duration. Click the clock icon on your top right, drag the slider to the point where you want the overlaid video to start.
Step 3
Play with All Elements
With online mood board creator like FlexClip, you can easily turn photos and videos into a piece of creative mood board.
#1. Upload your photos and videos, SVGs to the Media section.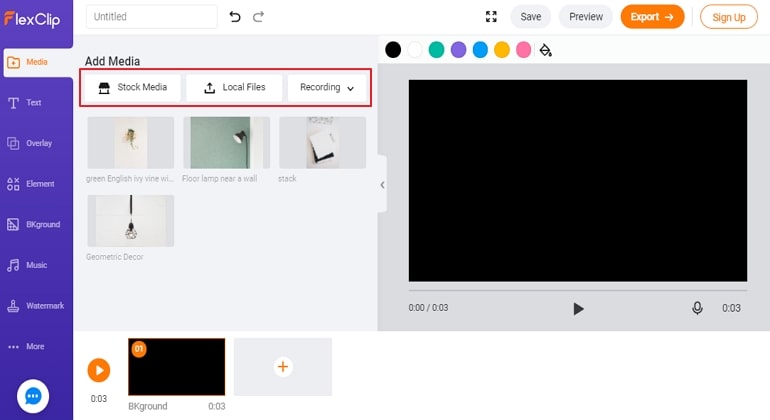 Create a Mood Board - Step 1
#2. Change the background color by clicking the color palate.
Create a Mood Board - Step 2
#3. Click on the picture-in-picture icon and add one picture or video to the storyboard at one time.
Create a Mood Board - Step 3
#4. Adjust its position, add animations, filters, or crop it as you wish.
#5. Add texts. Pick the font that matches the theme and then enter any text you like.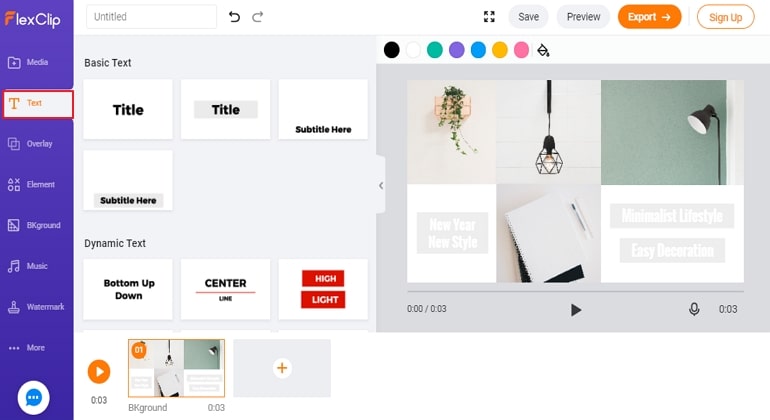 Create a Mood Board - Step 4
#6. Add music. Select from FlexClip's music stock library or upload from computer. Trim and apply.
Step 4
Open to inspiration
You can't finish a mood board in several minutes. A good mood board requires refinements and more inspiration.
FlexClip stores your mood board. You can come back any time and edit your mood board.
Step 5
Sharing & Ask for feedback
Whether you are doing a presentation in front of customers or sharing with team members, always collaborate on concepts and ask feedback for better version of mood board.
The Bottom Line
That's all for how to create a mood board. If you find this post helpful, do remember to share it with others.