Using Instagram Message is fun, but clearing chatting history is frustrating. But not anymore. Instagram has Vanish mode.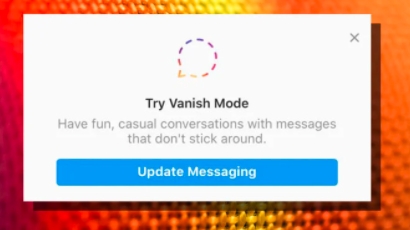 Instagram Vanish Mode
Can't Miss: Instagram Video Quality Bad? Fix It >
What is Instagram Vanish Mode?
Instagram Vanish Mode is launched a few months earlier to allow you to send messages that disappear once they've been read. It is quite similar to Snapchat. Get this mode and you can have fun, casual conversation with messages that don't stick around!
Although it seems fun and safe to use Instagram vanish mode, please don't use the new Mode to send messages that you don't want others to know. Other people can easily screenshot your messages and you will not get any notifications.
How to Activate/Disable Instagram Vanish Mode
Step 1 Upgrade your Instagram to the latest version and then launch it.
Step 2 Go to a regular chat window and swipe up. You are now in Vanish mode.
Step 3 To get back to normal mode, just swipe down.
Note

1. Instagram Vanish mode is not available for all users. It might take a few weeks to complete the update process.
2. If you haven't used this feature before, after opening any message windows, an icon will pop up and ask if you want to upgrade, Upgrade it so that your Instagram DM is linked with your Facebook Messenger.
The Bottom Line
That's all for Instagram vanish mode. After reading this post, you have known what Instagram vanish mode is, and how to activate and turn off Instagram vanish mode. If you find this blog helpful, do share it with others.