Instagram is one of few social media platforms that have been giving users the opportunity to build their own celebrity status using their picture-oriented platform. This is also replicated in their Instagram story section where users are given the opportunity to use their own GIF stickers. To some, it may be because they don't find those other existing GIFs interesting, hence, their need to augment their reality.
There are many ways to add your GIF to an Instagram story, you just have to pick the easiest way that works for you. Check the following methods and start to add your own GIF to an Instagram story.
How to Add Your Own GIF to Instagram Story
How to Add Your Own GIF to Instagram Story from Your Camera Roll
Step 1
Launch your Instagram story, and get it ready to add stickers. Save your personalized GIF sticker to the camera roll. You can use Google Docs, or Dropbox to do this.
Step 2
Select the download icon located at the top right. A screen is expected to pop up, giving you an option to either share or save the GIF Sticker. Then select "copy."
Step 3
Go to your Instagram story, a pop-up containing an option to add your stickers will appear, just tap on the "Add Stickers". And that's it, you are done.
How to Add Your Own GIF to Instagram Story from GIPHY Account
Step 1
Set up your Giphy Channel.
Step 2
Add your stickers to your Instagram Story. Open your Instagram Story and get ready for adding stickers.
Step 3
Go to the GHIFY account you have set up, locate the GIF you wish to share. You are expected to see a collection of GIFs stickers you have already uploaded.
Step 4
Tap on the GIF of your choice, the screen is expected to open, displaying the sticker you have chosen.
Step 5
Tap-hold to copy the GIF. Again, open your Instagram story, the sticker you copied is expected to appear by the corner of the story, ready to use. Then tap to use.
How to Add Your Own GIF to Instagram Story via Editing
Adding your own GIF Stickers to your Instagram story through editing is quite easy, although some do believe it is tricky. But we believe this is because most of these users barely edit their videos or pictures before uploading. And some of them that do edit, end up using bad editing tools. You need a video editing tool that is easy to operate, and no form of registration is required. And that's where FlexClip comes in.
FlexClip is the world's number one video editing tool often used by both industry professionals and individuals to edit both videos and pictures to suit their requirements. Because of its simplicity, it has been adopted by social media marketers in the daily running of their campaigns. And individuals can as well use it to come up with the best Instagram or YouTube videos for personal use. Now, this is how you add a GIF to your Instagram story video.
Step 1
Start a video project on FlexClip. To do this:
Access the FlexClip video editor online. Drag and drop your GIF and video to (FlexClip) video media library.
For those who don't have a GIF yet, they should simply click on "Photo" located at the left sidebar.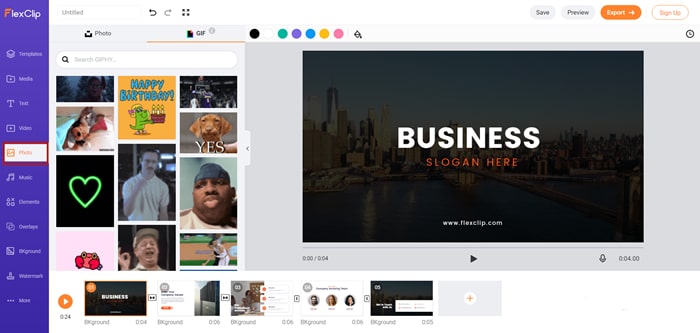 Add GIF to FlexClip
Step 2
Add the GIFs to your video and edit
Click the "+" button to upload your video to the storyboard section.
Add a filter to give your GIF a different outlook to be in uniform with the theme.
Crop it into a square or circular shape. You can as well animate your GIF using different movements.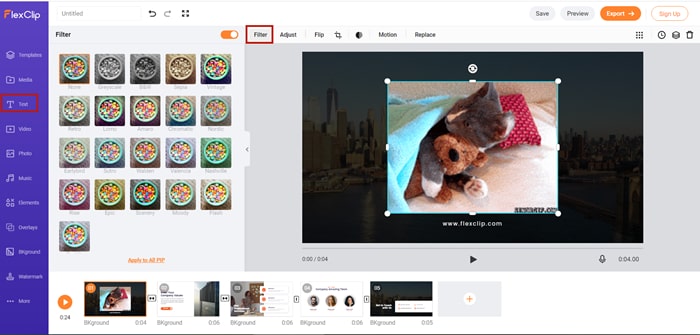 Edit GIF in FlexClip
Step 3
Preview and Export
Simply preview what you have done by playing it back to see if everything is ok, then you can decide whether to save it on your computer or share it online.
Bottom Line
Stickers like pictures are a good way to express a thousand words, and finding a good tool to help you do this is even as important as creating a good sticker yourself. So, if you are looking for how to add your GIF to Instagram Story with the most simplified tool, FlexClip remains the best option for anyone who wishes to create appealing Instagram story stickers, and it comes with so much simplicity especially in its functioning. You can also use the FlexClip video editor to create pleasant video content for both YouTube, and Facebook platforms.