An Instagram sticker is simply defined as an element of graphic design that complement your videos and images. For this reason, there are a wide range of stickers that you can choose from to bring in more engagement for your stories and bond with your viewers.
So, if you want to jump on the bandwagon and bring in more engagement for your personal or professional brand, feel free to choose from a wide collection of stickers. However, if you do not know how to add stickers to Instagram, then continue reading to know all about it!
Types of Instagram Stickers
As aforementioned, Instagram's features allow you to incorporate different types of stickers to your stories. Here is a list of them all.
Donation sticker
As the name suggests, such stickers are a way for you to raise funds for nonprofits. You can easily do so by tapping into the sticker of the charity to show your support for a cause you believe in.
Quiz stickers
These kinds of stickers provide the perfect opportunity for you to be more engaging on Instagram. They allow you to ask multiple-choice questions for a number of reasons, such as to test how much your followers know about a certain topic.
Moreover, you can choose random questions as well by simply choosing the dice that appears at the bottom of your screen in the app.
Countdown sticker
A countdown sticker is a very useful one as it helps build up anticipation of an upcoming special event, as well as aids in keeping track of it. You can easily customize it to add your chosen color, time, and date.
Music sticker
These stickers are an easy way for you to add your favorite songs to your Instagram stories. The best part about this feature is that you can even choose the exact moment or lyrics of the song you want to add for your viewers.
Question sticker
Asking a question from your followers is the best way to start a conversation with them. You can also ask people for their ideas, suggestions, and thoughts, or simply to know how they are doing.
Poll sticker
A poll sticker can help you garner feedback for a number of topics by asking your followers to vote for an option. This is an engaging function, often employed by businesses carrying out A/B testing.
Location sticker
These stickers were one of the first ones to be introduced on the platform and make it easier for you to tell your followers where you are at a particular moment. It is the perfect way to reach a large number of people!
Hashtag sticker
A hashtag sticker provides you with a way to connect with people you do not even know, living in all parts of the globe. They allow you to add a hashtag to your Instagram story, which is clickable and encourages viewers to add it to their videos and images as well.
Weather/time sticker
A great way to bond and become personal with your followers is by adding a weather or time sticker. It can help people connect to you and motivate them to post their own videos and photos too.
How to Add Stickers to Instagram
Now that you know all about the different kinds of stickers, how about you finally learn how to add stickers to Instagram? Follow these simple steps and liven up your stories!
Step 1
Open the app for Instagram on your phone.
Step 2
Choose the camera icon appearing on the upper corner to the left.
Step 3
Add your video or image.
Step 4
Tap on the square smiley face, which is the sticker button, to gain access to the sticker tray.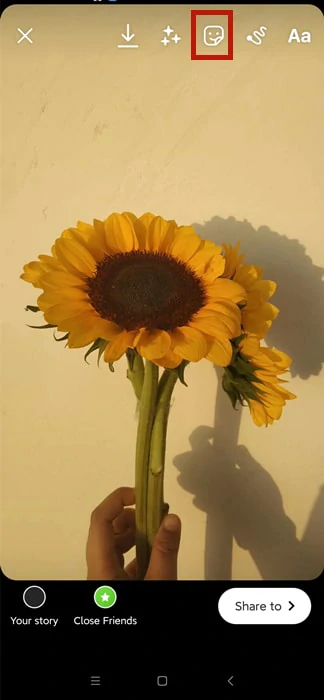 Tap on the Smiley Face to Enter the Sticker Tray
Step 5
Pick a sticker that you like and tap on it.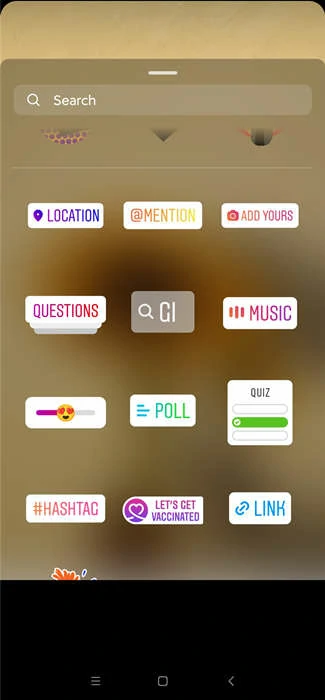 Choose One Type of Sticker
Step 6
Drag the sticker to where you want it to be and drop it there.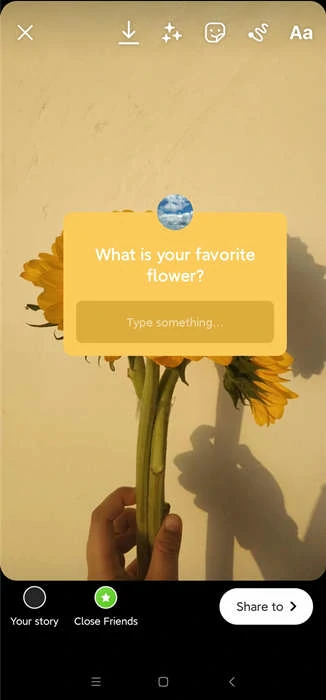 Place the Sticker as Your Like
Step 7
Use both your thumbs if you want to expand or pinch the sticker to your desired size.
Step 8
Voila! Your story is now complete and ready to post.
Bonus Tip: Create an Amazing Instagram Story Video
If you really want to wow your followers and establish a personal brand, you can do so by creating an amazing Instagram video. But in order to do that, you may need some professional help. This is where FlexClip comes in to help you make and edit your Instagram stories, to set them apart from the rest.
As one of the top video ad makers, FlexClip offers you various quality resources and flexible editing tools. You can use its features to make edits, add filters, and change the speed of your video, all with a few clicks! If you use FlexClip, you will also be able to reap the benefits of its large assortment of advertisement video templates. Pick a templates you like and get started now!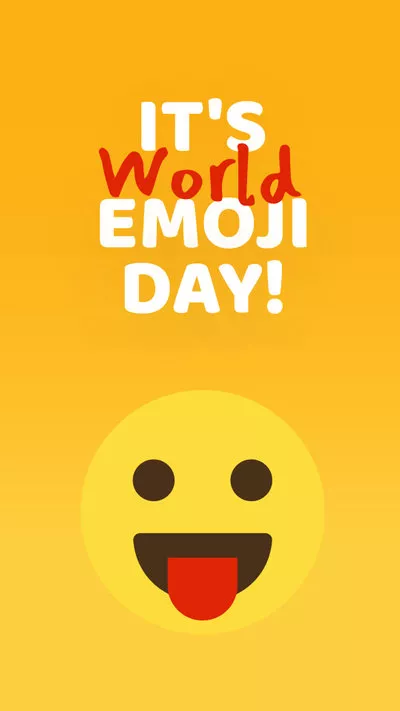 Funny Emojis
Truth And Lie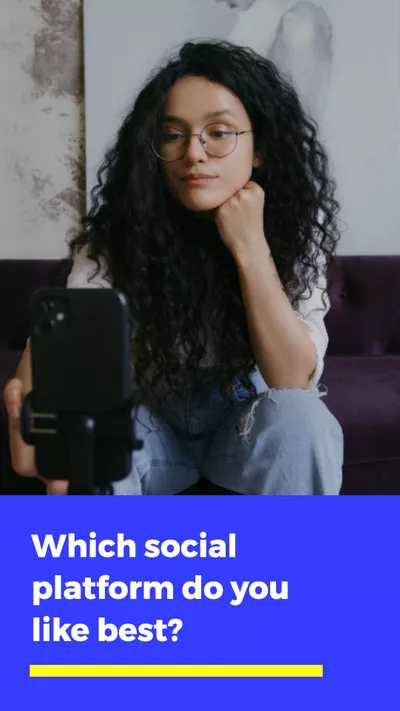 Poll
The Bottom Line
Adding stickers to an Instagram story is not a difficult task. They are a great way for you to bring in engagement from your followers and connect with people everywhere. Simply put, stickers allow you to foster a sense of community on Instagram. In addition, FlexClip makes the video editing and ad making process seamless, to facilitate diverse connections. Try it out to know just how useful it is!