Relaxing Rain Video Templates for Free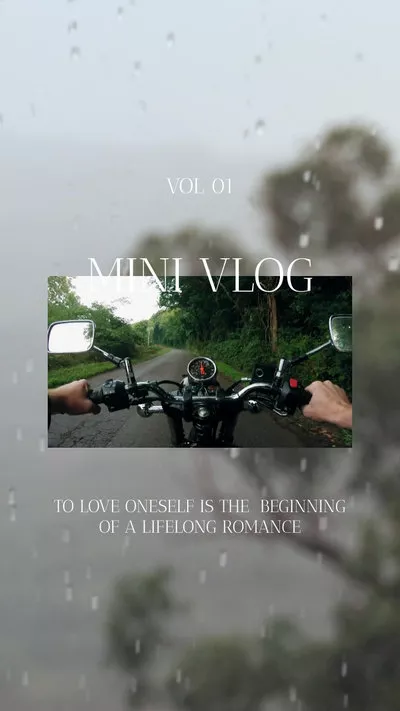 Mini Vlog Reel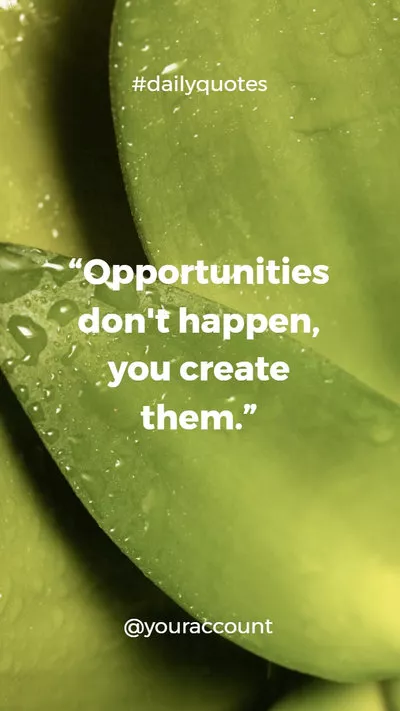 Rain Modern Quotes Mobile Video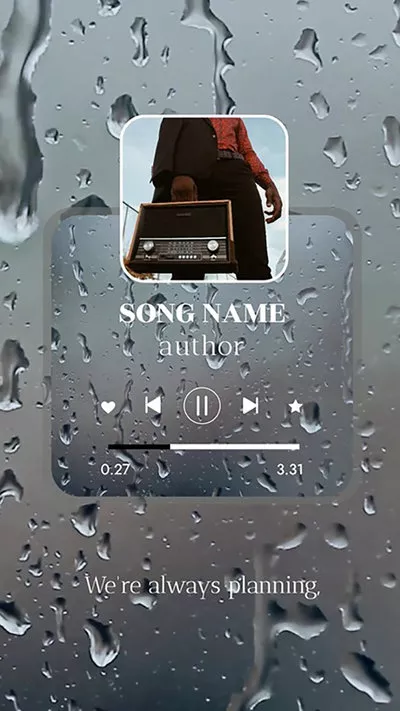 Music Player Live Stream Lyric Rain Subtitle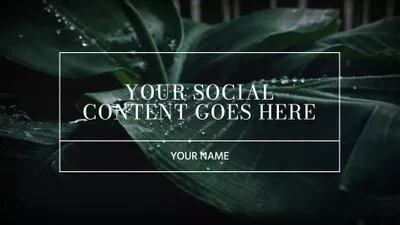 Youtube Intro Rain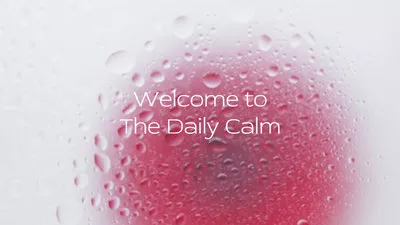 Meditation Nature
Your Rain Video Is Only a Click Away
Real Rain Videos and Images from The Stock
Be it raindrop, night rain, or thunderstorm rain, you can always find cinematic rain videos and true images within FlexClip, and use them in your rain video. It has never been this easy to add a rain effect to a video, or make a rain sleep video that has potentials to win millions of views from any video platform.
Rain Sounds in High Quality
Copyright-free rain sounds are integrated in the soundtrack library. You can easily add sound effects afterward for a realistic touch. Search for rain sounds like drip drop, splatter, tapping, and rat-a-tat to add rain effect to make your video more engaging. Such white noise rain sounds for sleep helps bring users back to your channel time and again.
The relaxing rain sounds are helpful to make people calm down, and making a raining video with that are sure to get your channel new subscribers. If you like, you can also make rain live wallpaper by creating a rain GIF or video via FlexClip.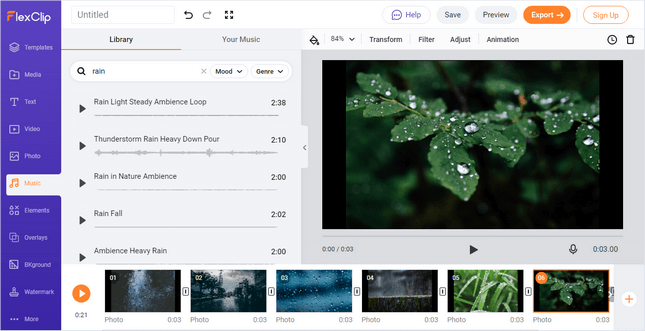 Edit Rain Video Seamlessly
Once you've imported rain videos & images from device or FlexClip's stock, you can easily edit it by trimming extra parts and make it in the same length of raining sound. Change the orientation & lighting within clicks, blur or adjust brightness to get the most natural views for your rain video.
Once the rain video has been shot or edited, it's perfectly ready to share and get the view count you've been dreaming of. To prevent future copyright infringement of your rain video, FlexClip also allows you to add your personalized logo on top.
Rain Video Maker & Editor
FlexClip is the best free rain video maker available online to help you produce a rain video eaily & fast. Find various rain footage & pictures and make your rain video out of them. It's easy to resize videos and add post-production effects, i.e., transitions, speed adjustment as well as orientation change for different platforms & devices.
Easy tools & features makes FlexClip the first choice for users all over the globe to create rain videos. Using it means your rain video can be rendered & cut exactly as you want, be it a rain sleep video or a cinematic thunder storm movie. Looping your rain video can also be done fast by downloading one and make several storyboard copies in new project.
Why You Need to Make a Rain Video
Share Moments
Making a video story is a great way to share your important moments with family and friends.
Evoke Emotion
A video can convey strong emotion and resonate well with audiences.
Improve Engagement
People are more likely to engage, share, and comment on video content.
How to Make a Rain Video in 3 Steps
Add Media
Add videos or photos from computer or stock libraries to the scene.
Customize
Add text, music, and voiceover to customize your rain video.
Export
Download your rain video in various ratios and definitions or share it online with the world.