Reversed video clips are a simple and effective way to transform basic videos into cool and catchy videos. Whether you want to post it on social media for your followers, use it as a branding/advertisement video, or simply share it with your friends and family, it's a very easy-to-use creative tactic to add a little oomph to your video clip. For instance, a simple video clip of your friend getting up rapidly from somewhere can instead be turned into a hilarious video of them falling. Likewise, there are many reasons why people would want to reverse a video clip, such as to make it creative and funny or to make it workable and more effective.
When it comes to being able to reverse your ideas in a very user-friendly and simple way, iMovies is one of the best apps for the process. iMovie is a free app and comes pre-installed in all Mac desktops, while for iPhones it can be quickly downloaded from the app store. It is a very popular, free to use app with a very friendly interface and offers some really good video editing tools that all Mac users can use to creatively edit their videos in high-quality. iMovie offers not only one but two techniques options using which you can reverse your video clips. One is for reversing a single video clip and the other is of reversing multiple video clips at one go. Keep reading this article to learn how to reverse a video on iMovie easily and in high-quality.
Can't Miss: How to Reverse a Clip in iMovie on Mac/iPhone
How to Reverse a Single Video on iMovie
Reversing a single video on iMovie is a very simple process, and anyone with a Mac device can easily do it. Using this you can have a high-quality video clip that plays backwards as per your choice in just a couple of minutes!
Simple steps for how to reverse a video in iMovie:
Step 1
Open your Mac device and click on iMovies. (if you have a Mac desktop iMovies will be pre-installed, if you want to use iMovies on an iphone, you'll have to first download it from app store.)
Step 2
Once you have opened iMovies, upload the clip that you want to edit on the iMovies app from your desktop or phone's gallery.
Step 3
Select the part of the video clip that you want to edit in your movie's timeline.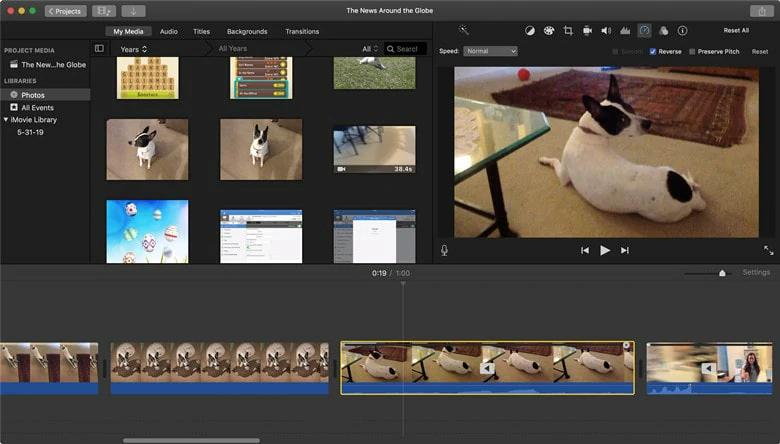 Upload Media Resources and Drag Them to Timeline
Step 4
There will be a tool bar displayed on the top. Once you have selected the video clip, click on the speed option displayed on the tool bar.
Step 5
After clicking on the speed button, you will see an option labeled as "reverse". Click on this to get your video to be played in reverse/backwards.
Reverse Your Video
Step 7
Once you are satisfied with your video, simply click on the download icon and save it or your device, or click on the export icon and share it with whomever you want.
How to Reverse Multiple Videos on iMovie at One Go:
iMovie offers a really time-efficient feature whereby you can reverse multiple videos together without having to carry out the same process repeatedly for each different video clip. All these clips can be selected together and the reverse effect can be added on them instead of editing each video clip individually. Here's how.
Simple steps for how to reverse multiple clips in iMovie:
Step 1
Open your device and click on iMovie to launch it.
Step 2
Open your gallery and start selecting all the videos you wish to edit backwards. To do this, first click on the edit option displayed and the click on the select all option.
Step 3
If the video clips you want to edit are stored adjacently, simply click on the first one, press the shift key and keep on selecting till you reach the last clip hat you want to edit.
Step 4
If your clips are not stored adjacently, select one video clip, then press the command key and keep holding it till you select all the other videos that you want to edit.
Step 5
Then, follow the same process as the one explained above on how to reverse a clip in iMovie and Voila! You'll have multiple video clips edited backwards in no time.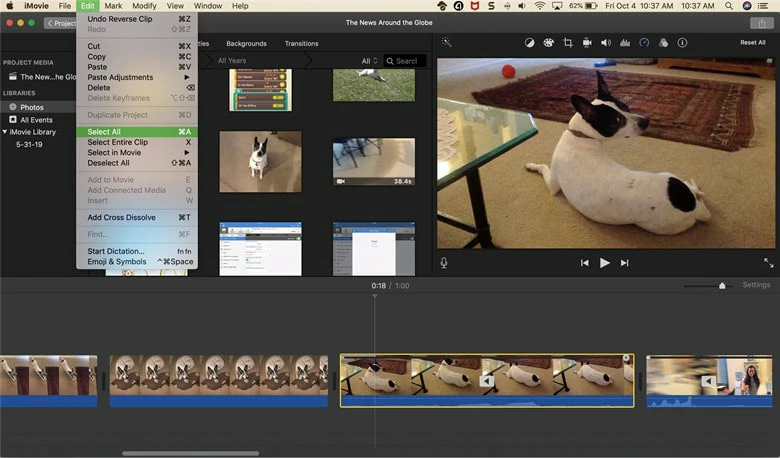 Reverse Multiple Video Clips
The Bottom Line
You can easily show your creative or fun side by editing a video clip to make it play backwards in only a couple of minutes by using iMovie. The steps for the procedure are very simple and easy to follow. If you found this article helpful, please give it a like and share it with others so that even they can edit their videos easily.